Inside Haberdish's Insta-Ready Cocktail Program
These drinks are as photo-ready as they are complex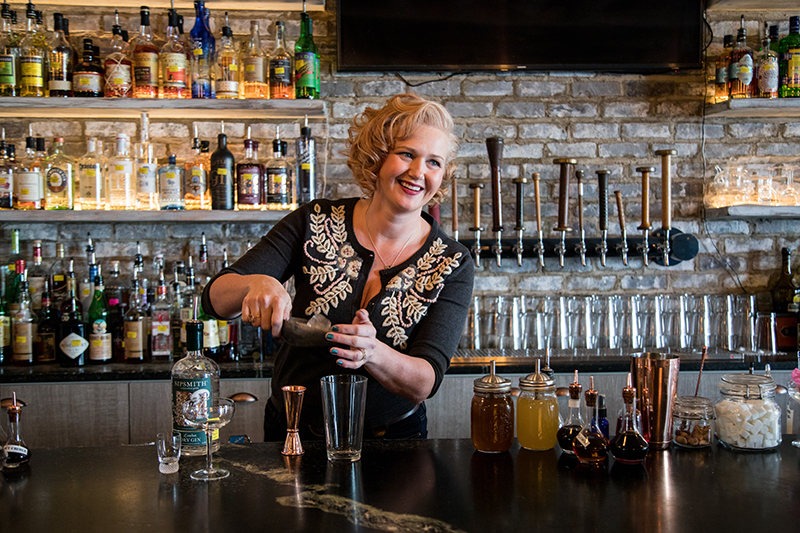 THE SUN HAS BARELY SET on Friday, yet the bar at Haberdish is two people deep already. The time it takes for many customers to see their drinks and to photograph them ranges somewhere between the length of a "wow" and an "oh my gosh." Some customers arrange backdrops; others raise cameras coyly and play it cool. Behind the bar, Colleen Hughes shakes a cocktail and watches out of the corner of her eye with a smile. The bar is having fun, and so is she.
Hughes, the bar manager, stirred the cocktail buzz here. She creates the evolving drink menu with the eye of an artist, the mind of a scientist, and the playfulness of a kid.
Her original professional ambition was to design hair and makeup for the theater—she even went to cosmetology school—and now she applies her eye for the aesthetic to her career in mixology. Her drinks are stunning and stage ready.
When Haberdish opened in December 2016, it captured Charlotte's attention with flower ice, a bloom surrounded by glass-clear ice. The clarity is no easy feat: Water freezes from the outside in, so air bubbles or impurities get pushed to the center, creating cloudiness. Hughes found a way to make the ice perfectly clear—she's not saying how—and took the bar's ice another step further: If perfectly clear ice is pretty, then what about perfectly clear ice with flowers frozen inside? She dolled up fun drinks, like champagne punches, with blooms. Even classics such as old-fashioneds become things of beauty with roses suspended inside them.
Soon, people flocked to Haberdish seeking flower ice. Others came demanding it, even sending a drink back if it didn't come with a bloom in it. One woman sat at the bar and declared that if she didn't get flower ice in her drink she would leave. Amused but obliging, Hughes gave her the last flower ice at the bar that night; crisis averted.
"We created a monster. … On a Friday night, we would run out of flower freakin' ice by 7," Hughes says.
Hughes has since upped ice production—the bar now stocks ice in large commercial freezers to keep up with demand. Yet it's not just flower ice that keeps cameras clicking at the bar. On the fall menu was Hey Punk'n Punch, a pumpkin punch that bubbled with smoke as if coming from a cauldron.
"It's a wink and a nod to the silly," Hughes says. "I think people take drinking just way too seriously. We're not saving lives. We're making cocktails, so make something pretty or silly or funny or kitschy. You're drinking for enjoyment. You're not drinking because you need to pass a test."
Yet it's hard to find someone who takes this more seriously than Hughes.
Her drinks are science as much as art. That cauldron drink? She begins the process by caramelizing pumpkin in the oven, which becomes a pumpkin reduction. The reduction is then combined with chai tea, whiskey, and a ginger-flavored liqueur. She devised a way to bring dry ice into the drink to create the bubbling, smoky effect (and to do so without risk of ingesting it).
Popular Mechanics even featured one of her cocktails, the Honey Bee and the Buzzing Monk, in "Better Booze Through Science" last summer. A key ingredient is a Szechuan flower; putting this flower to your tongue results in a buzz, similar to the effect a battery would produce. Hughes learned that this sensation also affects how your brain perceives flavor. It was an irresistible setup for a cocktail.
The cocktail is actually two drinks. The main drink, the Honey Bee, is a gin cocktail with lemon and vanilla saffron honey. On the side is the Buzzing Monk, a tincture she creates by infusing Szechuan flower into vodka with an iSi cream whipper—the tool that restaurants use to create whipped cream—and adding yellow chartreuse. If you alternate sips of each drink, the Buzzing Monk slowly seems to evolve the flavors of the Honey Bee. It's a science experiment in cocktail form.
She's also inviting women in on the fun. For decades, women were left behind in the cocktail scene. Until the 1980s, a woman alone at a bar alone raised eyebrows, so drink menus were made with men in mind. Hughes believes women have more specific taste buds and prefer more balanced drinks, and she recognizes that women prefer a range of alcohol levels. Hughes advises that the cocktails on the left half of the drink menu are for someone who wants to pace the evening slowly; the cocktails on the right half are for "a person who wants to get a little schnockered."
She's extending this women-friendly vibe to the other side of the bar as well. The other five bartenders at Haberdish are women—not a general rule, just the current status—and Hughes develops their skills by asking them to contribute cocktail ideas to the menu.
Before she came to Haberdish, Hughes was behind the bar at Crepe Cellar. She developed a following of women who would come back not only for her cocktails, but for her. They've followed Hughes to Haberdish. Her bar is the place many women bring first dates, or where women can go out for a drink solo and enjoy conversation with the bartender.
"The creative thing—putting a flower on everything—I enjoy that. I like the aesthetics of it," Hughes says. "But I (bartend) for the people. I think being a good bartender is like 85 percent genuinely enjoying people and spending time with them, talking with them, and giving them something that is exactly what they want at that moment. It could be a beer and a shot. It could be a glass of wine. (It's) a genuine sense of 'I am here because I want to make you happy, and in return, you make me happy.'"
Hughes doesn't only manage the cocktail program at Haberdish; she also does so for Crepe Cellar, Growlers Pourhouse, and Sea Level NC. She's gotten so busy that Haberdish hired an assistant bar manager, Rhea Buck.
Each day, Hughes and Buck stay ahead by reviewing the upcoming menu and stocking needs. On one day in mid-October, they discuss the Hey Punk'n Punch that's about to debut, and Hughes prepares for the onslaught.
"If we run out of dry ice, then people will lose their marbles," she says. "It'll be flower ice all over again."