Inside 'In Focus,' the Project Uniting Charlotte's Museums, Galleries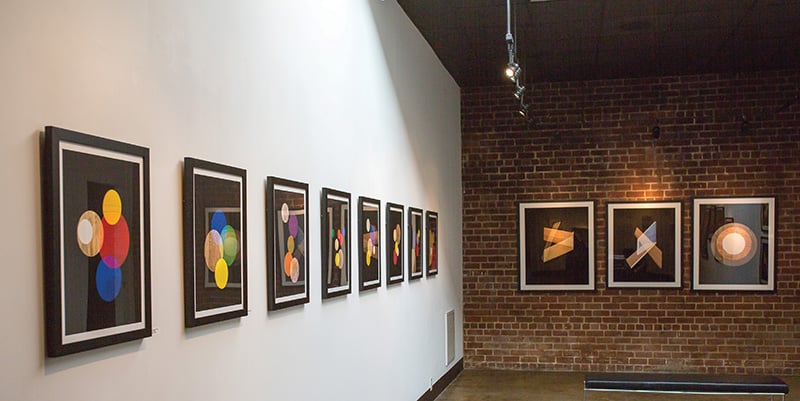 "SILOED" IS THE BUZZWORD often used in nonprofit circles to describe Charlotte's arts institutions. Prior to 2017, the most high-profile collaboration was just within the Levine Center for the Arts, such as a pass that gets visitors into three museums at a discounted rate. That changed with this year's "In Focus/Enfoque," which unified seven of Charlotte's visual arts institutions in a multi-site, multi-exhibit project centered on contemporary Mexican photography.
Allen Blevins, Bank of America's retiring director of global art and heritage programs, is behind the effort. "I wanted to do something with a real community impact here," Blevins says. "How can we as a bank help all of these individual arts organizations work together?"
Blevins says "In Focus/Enfoque" isn't just unprecedented for Charlotte, but for most major United States cities. In 2010, Los Angeles museum the Getty approached Bank of America to help fund the groundbreaking "Pacific Standard Time," a project that would bring together more than 40 museums in its city. The second iteration of that initiative now has 70 institutions involved. Those partnerships were previously unseen in Los Angeles.
Charlotte doesn't have 70 art institutions, but getting even seven to collaborate is a feat, Blevins says. He had the idea for Charlotte to have its own version of "Pacific Standard Time" after securing Mint Museum Uptown as the first American venue for an exhibit from Mexico's Televisa Foundation. "Once we had that, we built around it," Blevins says. "We narrowed it down to Mexican photography, and then narrowed it down more. I kept on saying, 'Focus, focus, focus.' And someone said, 'Well, let's call it 'In Focus/Enfoque.'' So we used that as the framework. The museums and galleries quickly fell into place."
Blevins was able to secure participation from SOCO Gallery, the Light Factory, New Gallery, LaCa Projects, and the McColl Center for Art + Innovation. The Bechtler Museum of Modern Art was the last to join the effort, as it first seemed unlikely for a modernist art museum to show contemporary work. Meetings with Bechtler curator Jen Edwards produced an idea to exhibit photographs from Bank of America's own collection, showcasing the modernist photography that created a foundation for the contemporary art found next door at the Mint. Paul Strand in Mexico and Maestros Mexicanos de la Fotografía Moderna: Manuel Álvarez Bravo, Manuel Carrillo, Flor Garduño, Graciela Iturbide y Mariana Yampolsky opened at the Bechtler in the fall.
The Arts & Science Council provided additional funding to accommodate Spanish-speaking viewers, from the literature and wall text to bilingual docents to lead visitors around the museums.
Blevins hopes Charlotte's institutions can see a template in "In Focus/Enfoque," as it continues to try to garner new audiences and find points of entry into unseen communities within the city. He looks at Bank of America's involvement as continuing a tradition, forged by former CEO Hugh McColl as one of the city's key cultural figures. "It's part of the DNA of Bank of America to be involved in Charlotte," Blevins says. "To me, this is just a continuation of what we do. I was just talking to Mr. McColl about the project, and he said, 'Could anyone else but the bank pull this off?'"
---
See the final two exhibits in "In Focus/Enfoque" now:
Bechtler Museum of Modern Art
Maestros Mexicanos de la Fotografía Moderna: Manuel Álvarez Bravo, Manuel Carrillo, Flor Garduño, Graciela Iturbide y Mariana Yampolsky
Through March 4
Mint Museum Uptown
Reveal and Detonate: Photography in Mexico Develar y Detonar: Fotografía en México
Through June 17