Inside Skiptown, a Dog Utopia in South End That's Just the Beginning
A tour of Meggie Williams' South End palace for good boys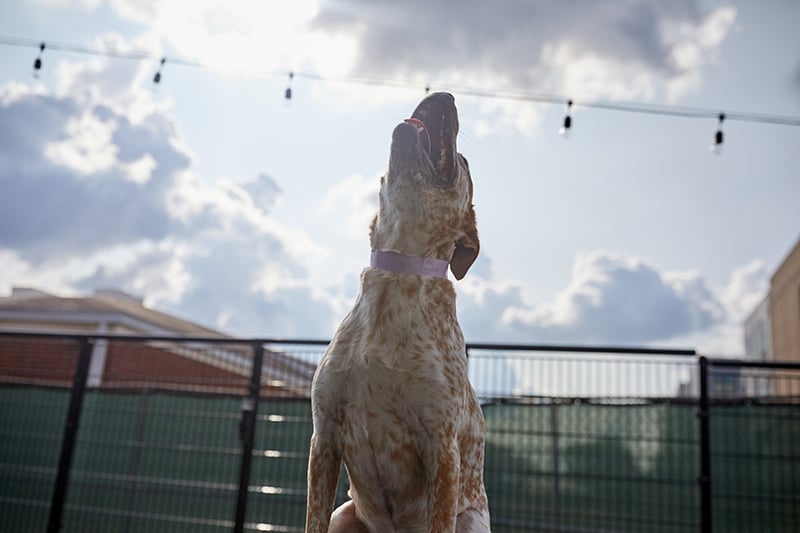 About 5,000 apartments—and about 2,500 dogs—reside within a 15-minute walk of 222 Rampart St. in South End, says Meggie Williams. This is partly why she chose this former industrial site—with a climate-controlled 24,000-square-foot indoor space and a 15,000-square-foot outdoor area—for the first Skiptown, an enormous dog park, kennel, and bar that Williams calls "the Whitewater Center for dogs."
Apartment dogs represent a big chunk of the clientele at Skiptown, which opened in August. Williams knew many of them from another business of hers: a dog-walking service and app called Skipper, now absorbed into the Skiptown brand. Meggie, 32, and her husband, co-founder Sebastian, started their business as The Waggle Company in 2016. She began walking dogs when the pair lived in New York City, before they moved to Charlotte in 2014. The "oasis" they've created in South End is meant to meet the needs of busy Charlotteans, "to just tie into people's routines or lifestyles in a way that gives them this peace of mind, where they can have fun and relax together with their dog or leave town for a few days," Williams tells me in August, when I visit just hours before a VIP opening. "That's the vision. That's what we want to achieve here."
The engine behind both Skipper and Skiptown is an unusually robust smartphone app. Williams used to work as a strategy and transformation consultant for IBM, and she employed her tech skills when she founded Skiptown. The company has in-house developers and support specialists, which it needs: The app controls every aspect of boarding, day care, and the bar. Members upload their pups' veterinary records and schedule visits and dog walks. Staff use it for check-in, meal and playtime alerts, and specific instructions for each furry visitor. Does Sadie the goldendoodle not like neck scratches? Did Cooper the bulldog come in with a red leash that needs to be returned when he checks out tomorrow? It's all in the app.
Through her experience with Skipper clients, Williams learned what Charlotte kennels lacked. Skiptown has 24-hour staff supervision and curates playtime sessions based on personality assessments of visiting dogs. The amenities sound like they belong in a luxury hotel: valet drop-off, an odor-controlled environment, Tempur-Pedic beds, and an irrigation system that keeps the outdoor turf urine-free. (OK. Maybe not that last one.) "Some people prefer to not have their dogs crated, but that's never been an option," Williams says. Half of Skiptown's rooms are kennel-free, with living room-style environments that include couches and cots. Those temperament assessments for dog pairings also extend to the crate-free rooms, which keeps those spaces safe.
Skipper's existing ties also produce community partnerships. Babe & Butcher, a local business (and Charlottemagazine Best of the Best honoree) known for stunning charcuterie boards, crafted "custom human- and dog-friendly bark-uterie picnic packs." The 25-tap bar serves mostly local beverages, including selections from NoDa Brewing, Skiptown's neighbors at Sycamore Brewing, Triple C Brewing, and Hex Coffee—and there's even one tap for dogs only: Calvin's Craft Cookies made proprietary bone-broth beer for dogs. It's available at both the bar and in take-home packs. "When I came to Calvin (of Calvin's Craft Cookies) and say, 'We need a dog beer. That's all I know. What do you think?'" Williams says, "his immediate answer is, 'We can figure it out.' It's that kind of mentality that has made this such a fertile ground to have this concept work. It's taken so many people to make this successful."
Details like these continue to build the brand, which makes most of its money from memberships. A $350 annual membership gets you unlimited entry to the park and bar with your dog; four free services a year in the day care and boarding facility; access to members-only events; and more. You can also buy a day pass for you and your dog for $15 or a monthly pass for $40. If you're dogless, you can come in for free.
Even during a pandemic, hundreds of socially distanced dog lovers have visited during Skiptown's first few events. The response has encouraged Williams to forge ahead on her planned 2021 openings in Nashville, Washington, D.C., and Atlanta. The brand will always focus on the little things, she says: "It's when you come in here and actually experience them that you see it as one big picture. Every detail has been taken into account to really make this a place where dogs are going to have the time of their lives—and so are their people."
PUPPER PAMPER
Skiptown's not the only advanced boarding game in town. Here are four other options:
---
3814 MONROE RD.
(with another location in Pineville)
This "hotel and day care" offers spa treatments, obstacle courses, individual cuddle time, and curbside pickup. Activity programs focus on all-important skills like hide-and-seek with treats, Kong puzzles, and "indoor digging."
2426 DUNAVANT ST.
Don't worry: Your dog will not miss that showing of
Air Bud.The "suites" here have tempered glass fronts that offer views of a 50-inch TV for evening film screenings. Private water bowl access helps prevent the spread of illness.
2220 THRIFT RD.
(with other locations in Steele Creek and Cornelius)
For those who like to imbibe with their pups by their sides, Lucky Dog is a longtime favorite sports bar-slash-boarder in Charlotte. The on-site "boutique" advances your dog's wardrobe with Panthers gear, toys, and custom leashes and collars.
8702 STATESVILLE RD., STE. A
This one gets pun points for the name, even though it's not in uptown. The boarder and day care has the city's only water park for dogs, which includes a misting archway, 7-foot waterfall, five in-ground nozzles, play puddles, and more.