Inside Tamu Curtis' Interactive Cocktail Classes at Atherton Mill
The owner of The Cocktailery lives every hour like it's happy hour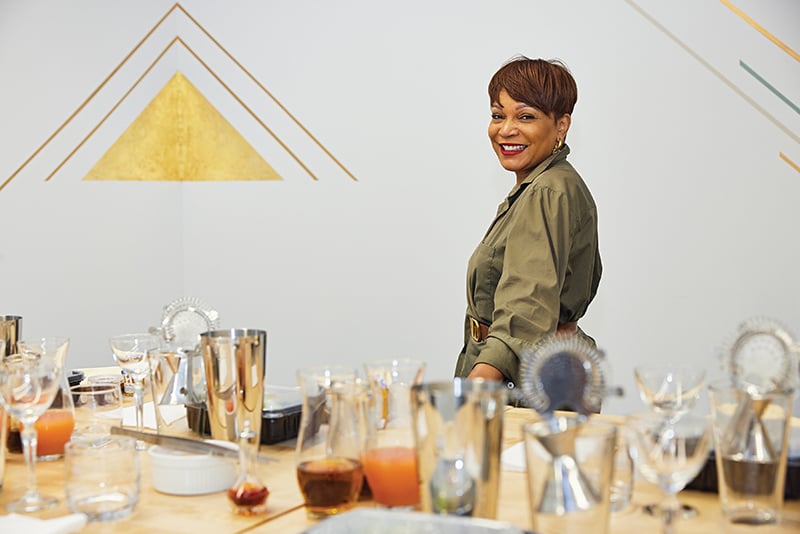 It's the first weekend of spring, and the streets of South End brim with people who've spent much of the last three months indoors. They walk their dogs along the Rail Trail, drink beers on the patio at Trolley Barn, and peruse the shops inside Atherton Mill. To the left of Not Just Coffee, at the center of the former textile mill, is a storefront where many passersby pause and peek: The Cocktailery.
A floral mural dotted with gold leaf stretches across one wall, and shelves display martini shakers, Champagne glasses, cocktail syrups, and vintage glass bourbon decanters. A bitters tasting bar takes up one corner, and a lounge area has stacks of mixology books for visitors to browse. Behind this retail space, another room buzzes with music and chatter. Customers ask the cashier what's happening on the other side of that wall as she rings up their wine stoppers and "Sip Well" T-shirts.
That's where owner Tamu Curtis teaches her interactive cocktail classes. The retail-workshop hybrid is an extension of Liberate Your Palate, a series of hands-on mixology classes she launched in 2016. She hosted them in restaurants, co-working spaces, and private homes across Charlotte before she opened The Cocktailery in September 2021.
On this Saturday afternoon, Curtis welcomes a group of 12 into the studio and invites us to find stools around the butcher-block counter. As we take our seats, she sets out clear buckets of ice beside decanters of grapefruit juice, bourbon, and bitters. Each place setting is equipped with a shaker, glass, strainer, and steel jigger, as well as a box filled with meat, cheese, and fruit for a charcuterie demonstration with Eboni Lewis of The Board Experience.
"Let's talk about the tools in front of you," Curtis says from the front of the room. She points out the different glasses and accouterment, then picks up the cocktail shaker. "When we shake our cocktail, we shake with intention!" she says. "I wanna see the ice hit from the bottom to the top. Shake those molecules and bring them to life!"
We make a drink called The Brown Derby, a sweet, citrusy cocktail created in the 1930s at the Vendôme Club in Los Angeles. The Brown Derby, Curtis explains, was named for the hat-shaped diner nearby. "Most cocktails are a ratio of 2-1-1," she says as we pass the decanters around the counter, measure, and pour. "Two parts spirit, one part sweet, and one part sour."
The class has a handful of non-bourbon drinkers, but this combination of bourbon, grapefruit juice, and honey syrup changes our minds. "The grapefruit juice brightens it up," Curtis says. "You have to use contrasting flavors; it adds more depth. It's about balance, baby."
As we measure, mix, shake, and pour, Curtis tells us about the evolution of The Cocktailery. The Oakland, California, native began her career in Los Angeles, where she spent 20 years designing marketing campaigns for clients in entertainment, retail, beauty, and fashion. "I love to put on a show," she says to the class, "and I fell in love with the experiential offering of cocktail classes."
When she moved to Charlotte in 2012, she says cocktails became her "exploration of the city." "People were drinking vodka cranberries in plastic cups. I was like, 'No, boo,'" she says with a laugh. "But Charlotte was growing, and I became more curious about cocktails. I wanted to take the mystery out of mixology and make cocktails more approachable."
Today, The Cocktailery is a destination for date nights, birthday parties, and girls nights out. She's designed custom classes around mezcal and sake cocktails and added lessons for customers to learn to roll sushi, design floral arrangements, and construct resin gold leaf coasters. "By the end of the evening," she says, "the class has pretty much turned into a small cocktail party, with folks enjoying their beverages, vibing to the music, and mingling with the other guests."
Curtis recently earned her WSET level 2 wine certification and plans similar classes for wine pairings with cheese and charcuterie. "I used to think cocktails were complex, but now I think wine is complex," she tells me later in an email. "I'm learning more about amaros from Italy, and vermouths, which are really fortified wines."
She invites us to sip our Brown Derbys, then steps aside so Lewis can begin the charcuterie lesson. "If you're shy, that's not gonna work today," Lewis says as she pulls the lid off her box of edible building blocks. "We're all gonna be friends here."
Lewis handpicked each ingredient to pair with the day's cocktails, and she tells us the best places in the city to shop for them. Everyone gets two types of cheese, two types of salami, grapes, blackberries, a medley of nuts, dried cranberries, and honey. "Cheese is great with bourbon because it brings out that nutty flavor of cheese," she says, "but use whatever makes your mouth happy."
She shows us three different ways to make floral designs out of the salami and explains how to layer flavors and textures to create the best meat-and-cheese combinations. The more we sip our Brown Derbys, the more we impress ourselves with our salami roses and dill garnishes.
We admire each other's boards and snap a few pictures for Instagram, then start nibbling our snacks as Curtis takes over again. To finish out the class, we make a Prohibition-era cocktail called The Bee's Knees. It follows the same 2-1-1 ratio, but with gin, lemon juice, and honey. We shake with intention, position our strainers like the experts we now are, and pour the sweet, tart drink into delicate coupe glasses. If a sunny spring day had a taste, this would be it.
We pack up the charcuterie fixings we don't finish, and Curtis wishes us all luck in stepping up our cocktail game at home. We leave with a low-grade buzz that could signal the end of a really fun afternoon—or the beginning of a spectacular night out.