Inside the Growth of Time Out Youth
The center's new space—and its future plans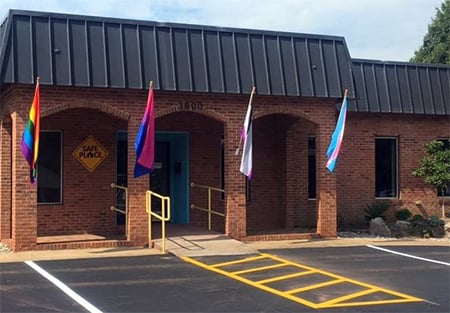 WHEN I WALK through the doors of the Time Out Youth Center's new location, my eyes are immediately drawn to the pristine carpet, grey with bright blue stripes, and freshly-painted walls covered in splashes of color: everything from identity-affirming signs with hotline numbers to large effervescent paintings by local artists. In the lobby, I'm greeted by Rodney Tucker, the center's executive director. He shakes my hand and invites me on a tour, walking me through the center's conception and renovation process.
In the wake of the 2016 election and HB2, many young members of the LGBT community felt that they were suddenly stripped of rights and protections, and perhaps even more at risk than they were already, he says. These fearful reverberations are felt throughout the LGBT community for youth and adults alike, but perhaps no one is hit harder than trans youth and LGBT youth of color. Regardless of current political climate, these are the members of the community that are most at risk. Trans people are four times more likely to live in poverty, and 40- to 50-percent of trans youth will have attempted suicide by the age of 20. Seventy-eight percent of trans youth experience some form of harassment at school.
In the Center is a small but brightly-lit room called "TransCloset," provided by Transcend Charlotte, an organization dedicated to providing support for trans youth in the Charlotte area. The closet provides clothing, makeup, and accessories at no cost to trans youth to aid them in their gender transitions, a thoughtful and incredibly necessary service. I meet with Parker Smith and O'Neale Atkinson, staff at Time Out Youth, who lead a discussion group at the center called Tea Time, which seeks to facilitate discussion and support among trans and non-binary youth. Parker and O'Neale have taken their own experience leading the group and compiled it into a physical guide that they call "a facilitator's guide to effectively leading a ten week trans and nonbinary youth structured group," which they provide to both adults and youth that seek to lead their own version to Tea Time in their communities. I was told that young people who have visited the center, both trans and not, have taken up the Tea Time guide to lead discussion among friends, parents, and groups.
At 7,500 square feet, Time Out Youth's new spot on Monroe Road is more than double the size of the center's previous NoDa location. "Vibrant" is the most apt word to describe the environment at Time Out Youth. Between the art-covered walls, the soft and inviting bean bag chairs, and the people I meet during my brief tour, the center is designed not just to provide comfort and support, but also fun. Time Out Youth has two community areas in the facility. One, the largest, serves as a casual catch-all room, with a small snack bar, plush couches designed to be climbed on and over, and a large multimedia space that boasts every video game platform imaginable. This is where kids spend the majority of their time during drop-in hours, time slots throughout the week during which they are free to stop by and spend their time however they wish within this inclusive space. Another smaller community space serves as a meeting space for various groups and activities the center organizes. There are weekly support groups focusing on the various crucial aspects of navigating the world as LGBT youth, such as a guide for building healthy relationships, a trans-specific group, and "melanin magic" for youth of color. This is also where they hold group dinners, movie nights, and yoga and meditation classes.
There is a jam-packed corner of bookshelves that serve as the center's LGBT library, providing books LGBT youth may not find on the shelves of their school or even public libraries, books that seek to inform, educate, and, perhaps most importantly, provide desperately needed representation. In this same space is the cybercenter. Provided by the David Bohnett Foundation, this cybercenter allows the youth to search the web, work on school projects, and print at no cost. At school, there are often filters to restrict internet access, which often flag anything remotely related to "LGBT." For LGBT youth who are closeted and afraid (or unable) to explore the internet at home, school computers are additional roadblocks in their search of affirming resources. However, in this space at Time Out Youth, they are able to roam freely—for the most part. I'm told that the staff keep a close eye on any teens that may try to access "dating sites."
Among the Center's many other services and programs, there'ss also a counselor on staff to provide therapy sessions to youth at no cost, local art groups that lead activities such as paint and sip and spoken word. There is a kitchen on site where visitors to the center are able to cook and prepare snacks and meals. The center even has a Queer Prom, which allows LGBT students a space to celebrate the traditional high school rite of passage without fear of discrimination. And still, there are plans to grow: In the next two years, Time Out Youth plans to open their own homeless shelter for LGBT youth, and have already purchased a space for the shelter behind the center itself.
So many communities in the South are without access to any type of program similar what Time Out Youth provides, and they are suffering for it. The statistics are harrowing: 4 in 10 LGBT Youth (42 percent) say that their communities are unsupportive of LGBT people. LGBT youth are twice as likely to experience harassment or bullying as their straight or cis peers. (source: hrc.org/youth) 40% of homeless youth are LGBT and 70- to 80-percent of the time it is because they have left home or been forced to leave. More than attempting to solve broader issues like homelessness or suicide, groups and community resources such as the Time Out Youth Center provide LGBT youth with the one thing to which every young person has a right: the feeling of safety in a room full of people that share a common identity and experience: a community.