Inside the Making of Charlotte's New Arthouse Movie Theater
The Independent Picture House will offer a moviegoing experience that supports and reflects the community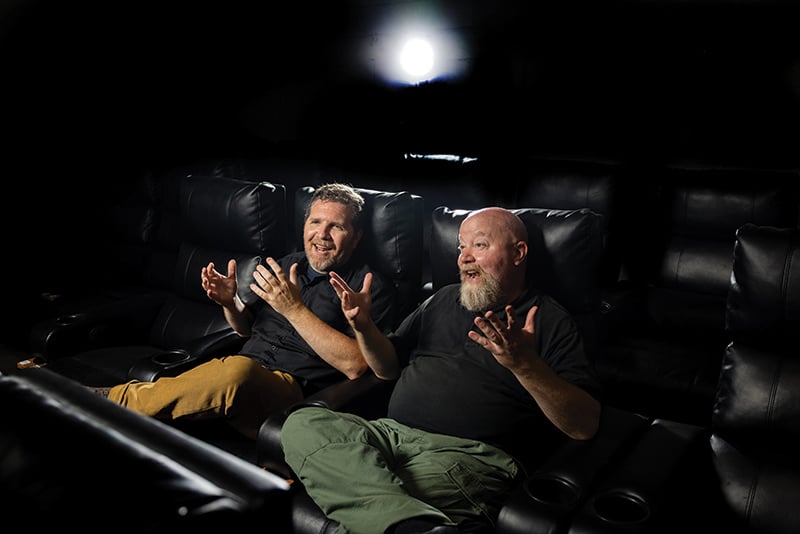 The Regal Manor Twin movie theater needed a projectionist. The last one had caught the projection booth on fire. Manager Ann Robinson hired Brad Ritter, a recent college graduate who had just moved to Charlotte. Not long after he started in 1993, a mandate came down from corporate: All nonmanagerial staff were required to wear paisley vests and bowties. When Robinson told Ritter, she already suspected what he was going to say: "I can't do that." So she made him an assistant manager.
Ritter, who's also president of the Charlotte Film Society, eventually became general manager, a title he held until Regal Entertainment Group shut down the 73-year-old movie theater last May. The demise of Charlotte's only art house cinema gave Ritter and the film society leadership the push they needed to do something they'd wanted to for years: open their own cinema. If we don't do this, Ritter thought, who's going to do this?
The film society secured a lease at 4327 Raleigh St., near the Sugar Creek light rail station—across the street, oddly enough, from a former movie theater—and plans to open the Independent Picture House later this year, in an area Ritter predicts will become an arts hub. Charlotte cinephiles, filmmakers, and the scattershot collection of film organizations in the region will finally have a place to call their own.
The area is far from an arts hub now. I pull up to the site during a sweltering dry spell in late May. Parched tangles of grass grow out of cracks in the parking lot, and a barbed wire fence rings the property. In the lot next door, sun glints off rows of tractor-trailers. Ritter greets me in the parking lot, a chain of laminate swatches for the concession counter dangling from his hand. We're joined by Jay Morong, a UNC Charlotte theatre and film studies lecturer who serves as director of programming for the film society.
The dark, gutted building provides welcome relief from the heat. Workers recently removed segments of the floor to run plumbing, and the rich aroma of construction and sawed concrete lingers. Ritter and Morong point at the sparse architectural features to conjure the future: First, they delineate their portion of the building, which they'll share with the Charlotte Art League and two other tenants. We face the concession stand in what will eventually be a small lobby. To our right will be an intimate, 19-seat microcinema with recliners, which Morong anticipates will become a favorite venue for offbeat films. Further back, the space opens up dramatically as the lobby's 10-foot ceilings surge upward. In this area, whose dimensions match the Manor's almost exactly, parallel theaters will hold 86 and 108 seats.
Ritter, who took on this project full time after losing his job, has enjoyed the design process, but he and Morong are more excited about the programming and community-building possibilities once construction is complete. At the Manor, Ritter wasn't able to negotiate with independent filmmakers who wanted to show their work. "I would always have to give them the 800 number to Knoxville," he says. "I don't think I ever heard back from one person." Now, he'll be able to offer artists reasonable rates to show their films in a real theater, so they won't be relegated to classrooms and brewery back rooms. "When they see their movie on a giant movie screen, they're excited because, I've never seen it this big, but then they also see how it's different watching it on a monitor this size," Morong adds. "That, to me, makes better filmmakers."
In his decades at the Manor, Ritter thought plenty about what he would do differently. Selling beer and wine, for example, which Ritter considers indispensable for a modern movie theater. The idea was perpetually on the Manor's to-do list but never came to fruition. Another frustration was how infrequently the Manor changed what was playing. Moviegoers would often ask when the theater would get new movies. "They're not going to come back to your two-screen cinema and buy popcorn and soda and have a communal experience," Morong chimes in, "if they've already seen the two movies that are playing there for six weeks." The Independent, by contrast, will feature a more dynamic rotation—and tailor showings to local tastes.
"It's communal curation," Morong says. "We're here. You come into the theater, you're talking to Brad, you're letting him know what's good, what's bad. That's all in his brain, so the next time there's a movie from that director, or that country, or that type of movie, it's like, That's something our audience really seemed to enjoy." Cinema leadership will be poised to offer an eclectic mix of films that will—and won't—resonate with their core audience. Morong is excited to highlight niche, off-the-wall films (think: Neil Breen) that will challenge clientele, unlike streaming services, which serve recommendations based on established preferences. "As curators," he says, "we want you to take a little step."
The Charlotte Film Society has already raised about $400,000 toward its goal of $1 million to complete the renovation and cover a couple of years of rent. A grassroots GoFundMe campaign has contributed more than $119,000 to the effort. Morong and Ritter have found support among former Manor regulars, cinephiles, and Charlotteans who buy into the importance of local establishments. Like the city's craft breweries and farmers markets, the cinema will offer consumers an alternative to corporate chains. "I call it 'cinematic choice,'" Morong says.
Even though the Independent will operate much like a commercial movie theater—albeit likely without the exorbitant popcorn prices—Morong and Ritter emphasize that its nonprofit ownership means managers won't chase profit and snap up tropical vacation homes. "That money is going right back into this venue," Morong says. They hope to offer deals to local artists to show their films, sponsor director visits during the Charlotte Film Festival, and eventually offer grants to aspiring filmmakers.
Sun streams through the glass doors as a neon-clad construction worker sweeps debris off the floor nearby. Morong explains how the spirit of theaters past will infuse the next chapter of Charlotte's independent cinema. The joy and magic of going to the movies at the Manor—or even the decrepit former movie house across the street—will help bring these concrete floors and exposed rafters to life.
I try to picture it: Kids pull on their mothers' shirts and beg for a box of Milk Duds. Audiences spill out of the pair of theaters, sharing highlights and perhaps trying to hide tear-stained cheeks. Future Spielbergs pick up tips at a film festival lecture, while old Manor regulars chat with Ritter in the lobby. Filmgoers queue for an awards contender and spot the poster for an indie film destined to become their new favorite.
Cinephiles want to escape the mundane and mainstream. Ritter, Morong, and the Charlotte Film Society want to give them that chance—without sacrificing the local history, knowledge, and support that makes their escape possible. "We don't just want to be a business that's operating," Morong says. "We live here. We've been here for a long time. We're part of this community."