Inside the New Menu, Interior of Providence Road Sundries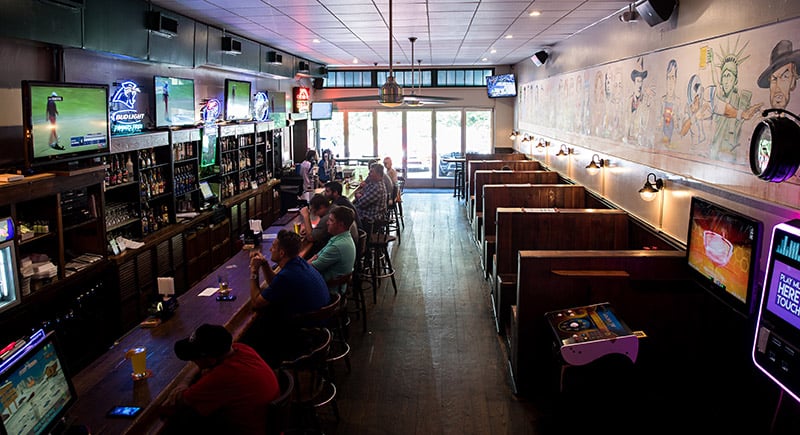 AT THIS VERY SPOT in front of the kitchen on these wooden floors that are older than he is, Paul Bell has heard the stories of two women and how their water broke, right here at this very spot in front of the kitchen.
"Don't quote that! Don't quote that!" Bell's wife of 33 years, Meredith, says, bashfully, as she swats his arm and smiles.
So Meredith tells another, more family-friendly story about Providence Road Sundries, the 84-year-old bar and restaurant where she and Paul are majority owners. They bought most of Paul's brother, Doug's, shares of the place in May 2016. But they were customers long before that. They've heard all the stories, and they've made some themselves.
Eighty-four years in business for a bar makes for a whole lot of stories, a whole lot of memories from a whole lot of regulars.
Regulars such as Joe Marley, who, on a Wednesday evening in April, sits in a booth behind Paul and Meredith. He's been coming here for more than 50 years. Back then, Providence Road Sundries was a drug store and soda shop. It used to be called Smith's Pharmacy, named after the spot's Dr. Smith. The now-defunct Eckerd Drug Store in Myers Park Shopping Center proved to be too much competition, so the pharmacy section shuttered. The soda shop remained until the mid-1970s, when then-owner John DeRamus converted it to a bar and deli.
Along with the interior, the menu at Providence Road Sundries also got an update, with some healthier options—this burger excluded.
Providence Road Sundries
1522 Providence Rd.
704-366-4467
In 1965, when Marley was 10, he'd play football a few doors down Providence Road in Christ Episcopal Church's front yard. Then, he'd come to Smith's for bubblegum and snacks.
"We'd buy baseball cards in the summer for a penny," Marley, now a managing director at a local risk management firm, says. "Boy, that was the best deal in town."
Marley points to the far back of the restaurant, where the bathrooms now are, and recalls how he used to stick his hands in the big penny-candy jars.
He scratches his chin and smiles.
"I hate how old this makes me feel," he says.
Marley's hardly alone with his long history here. This neighborhood bar has plenty of regulars. Paul and Meredith fondly recount the early days of the restaurant and bar, and how this used to be the spot, when the legal drinking age was still 18, where many Charlotteans had their first legal drink.
"You'd come back from college and everybody was gathered here because that's where all your friends were, or because that's where you met your girlfriend," Paul says. "Over the years, it's been a place where you come to see your old friends, especially during the Thanksgiving and Christmas holidays. We're the third generation to do that. Our children are now married and coming here with their young children."
***
THERE AREN'T any more penny candies or baseball cards. The ballet studio that used to be next door long ago left behind bolts, lodged in the bar's brick walls like shrapnel in bone. But this neighborhood bar still stands, collecting more memories and stories.
The restaurant now has a 40-foot mural on its far side with caricature portraits that include Ringo Starr twirling spaghetti with his drumsticks, the Statue of Liberty holding a Providence Road Sundries menu, and the Mona Lisa drinking a berry-flavored Boone's Farm. Even the mural, though, has a story behind the story. The 60-year old painter, John Tomlinson, is a Providence Road Sundries regular who painted the mural as a gift to the restaurant that first inspired him to draw.
"He would come after Sunday school and get a soda, and they sold comic books in the back," Meredith says. "J.T. would come and get a milkshake and read comic books, and that's what inspired him to eventually learn to paint and draw."
Tomlinson spent about six months creating the mural, which he painted on five separate boards in his basement to contain the secret until it was time for the unveiling in December.
Meredith is giddy about this addition to her restaurant, constantly encouraging Paul to take visitors to see the details in the mural—including Christ Episcopal Church's logo and a bird perched on Alfred Hitchcock's shoulder.
But as she thinks about her restaurant's new mural and the stories about this spot, there's one story that's extra-close to her heart. It's a story Paul, decades later, doesn't quite remember. So Meredith reminds him.
Meredith and Paul met while on family vacation in Georgia before they were teenagers, but got reacquainted here, in the restaurant they now own, after the two had returned from separate colleges. One day by chance, 35 years ago next April, Meredith came to Providence Road Sundries to have dinner with a friend. Paul came for takeout.
"You saw me, and we talked for a while, and then you called me the next day," Meredith says with a grin, as she looks at Paul and points toward the exact table where she sat with her friend that evening.
Paul returns the smile as the memory floods back. The two sit next to each other at a high-top table and remember the beginning of their story.
Right here, right in this very spot, their story began. And right here, it continues.
Jared Misner is a writer for this magazine, and he can't recommend Providence Road Sundries' homemade onion rings enough. Contact him at jaredsmisner@gmail.com.
---
Mural search!
Can you find these "hidden pictures" in Providence Road Sundries' mural?
• A yellow submarine
• A butterfly and a bee
• A Providence Road Sundries menu
• A Charlotte Hornets logo
• A piece of the mural that required a little extra room
• A beaker
• A bloody-beaked bird