Inside the West Side Community Land Trust's Fight Against Displacement
As developers close in on the west side, a group of residents explores what may be their only option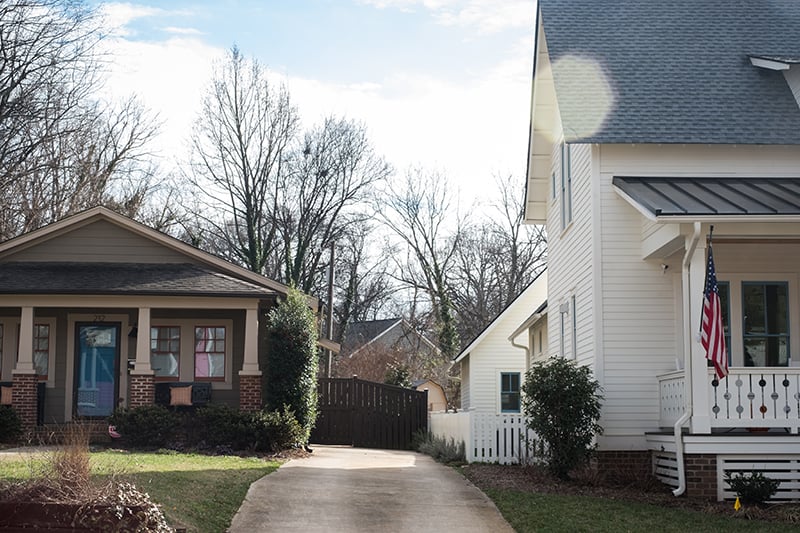 BLACK MEN AND WOMEN FOUNDED what was to become Moore's Sanctuary A.M.E. Zion Church in 1870 as a brush arbor, a makeshift church constructed from logs with intertwined branches for a canopy, in western Mecklenburg County. The men and women who moved—or were forced to move—to this area over the decades turned Moore's Sanctuary into a hub for a growing African-American community. Generations were baptized and worshipped there.
The property grew through land donations in the early 20th century. A sanctuary building was constructed in the 1920s. The church added an education wing and fellowship hall in 1966, around the time urban renewal projects were destroying center city black neighborhoods and forcing their inhabitants to the west side of the growing city of Charlotte. In 148 years, Moore's Sanctuary has never moved from its original spot. The sign that greets worshippers today quotes the book of Exodus: "And let them make me a sanctuary; that I may dwell among them."
Rickey Hall, who's spent all of his 61 years on Charlotte's west side, pulls his car past the sign and into the church parking lot on Morris Field Drive, just off Wilkinson Boulevard and about a mile or two east of Charlotte Douglas International Airport. "Let me just show you something," Hall says. He parks and produces a folder with a sheaf of papers, the result of research by community historians J. Michael Moore and Tom Hanchett, who are writing a history of the West Boulevard corridor. The road is the west side's spine, near the old Plato Price School for black students, which closed in 1966 and boasts as alumni former Congressman Mel Watt and educator and legislator Phillip O. Berry; and home to historic black neighborhoods such as Capitol Drive and Reid Park, where Hall was born and raised, a community that a black man named Ross Reid helped build in the 1930s.
Rifling through the papers in the church parking lot on a chilly, overcast February day, Hall emphasizes that what he and other west side residents have been trying to do in the last couple of years goes beyond historic preservation. Through the years, by choice and design, west Charlotte has been the poor part of town with the cheapest land, the area where generations of African-Americans have gone to school, opened businesses, and made their homes. "There's a community structure here. An identity. A sense of place," Hall tells me. "We're not a blank slate." What he means is, now that real estate developers eye the west side as the next frontier for Charlotte's growth, they drive down West Boulevard—or Wilkinson or Freedom Drive or Tuckaseegee Road—and see only the subdivisions and apartment complexes they could build.
Hall envisions a different kind of future with other structures: single-family homes in the hands of people who have never been homeowners before and mom-and-pop businesses in west side neighborhoods controlled, at least in part, by people who have lived there for years. That's why he helped establish a nonprofit organization, the first of its kind in Charlotte, that can buy and preserve some of the land to keep it out of development's reach.
The west side's foundation was built over decades by "African-Americans who wanted their share of the American dream," he says softly, having just overcome a bout of flu. "And from that, they either built their houses from the ground up or took old barracks from Camp Greene military installation and converted them into homes. From that, then the schools and the churches followed. So it is that self-determination, that progressive spirit, that desire—that's what it represents to me.
"We know change is coming. But change shouldn't totally wipe out the presence of people who are here and who have invested so much of their lives for so long."
***
HISTORICALLY, CHARLOTTE'S WEST SIDE has battled enemies common to poor communities: high crime rates, substandard schools, inadequate job opportunities. In the last few years, and for the first time, it's acquired a new antagonist: desirability. West side neighborhoods lie within a few minutes' drive of the center city or the airport, or both. The city is making plans for a streetcar line to run along the Beatties Ford Road corridor and an eventual mass transit line to connect uptown and Charlotte Douglas. The proximity means higher land values, and developers have already begun to assemble pieces on the chessboard.
It's the same throughout the city in a post-recession building boom that has caused home, rental, and construction prices to skyrocket—the root of an affordable housing crisis that's rapidly become Charlotte's highest-priority civic issue. The estimated 34,000-unit affordable and workforce housing shortage has dominated local elected officials' discussions the last two years; the City Council devoted the second day of a three-day retreat in February to potential solutions, including a proposal to more than triple the size of the city's designated Housing Trust Fund.
It's unclear exactly how much west side property values have risen, or how many developers are eyeing how much land. That picture will come into sharper focus after the county tax revaluation scheduled for next year. But the county Tax Assessor's Office, through a sample of property sale records in the west side neighborhoods of Seversville, Biddleville, and Smallwood, has estimated that property values there have risen by an average of 44 percent since 2011. Hall says he worries about developers "coming in kind of a predatory way. The dollars that come from those acquisitions don't remain in that community."
But there is a way for communities, by themselves or with support, to shield land and homes from the speculative market. It's a tool devised in the early 1980s and used with varying success in cities around the country but never before in Charlotte: a community land trust.
It works like this: Members of a community form a nonprofit that seeks out land and the money to buy it. Once the land trust acquires property, it can set deed restrictions that prevent sale of the parcel to developers. Whether there's already a house on the property or one needs to be built, the land trust can sell it at an affordable price and, if it has enough money, cover any gap between the actual cost and what the buyer can afford. The home buyer leases the land from the trust but owns the home, giving people who have never been able to build equity—a key to generational wealth, the kind parents can pass on to their children—an opportunity for a stable home and, no small thing, access to credit.
Hall and a group of west side activists began talking about the idea in late 2015 and formally established the West Side Community Land Trust in December 2016. Since then, Hall and his land trust co-chair—Greg Jarrell, a white, 38-year-old minister and community leader in the Enderly Park neighborhood—have assembled a modest collection of grant awards and properties they hope represent a seed for something far larger. In Hall's mind, the goal is a west side community where people who usually can't secure mortgage loans from banks can afford homes that fit their incomes and build the credit they need for loans to open businesses—food markets, maybe, for a side of town with a chronic shortage of them.
That's in the future, if it happens at all. But the development is coming, as Hall says. A thriving land trust would ensure that people on the west side at least have a foothold in it. "If you don't own and manage the land, there's very little you can do," he says. "You're just at the mercy of the owners."
***
JARRELL AND HIS WIFE, HELMS, have lived in Enderly Park since about 2005, when, as recent graduates of a Baptist seminary, they and another couple decided to live their belief in racial and social equality by establishing a ministry and home in a poor, mostly black neighborhood. The other couple eventually moved on. But the Jarrells remained in Enderly Park—two miles northwest of uptown and on the center city side of Interstate 85—and established a new ministry called QC Family Tree on a side street off of Tuckaseegee Road.
It was there that the idea for the land trust really took wing. In spring 2016, a group of west side residents met at QC Family Tree to talk about how to preserve affordable housing. Among the group was pediatrician Stephen Valder—the son of Robert Valder, a 1960s Charlotte civil rights leader—who had recently retired and begun doing volunteer community work. Jarrell mentioned a land trust as a topic he'd been researching and wondered if it might be a way to preserve land in other parts of the west side. Over a series of subsequent meetings, Valder offered to help research the finer points of setting one up: incorporation, bylaws, best operational practices—the kinds of details no one else in the room had the time, knowledge, or inclination to nail down.
"I'm kind of a systems thinker. I like to solve problems, make things better," Valder, 54 and white, tells me in his home in the Belmont neighborhood, another area near uptown that poor, black residents are vacating because fresh development has forced land values skyward. "Greg and Helms are probably the closest people I've met who remind me of my parents."
Any discussion of real estate developers snapping up cheap land in historically black or Latino neighborhoods and transforming it into magnets for young professionals eventually brings forth what west side residents call "the g-word": gentrification. Jarrell and his cohorts on the land trust board view the term as a euphemism that obscures what happens to people and families forced to leave when the newcomers arrive. They prefer "displacement." Jarrell says the terms themselves reflect the imbalance of power between the gentrifiers and the gentrified, the beneficiaries of displacement and those who've been displaced.
"One of the most important qualities of the land trust is that it puts people who are most affected by the rapidly rising cost of housing—by displacement from the neighborhoods where they've lived for a long time—at the table and gives them the power of this organization to be part of developing their neighborhoods," he says. "Whether this makes a huge dent in the overall number or not, I think it could have outsized importance because of the way it shifts power and equity towards communities affected by new development."
One of the groups Valder turned to for guidance during his research is Grounded Solutions Network, a national membership association that tracks and advises community land trusts across the country. (Grounded Solutions' mission is "to cultivate communities—equitable, inclusive and rich in opportunity—by advancing affordable housing solutions that last for generations," which, generally speaking, means land trusts.) The group's former CEO, Melora Hiller, who recently retired, says about 225 land trusts have incorporated as of early this year. But 60 of those, including west Charlotte's, have either just started up recently or own no homes. The remaining 165 own about 12,000 homes and 36,000 rental units nationwide—barely enough to cover Charlotte's affordable housing shortage, much less the country's.
Yet the idea is picking up momentum, Hiller says. It's not the only tool cities and communities can use to boost affordable housing numbers; developer tax credits, dedicated funding streams, and inclusionary zoning rules—which require residential developers to set aside a percentage of units for affordable housing—are all options. But North Carolina cities can't adopt inclusionary zoning without legislative approval, which Charlotte city officials—with justification—believe is unlikely. The other solutions would depend on financial commitment from local governments, and perhaps partnerships with private companies or deep-pocketed philanthropic groups.
Land trusts represent the only mechanism Hiller knows of that communities can establish on their own and, if they secure enough money and land, use to protect property "from the whims of the market." Trusts are beginning to emerge "everywhere," she adds. "It's Jackson, Mississippi. It's Uniondale, New York. It's neighborhoods in Detroit and Pittsburgh and Chicago. All over the place."
***
CHARLOTTE'S CIVIC LEADERS have talked for years about how to revitalize the west side. Few plans took hold. One that did is Mosaic Village on West Trade Street in the Seversville neighborhood just northwest of uptown. Mosaic is a $25 million mixed-use complex used by Johnson C. Smith University, whose students make up most of its tenants. It opened in 2012 as what planners envisioned as an anchor for redevelopment of the so-called Northwest Corridor, which extends from uptown along West Trade, turns into Beatties Ford Road, and runs to and beyond Johnson C. Smith, a historic hub for black Charlotte.
On a recent weekday night, Historic West End—a division of Charlotte Center City Partners, a nonprofit organization that works on economic development projects in the area—held a community meeting at Mosaic Village to discuss the upcoming tax revaluation and effects on homeowners, development prospects, and upcoming events. The effort's director, Alysia Osborne, brought up the g-word—"I won't use it," she told a packed meeting room—and mentioned an upcoming study by an Atlanta firm the organization hopes to hire to assess which West End parcels and people are at highest risk for gentrification. "Who's vulnerable?" she asked rhetorically, outlining the firm's mission. "What programs are available? What can we use that's in our toolbox?"
The "retention study" by Atlanta firm APD Urban Planning and Management could help policymakers figure out which affordable housing tools would work best and where, Osborne explains after the meeting. A community land trust is certainly in the mix, she says, and Historic West End has discussed the west side trust with Hall. But Osborne cautions against any assumption that land trusts are the one solution for communities to keep housing affordable. "Every neighborhood has to have a tailored approach, because every neighborhood is different around the whole city," she says. "But what's fortunate about West End and Charlotte is that we're in a position to have that conversation, and we have the right folks at the table to talk about it. … I think Charlotte is really having that conversation now about, 'Here is what we have. What else can we do to create an equitable community?'"
I ask Osborne if she has the answer to that question. "No," she responds, laughing. "And I would be super rich if I did."
***
WHILE SHE and city officials try to answer it, the real estate speculation wave keeps growing and getting closer. Hall thinks about it whenever he drives through those West Boulevard corridor neighborhoods in which he grew up and built a life.
"These lots that you see here? The 'sold' sign? That's a recent sale," he says, gesturing toward a vacant, overgrown expanse on West Boulevard between Clanton and Remount roads. "And this lot right here? Been vacant several years, but I just noticed yesterday when I came by that there were 'sold' signs on them." He's driving slowly in the right lane, flashers on. An impatient driver behind us leans on his horn and zooms by to the left. Hall ignores him.
Hall's ultimate goal is a transformed west side that strikes the proper balance between enhancement and preservation, between revitalization from outside and from within. Given the chance, he believes, west side residents could over time build a new kind of community that harkens back to the self-contained and self-sustaining black communities of the 1940s and 1950s, when African-Americans owned businesses and homes in the city center and maintained a culture before urban renewal pushed most of them to the west side. But it will take time, and money—a lot of it. The West Side Community Land Trust doesn't have much of either yet. A partner would help.
"The city, like most cities with land trusts, has to be proactive and put dollars up front so we can capture land," Hall says. "They generally want to be the financers on the back end of housing development and not put money in for land acquisition. In terms of stopping the speculative nature of housing … they've got to be an initial investor, to help the land trust become established."
We pull up to the library branch where we'd agreed to meet. I ask Hall what he'd ask for, specifically, if someone in a position of power were in the car with us.
"A $5 million initial investment," he replies without hesitating. "If you don't have big, hairy, audacious goals, then you'll fall short every time. And we've fallen short over the last 20 years." He shakes hands with me, lets me out, and drives away down the boulevard.
---
Excerpts from ​A Riff of Love: Notes on Community and Belonging
By Greg Jarrell
​Greg Jarrell is a preacher and minister who has been an advocate for the Enderly Park neighborhood since 2005. His book, A Riff of Love: Notes on Community and Belonging, will be published in May by Cascade Books. The following is an excerpt from the book, which tells the story of the author's efforts in the community.
KNOCKKNOCK. KNOCKKNOCK. The door flies open.
This how we mark time in our hospitality house. Two quick knocks, and then across the threshold zooms Khalil. He is an alarm clock. Khalil is here? Must be 3:15, and the bus has just dropped kids off.
Khalil is always the first to arrive in the afternoon. He pinballs across the room offering fist bumps, hugs, jokes, grins. He picks up my two boys, a sure way to win the affection of preschoolers. If I'm not paying attention, Khalil may slip them some candy, which seals their bonds forever. For preschoolers, this is the best part of the day. A youth—old enough to admire and young enough to be a friend—showers him with affection. No matter what is happening, the sound of Khalil's voice sends JT and Z running in search of the attention they know he will provide. They are learning friendship, and Khalil is a good teacher. A tag game breaks out, maybe, or a tower of blocks gets constructed. Perhaps we all head outside to toss a football or play in the leaves. Whichever way we bounce, a sense of wonder awaits.
The streets of west Charlotte can be mean. They take our young people and harden them. They grind them down into sharp edges. They steal their imaginations and assault them with trauma after trauma. The streets rob them of the chance to carelessly explore their environment. But Khalil has resisted the meanness so far. He still has his softness, his curiosity, his tenderness. His imagination is big. He still believes he can give birth to his dreams. So many others, at frighteningly young ages, have built tall, thick walls around their psyches and their hearts. Their imaginations are alive, but kept hidden away. They have dreams, but they stop believing that they are the ones who can make them come true. This is a strategy for survival. It is a way of maintaining a sense of security when trauma can be just around the corner, in the form of stop-and-frisk policing, or a person driven to despair who feels the need to rob, or the sight of a domestic dispute taking place on the sidewalk. Anyone subject to these assaults must turn tough quickly, and children learn that soon.
Khalil has maintained a wild-eyed, childlike way of being in the world. I love that about him, and I love that he brings that out in everyone else. The boys engage in his goofy games. He gets them interested in things they would otherwise ignore. Their imaginations break free again. They get silly.
The girls adore him. With his small frame, his playful hair, his voice still high-pitched, he is their kid brother, only if they liked their kid brother. Where it might take weeks or months, even years, for me to see behind the wall with some young people—or to feel like I can fully be myself—with Khalil it is instantaneous. His play begets play. The room is more fun and interesting with him in it. He invites everyone into belonging. This is a gift for which there is no accounting. It is simply to be enjoyed.
Sharing things big and small creates connection. Khalil bubbles over with self-giving generosity. Wherever he goes, he connects with people. Curtis not only offers some hard-earned money to a neighbor, he offers a piece of himself through the work he has done, through his desire to be kind parents who are struggling to make the bills.
In our hospitality house, we have learned that the act of sharing a meal or offering a guest room to a stranger can establish a quick intimacy. We offer the gentle care of another's body by providing protection from the cold and rain. A guest offers a gift in return by doing dishes while I help kids with homework. These are small offerings to one another that quickly build connections. Our bodies and even our homes can be, in Paul's terms, "living sacrifices," acts of worship to God. Some of our best worship experiences are simple acts of kindness in caring of each other's fragile bodies. We make our offerings to a brother or sister in remembrance of Jesus.
Life composed with mutual care and offering ourselves as gifts to one another has a rhythm to it. By sticking around long enough and paying attention, you can learn to fall into that rhythm and find a place in it. Creation teaches rhythm. There are seasons of life—times of want and times of plenty. There is time for the shedding of leaves, time for hibernation, time for new growth, time for producing fruit and harvesting. There are droughts and famines, bumper crops and floods. Households experience this as well. Good news clusters together. Bad news, my neighbors often tell me, comes in threes. The rhythms of bounty and want guide us along, by sunset and sunrise, by birth and death, by anticipating and reflecting.