Inside the Woolly Worm Festival
It's a festival where woolly worms race, and the winner predicts the weather for the winter. How can you possibly say no to this?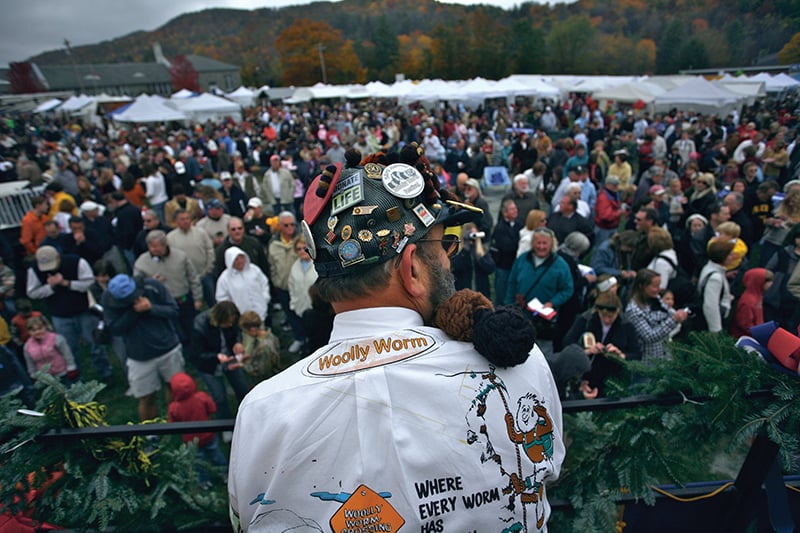 IN 1978, Banner Elk—a town in the North Carolina High Country less than 10 miles from the Tennessee line with just more than 1,000 people— decided to hold a festival. The festival would solve a serious problem: choosing a woolly worm to forecast the weather for the coming winter.
According to tradition here, the 13 segments on a woolly worm represent the 13 weeks of winter. The lighter brown segments mean mild weather; the darker black segments warn of cold, snowy conditions.
But each worm is different, so no one knew which one to trust.
Now, on the third weekend of October each year, the Woolly Worm Festival and its woolly worm races determine the official weather-worm. The festival has grown from racing six worms at a time to 25-worm heats. "Worm trainers" place their worms on strings stretched vertically, and the worms inch their way up.
Last year, more than 20,000 people attended the event, and more than 1,000 worms competed. "Trainers" who win a heat receive a ribbon and $25. Semifinal winners get $100, and the overall winner receives $1,000, not to mention weather-forecasting credibility.
"That's pretty exciting, whether you're 3 years old or 93 years old, for racing a worm," says Roy Krege, who moved to Banner Elk in 1968 to work at Lees-McRae College.
After he moved here, Krege got involved in every civic activity he could find. During the first festival, he and his wife sold funnel cakes. Krege noticed the festival needed a front man to drum up attention for the races. The next year, he donned an outlandish outfit, took the microphone, and added commentary. Today, he's known around town as Mr. Woolly Worm. He promotes the event on TV and radio stations. On the day of the festival, he wears pink pants, a yellow tie, and a hat covered in furry critters.
"We do crazy things in life," Mr. Woolly Worm says. "But we have a good time."
---
The 2015 Woolly Worm Festival
The 38th annual Woolly Worm Festival will be held October 17-18.
---
This article appears in the October 2015 issue of Charlotte Magazine
Did you like what you read here? Subscribe to Charlotte Magazine »
---