Inside University City's Identity Crisis
Can the light rail extension spur the development of a college town?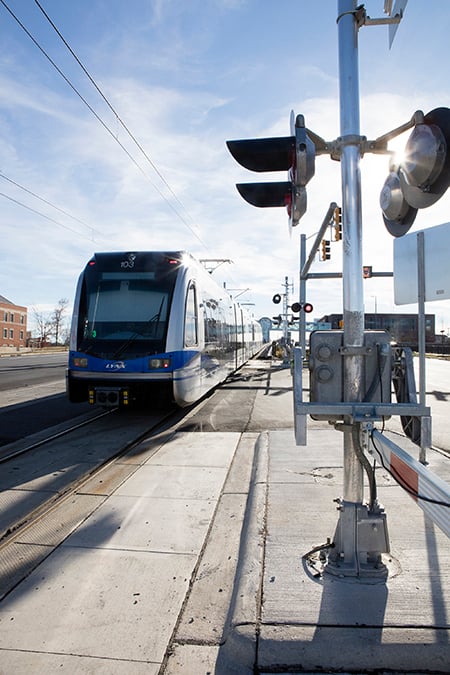 TOBE HOLMES NEEDS to make a U-turn.
Behind the wheel of his gray Hyundai SUV, the laid-back urban planner has come to a dead end at the back of a nondescript office park—brick and asphalt repeated a dozen or so times—somewhere off of University City Boulevard.
To get out to the main road, he has to double back. It's not the first time he's done this today, a warm Thursday morning, as he drives me around University City. "We need about 50 more roads that are all a quarter of a mile long," he says, meaning connector streets to link offices and homes to major thoroughfares.
Passing through this part of northeast Mecklenburg County has never been a problem. Long overlooked by many Charlotteans as a collection of suburban car dealerships and big box stores lining six-lane roads, University City doesn't feel like much of a place. Besides its physical proximity to UNC Charlotte, this part of the city has little in the way of cohesive identity.
But University City is on the precipice of change, an evolution that includes the opening of the Blue Line Extension—plus the subsequent development it will spur adjacent to the train tracks—and the articulation of an identity. "We don't know what modern suburbia will be in our community," says Holmes, the planning and development director for University City Partners. "This is our chance to make it."
***
HOLMES DRIVES to a strip mall on North Tryon Street, just past the new JW Clay light rail stop. The shopping center is home to a Food Lion, set a couple of hundred yards back from the road, plus a nail salon and places to get wings, Chinese takeout, and smoothies. We pause at the top of the parking lot and look across the light rail tracks and six lanes of speeding cars to the red brick and metal roofs of UNC Charlotte. Just beyond the academic buildings, the still-new football stadium is ready for the season's first home game.
This area, Holmes says, should be the 49ers' version of Chapel Hill's Franklin Street or Broad Street in Athens, Georgia—iconic college town centers that become magnets for students and permanent residents to gather. "It's a really quintessential part of college that this college doesn't have," he says. "It's where you grab a slice of pizza and a beer; it's where you carry the goalposts after a game."
University City Partners has put together a plan for a town center anchored by the JW Clay station that would enhance existing retail and residential development with more density, better connectivity, and even a long pedestrian promenade with a park. "It's a stroll street," Holmes says.
Features such as these, if built, would create a heightened sense of place, that elusive identity the university area has lacked for decades. But doing that, Holmes admits, means finding partners—landowners and commercial developers, in particular—who embrace a shared vision. "There are some people who are interested in the long game and want to be really thoughtful," Holmes says. "And then there are some people who want to be revenue positive on day one and just build some shit."
***
WE PULL BACK OUT onto Tryon Street, where the speed limit is 45 miles per hour but cars routinely exceed that mark.
Imagine, Holmes tells me, being a UNC Charlotte student who wants to leave campus on foot to get a burrito. This is University City's other significant challenge: How to balance its varied transit requirements. It needs efficient thoroughfares for commuters who leave bedroom communities for jobs in uptown every day, but also bike and pedestrian routes for college kids and light rail riders. Roads that are too wide and too fast, Holmes says, "should strike fear in anyone who walks around in a pair of tennis shoes."
As University City becomes more of a destination, as it successfully builds an identity and people latch onto it, there is an even greater need for connectivity within the area. The Charlotte Department of Transportation is planning a bridge over I-85 to link University City's proposed town center with the University Research Park, a sprawling campus of corporate buildings that is shockingly isolated, given its size: The corporate park is the second largest employment center in Charlotte, after uptown.
"We have everything any other suburban employment center has," Holmes says as we make another U-turn. He pauses and grins. "And a train. And college football."