#instabeerupCLT celebrating three years with exclusive Birdsong beer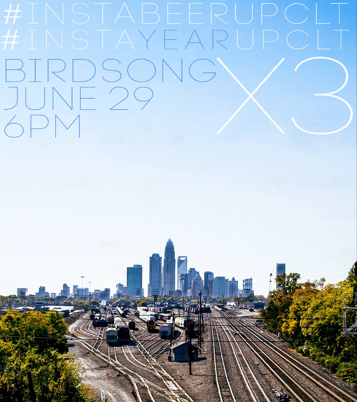 It's been three years since Corri Smith and Amy Herman decided to send out a no-pressure invitation to anyone in Charlotte who wanted to get together – whether it was for making new friends, networking or just having fun – over a pint of beer (or two).
Since then, the meetup known as #instabeerupCLT has become one of the most attended monthly events in the city. In 2017, it's also brought about a new co-host and now, an exclusive beer brewed just for the three-year anniversary party at Birdsong Brewing Thursday,
As part of #instayearup3CLT, those in attendance will get to try "Berry Superstitious," a blackberry saison that the event hosts lent a hand in creating with Birdsong head brewer Conor Robinson.
This all began in January when Birdsong lead sales representative Jenny Sassman got in touch with Smith and said the brewery wanted to host the anniversary party and also brew a special beer for the event – something that had yet to be done in the 35-plus #instabeerupCLTs that have taken place.
"We usually don't plan that far out but I was like, 'OK, let's do it,'" Smith says.
January was also around the time that Herman began thinking about dialing back her hosting duties given her other undertakings, including her role as co-founder of the Goodyear Arts Project (which moved to Camp North End in June).
The search for a new co-host wasn't a tough one. Rémy Thurston had already filled in for Smith at one event, and has only missed one #instabeerupCLT – the first one, when Thurston was still living in Charleston. When he moved to Charlotte, Thurston went to Pint Central for the second-ever event, and was instantly hooked.
"It was the first thing I did as a new Charlottean who didn't know anyone, and almost immediately after I had met so many people," he says. "From then on, it was the one thing I would put on my calendar every month when it was announced."
Thurston has been co-hosting with Smith for several months now, and Herman joined them at Birdsong a few weeks ago to help brew the beer. Robinson was open to ideas, both for the beer and the name.
"We wanted something seasonal and drinkable for the summer," Thurston says. "And we also wanted to make sure the beer was something Conor was comfortable with and excited about. He suggested blackberries and we loved that.
Next was the fun process of naming the beer. As many know, almost every Birdsong beer is named after a song and Thurston had no shortage of ideas ("food puns are kind of my thing," he adds), including Live and Let Pie, Black Hole Saison, Bramblin' Man, Proud Berry Keep on Rollin, Berry on My Wayward Son, Blackberry Necessities and Back to Blackberry (Smith's contribution, given her love of all things black).
In the end, they went with Berry Superstitious, as "who doesn't love Stevie Wonder?" Thurston says.
Along with Berry Superstitious, Birdsong will have its regular beers on tap and as a bonus; WeWork is buying the first 150 beers for Thursday's event. Several local breweries have donated items for raffles, while Libretto's food truck will be on site as well.
For anyone on the fence about coming, Thurston says to look at him as a prime example of what this event can accomplish and provide.
"I was not a social person when I moved here, certainly an introvert," he says. "And #instabeerupCLT really helped me get over that. In part it was the beer, but it's also in part of what Corri and Amy created, because it's so casual and there are so many people who are cool, honest creatives.
"And you have both sides of the spectrum – people who have corporate jobs and people who work for themselves. Parents come, single people come … there's no wrong audience and everyone's there with the pretense of just having fun."
Adds Smith, "It's casual and doesn't have a lot of bells and whistles and I think people like that. So just come – you're going to be in good company and there will be other people just like you, trying to get out there and meet people and have a beer with no pressure."