Is Charlotte Leading on 'CEO Activism'?
BofA's Moynihan cites need to tackle economic disparity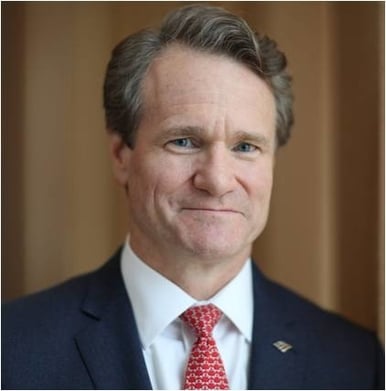 Bank of America CEO Brian Moynihan took time during a Charlotte Chamber luncheon Monday to talk about the need to solve Charlotte's economic mobility crisis. I saw the headline in the afternoon, and I'd put money—not much, maybe a stray shareholder dividend—on your reacting to the news as I did, with a cock of the head and a raising of the brows. Oh, really? A man who made north of $20 million last year, who doesn't even live in Charlotte, is all of a sudden worried about poor Charlotteans trying to lift themselves out of poverty?
Well … yes, it looks that way. (Moynihan's mammoth compensation package is a subject for another day.) Over the last few years, Charlotte's hometown bank has given more and more to local nonprofits. Just two weeks ago, BofA announced $2.8 million in donations and grants to 38 Charlotte-area organization as part of #GivingTuesdayCLT—surpassing what the bank had donated for Giving Tuesday the previous two years. The man leading the announcement and the investments was Charles Bowman, the bank's North Carolina market president—number 11 on this magazine's list of the 50 Most Powerful People in Charlotte—who last year estimated that BofA had donated about $13 million in the previous three years to the city's poverty and social mobility programs.
In his comments at the Chamber luncheon Monday, Moynihan suggested that he understands how a denizen of the 1 percent might not grasp the extent of Charlotte's economic mobility problem, detailed in a Harvard University report two years ago. "It's surprising because I travel around … and you heard more about it than you'd expect," he said. "We have a duty here to make sure that we sort of take care of these things and do it the right way." There's nothing wrong with admitting you're not in touch with the needs of the poor, and nothing wrong with recognizing that BofA's donations aren't necessarily pure altruism—companies of any kind thrive when their cities and customers do, too.
But observers of corporate America are starting to notice a switch in the wind direction. In 2015, the Harvard Business Review published a piece that examined what it called "CEO activism," a growing tendency for corporate leaders to take strong, even contentious stands on social and civic issues that don't directly affect their companies. It seems that Charlotte CEOs are among those leading the trend. The Review piece mentioned former Duke Energy CEO Jim Rogers, who was unusually strident last year in his criticism of then-Governor Pat McCrory (a longtime Duke employee!) and the Republican legislature over the effects of House Bill 2. The Review followed up on "CEO activism" with a piece in its January/February issue that quotes none other than Moynihan: "Our jobs as CEOs now include driving what we think is right," he told The Wall Street Journal. "It's not exactly political activism, but it is action on issues beyond business."
A few weeks ago, I spoke with Bruce Katz of the Brookings Institution about how cities increasingly have to solve their own problems and rely on their own networks of leaders—public, private, corporate, nonprofit, faith-based—to thrive in an age when the national fabric appears to be fraying. One way of looking at the transformation Katz describes is that it's a redefinition of what we've all come to know as the "public sector," the provision of services paid for by taxes and fees through local governments.
The growing trend of large corporations working freely with governments, nonprofits, and even churches strikes me as a new kind of public sector, defined by whether and to what extent it serves some version of the common good. The precise definition of "the common good" may vary. It could result in expanded early childhood education, or companies' volunteer cleanups of low-income neighborhoods, or microloan programs to shore up housing values. But cooperation would be its touchstone.
The idea of a bank leading a community effort might make you uneasy, especially if you have vivid memories of 2008. If you're in the corporate world, the idea of sticking your fingers into business that has nothing to do with business might make you nervous. But civic problems don't solve themselves, and government agencies can do only so much to solve them. Someone has to. It might as well be everybody.