Is Charlotte Spinning Its Wheels On Affordable Housing?
Need for housing lies at bottom of economic ladder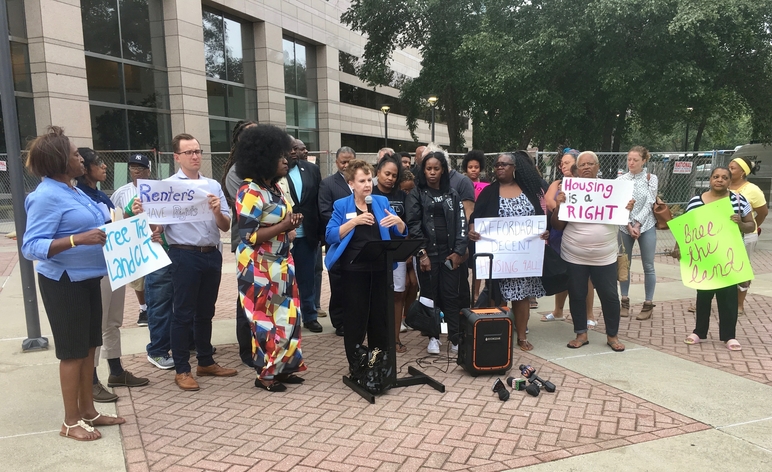 The Charlotte City Council held a long session Monday afternoon on the progress of the city's affordable housing efforts, and one basic fact rose above the rest: Charlotte isn't developing the kind of rental housing that's needed most.
It breaks down like this. The federal government calculates "low income" according to how much money a household of a certain size makes compared to an area's Area Median Income, or AMI. In Charlotte, that's $67,200 per year for a family of four. Households that make 80 percent or less of that figure—$53,750—are considered Low Income renters. Households earning fifty percent ($33,600) or lower are classified as Very Low Income. Extremely Low Income households earn 30 percent or less, or $20,150 by the four-member household standard. That's the point at which, under federal guidelines, families are spending all of their gross income on housing.
On Monday night, Pam Wideman, the city's director of housing and neighborhoods, guided council members through a series of PowerPoint slides. One in particular drew some surprised expressions. Charlotte's housing gap for extremely and very low income renters is 21,195—that is, the city has 56,807 households that earn 50 percent or less of AMI and only 35,612 units available for people at that income level to rent.
But that wasn't the surprising part. The same slide showed a third column, representing the number of available units for low income renters, those making 80 percent or less of AMI. To council members' astonishment, there's a massive surplus of those: 30,502 more than the number of low income renters.
For all the work the city's been doing to develop or rehabilitate 5,000 affordable housing units in three years instead of five—a post-Keith Scott priority—there's actually more than enough units to house restaurant workers, teachers, laborers, and others in moderate-to-low-paying jobs. But for the extremely poor, the ones who need housing the most? There's a massive shortage, and the City Council's 5,000-unit plan would do little—if anything—to correct the problem.
"I'm kind of startled to see a surplus in the 50-80 range," remarked Councilman Ed Driggs, whom Mayor Jennifer Roberts only recently appointed vice chair of the council's Housing and Neighborhood Development committee. "Clearly the deficit is concentrated in the 0-50 range."
And that's where the city's efforts have to be concentrated next to make any dent in what city leaders have accurately called a "crisis." They still have a chance to get this right. Council members have discussed expanding the city's Housing Trust Fund, which allocates $15 million of voter-approved bond money every two years for affordable housing, to $50 million—a dire need, because the fund is running low and wouldn't be up for refilling until after the 2018 elections. Chris Kizzie, a housing consultant hired by the city, outlined some other possible solutions, such as expanded partnerships with businesses and nonprofits to raise money for housing.
"This is part of the development of a long-term affordable housing strategy," Kizzie said. There's no doubt that's needed. But a short-term fix looms as well, and Charlotte—in particular, its neediest citizens—is out of time to waste.