Is Your Entryway Uninviting?
Give off a great first impression with these five tips to make your entryway more inviting.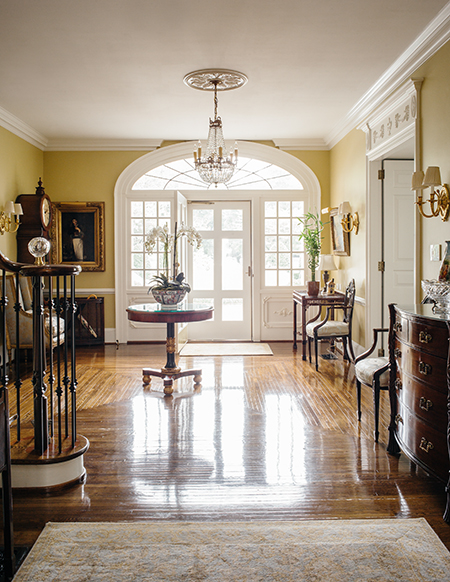 In society, first impressions are paramount. When you interview for a new job, you make sure your appearance, handshake, and resume are all above-par. And when you meet your significant other's parents for the first time, you try to be on your best behavior. So why shouldn't your entryway have the same high expectations? It's the first thing besides you that greets your guests as soon as they step inside your home. Just like you wouldn't want to show up to an interview with disheveled clothing, you shouldn't subject your guests to a messy, un-welcoming entryway.
It's time to make your entryway inviting.
To make this spot one of the best first impressions it can be, try some of the below tips.
No clutter. As with most other areas of your home, clearing away clutter is one of the first steps to make the space more livable. Removing clutter from your entryway will help your guests not feel bombarded or overwhelmed by all your unsightly things. Put coats in a nearby closet, and consider investing in some baskets to hide items like shoes that you prefer to stay by the door.
Hang a mirror. Since entryways have a tendency to be narrow, hanging at least one mirror will elevate your entryway by making it feel more spacious, even though it's still the same size as before. Mirrors add dimension where you don't necessarily have the square footage. Plus, most people like getting a last look at themselves before they head out the door!
Aroma therapy. Nothing gives a bad impression quite like a foul smell. Make sure your guests enjoy walking into your house with a little attention to the aroma. Whether you place potpourri on an entryway table or have an air freshener plugged in an inconspicuous spot, making this small change will greatly improve the atmosphere.
Lighting. Sometimes, lighting that's too bright will come off feeling like a doctor's office. Warm glows are innately inviting, so try nixing an overhead fixture (unless it's mostly decorative) and instead utilizing a unique table lamp and other light sources. You should also be wary of using curtains that make the space too dark; you'll want this area to glow with as much natural lighting as possible.
Roll out a rug. Bring some texture into your entryway with a hallway runner or eye-catching rug, depending on the shape of the area. Not only is this addition stylish, but it helps hide any unattractive scuffs and dirt that may have been dragged inside.