'It Still Didn't Make Sense'
A beat writer reflects on a season that keeps getting better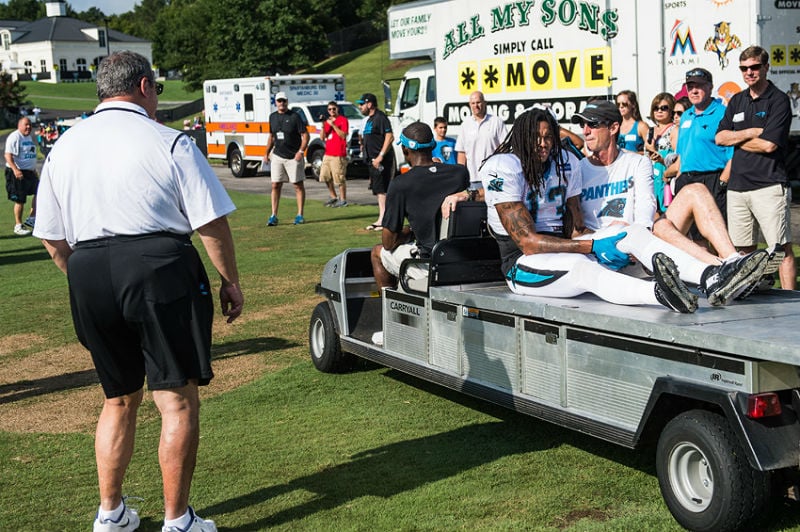 THE PANTHERS' SEASON was over before it began.
We all knew it right then and there, under overcast skies on a Wednesday morning in Spartanburg, South Carolina, as we watched the team's top wide receiver crumple to the ground. While Kelvin Benjamin clutched his left knee in a joint practice with the Dolphins, the crowd that had gathered there watched in stunned silence.
Before Benjamin fell, most people in the organization believed this was a season Carolina could compete with the elite teams in the NFC. No chance that was happening now. Sure, they could win the weak NFC South, but anything better than that would have to wait until 2016.
The hopes of 2015 were being loaded onto a cart. Benjamin had been the best player in training camp—yup, even more impressive than stars Cam Newton and Luke Kuechly. As Benjamin was whisked away and driven past Dave Gettleman, you couldn't help but wonder what was going through the mind of the Panthers' general manager. Even he had to know, right?
But this is where we're different.
Fans and media are pessimists. Heck, it was completely realistic to assume that a team with limited offensive weapons would struggle to score points after losing one of its best threats. Yet, inside the building, those high hopes the Panthers had before Benjamin's injury remained high hopes after Benjamin's injury. They still believed. They just believed they'd have to take a different approach.
To us, that may have seemed nuts. But that belief started what it still a hard-to-comprehend ride through the most memorable regular season the Carolinas have ever seen.
First came a trip to Jacksonville, where the Panthers won but lost Kuechly to a concussion. Without him, they beat the Texans, Saints, and Bucs. How? One reason was that cornerback Josh Norman went from the guy who famously slept on his brother's couch at Coastal Carolina to one of the NFL's fastest-rising stars.
Things were supposed to be more difficult after the bye week, starting in Seattle. But after the Panthers rallied to slay their nemesis, they returned home and knocked off the Eagles, Colts, and Packers.
Suddenly, the team most people predicted to win eight games all season was 8-0.
Newton then made the Titans and a Tennessee mom mad with a dance most of us had to Google before it took over the sports world. A week later, the Panthers dabbed past Washington before they spent Thanksgiving feasting on the Cowboys.
11-0? Yes, Newton was playing at an MVP level, but it still didn't make sense.
The ride continued through the Saints, Falcons, and an ugly affair with the Giants.
Fourteen wins in, finally, a bump. Newton's baby celebration was put on hold by a loss in Atlanta. When I went into the Panthers' locker room in that big dome that evening, it felt like a funeral. But, shoot, 14-1? What a wild ride it had been.
A win over the Bucs in the season finale in Charlotte upped the final victory tally to 15. In the history of the NFL, only six other cities/regions have watched their team win at least 15 games in the regular season: San Francisco, Chicago, Minnesota, Pittsburgh, New England, and Green Bay. And now Charlotte is on that list.
As history shows us, it's unlikely we'll ever see another year like this again in the Carolinas. Not bad for a season that was over before it even began.
Bill Voth is in his 11th season covering the Panthers. A former sports anchor and producer with WSOC-TV, Voth in 2014 founded Black & Blue Review, a website that provides Panthers news and analysis in the digital age.