It's A Wrap
Unique ways to bundle your bouquet stems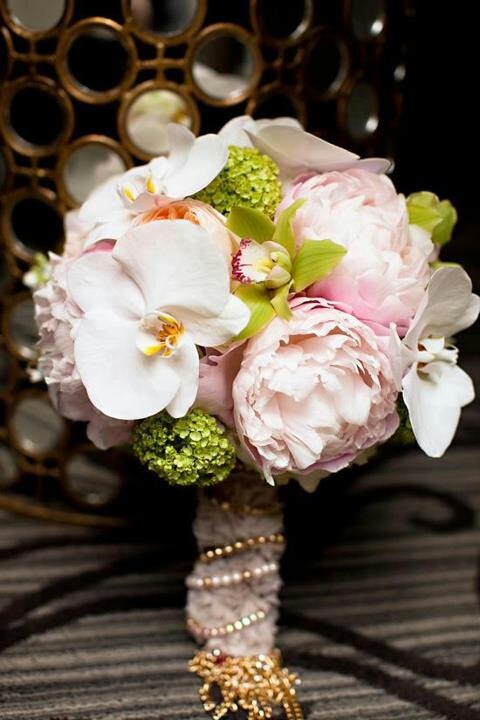 Once you've created a color palette and finalized flowers for the big day, you'll want to think about ways to wrap up the bouquet. Of course your florist will likely be full of concepts and suggestions as well, it's always gratifying to implement your own idea. A seemingly miniscule detail to the day, a novel bouquet base can easily be made a focal point with sentimental significance or simple beauty. Plus it makes for a perfect photo opp for your photographer. That said, I've put on my creative thinking cap for you and come up with 5 special and unique methods of wrapping up the bouquet.
1. Near and Far. For those who have an elderly grandparent who is not up for traveling to the wedding, or maybe an important family member who simply can't attend, have them write a special note to you for the day. Then have the words monogrammed onto a handkerchief and have your florist use it to wrap the bouquet.
2. 'Maid Match. Grab a swatch of the fabric you choose for your bridesmaids' dresses and have your florist wrap it around the bouquet. Just an extra way to tie in their frock hue to your own ensemble.
3. Tied Up. Use a men's tie to wrap up the base. For added sentiment, choose a grandfather's who has passed away. Or buy a double of the one your groom will be donning. Talk about an adorable 'his and hers' touch!
4. Something Old. Use a bit of fabric for your mother's (or grandmother's) old wedding gown and have that be your bouquet base wrap. This is a lovely and unexpected way to incorporate 'something old' into your big day.
5. Jewel Intentions. For 'something borrowed,' why not grab a necklace from a loved one and have your florist wrap it around the base over a swatch of silk.