It's Always Sunny in Ballantyne: A Look at Lee's Hoagie House
Entrepreneur Robert Russo brings a Philly original to Charlotte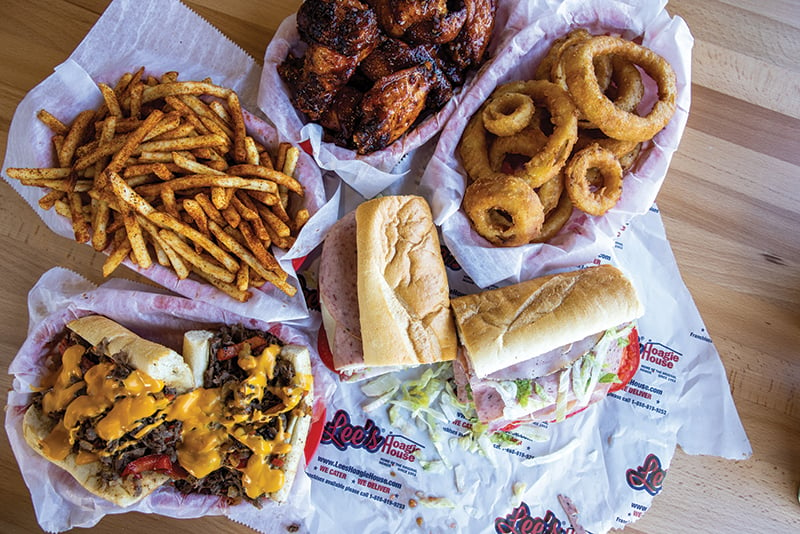 "A lot of people like Cheez Whiz and just dump it on," Robert Russo tells me as our server, Sandy, delivers my cheesesteak with a side of bright yellow cheese sauce. I've known Robert for approximately 12 minutes, but I let him order for me because he seems like someone who knows the proper way to eat Philadelphia's signature sandwich. "You have to drizzle it while it's still hot, because once it settles, it's not as good, and the bread gets soggy," he says. "That's the route I go."
Robert grew up going to Lee's Hoagie House in Blue Bell, Pennsylvania. (The original location, on Philadelphia's Cheltenham Avenue, began serving its famous cheesesteaks in 1953.) It became a ritual to stop by the sandwich shop after his soccer games. The Blue Bell location closed two years ago, but 14 others remain open in metropolitan Philly. Now, Robert owns the first Lee's franchise in North Carolina and only the second outside the Philadelphia area.
He never set out to be a restaurant owner. The 46-year-old is CEO of Independent Advisor Alliance, a Charlotte-based firm that works with more than 250 financial advisers in 25 states. He and his wife, Natalia, are parents to 11-year-old Chase and 9-year-old Tyler. Like their dad, both boys are avid sports fans, and Robert loves to coach their Little League and basketball teams.
Charlotte has been home since 2006, but Robert still cheers for the Philadelphia Eagles. Before his team won its first Super Bowl in 2018, he wanted to find an authentic Philly cheesesteak in Charlotte. "Hoagies and cheesesteaks were just a way of life growing up," Robert says, "and they go hand-in-hand with cheering on your favorite team." A Google search revealed a Lee's Hoagie House in Lake Wylie that had opened the year before. They were willing to franchise in North Carolina, so Robert secured one for Charlotte.
Then COVID hit and delayed the project for more than two years. In early 2022, Robert signed a lease on a space in Old Lancaster Town Center in Ballantyne, steps away from his home and a few miles from his office. He interviewed close to 20 candidates before he hired General Manager Rob Hogya to lead the kitchen. Robert needed someone who shared his vision and could master those authentic Philadelphia flavors. "I run the financials," he says. "Rob runs everything else."
They opened in December with little fanfare and have relied on word of mouth to build their customer base. "This is more of a passion project than it is profit-focused," Robert says. "I want both my boys to grow up coming here and working and going through that process. It's good for them. Chase comes during football season, and we clear tables and greet people."
Like the original, Lee's serves hoagies, cheesesteaks, wings, burgers, and an array of sides like Cheese Bites, Onion Rings, and Old Bay Fries. Hogya spent three days in Philadelphia learning how to sling an authentic cheesesteak and selecting the ingredients he sources from local suppliers. He and Robert also agreed they'd need a special oven to bake their bread daily. "We set it to replicate the humidity levels (in Philadelphia)," Robert says. "It's like when places bring in New York water for their bagels."
Lee's is an anomaly in the stick-to-the-script restaurant franchising world. It allows its franchise owners leeway to make their locations their own. The kids menu includes Chase's Famous Hot Dog and T's Sweet Street, named for Tyler. "You're basically buying their recipes and access to places that will send you the ingredients," Robert says. "Our only restriction is the amount of meat we can put on a sandwich. So we let you order them 'The Ballantyne Way' and double the meat."
Unlike those narrow, counter-serve eateries in Philadelphia, the Ballantyne location has space for tables, flat-screens, and a self-serve tap wall with beer, wine, and prosecco. The walls are lined with framed jerseys of Robert's favorite sports teams, like the 76ers, Phillies, Tennessee Volunteers (his alma mater), and Hornets (after 17 years in Charlotte, he's a fan).
Once I've polished off my sandwich, Hogya drops a basket of wings on our table. They're not on the menu yet; he's still tinkering with the parmesan-garlic sauce. I grab one for myself (they're amazing) and offer one to Robert, who shakes his head. "I eat here a lot," he says with a smile, "so I have to be careful."
TAYLOR BOWLER is the lifestyle editor.