It's Cold Mountain Time – Here's Where to Get It
And a few local alternatives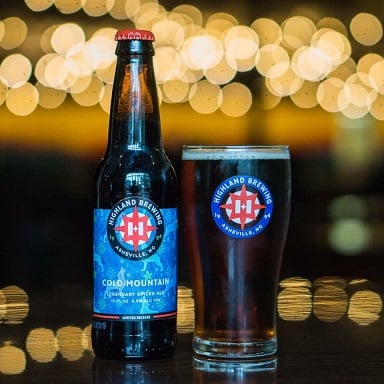 For 22 years, one beer has set off a festive winter frenzy in North Carolina: Highland Brewing Company's Cold Mountain Winter Ale.
Originally dubbed "Holiday Ale," the name was changed shortly after in homage to the book (and later movie) Cold Mountain, penned by Charles Frazier and set in western North Carolina (the real Cold Mountain is roughly 40 minutes away from Asheville and Highland Brewing).
Cold Mountain's recipe at its core stays a secret, and each year the spices and ingredients are tweaked just a bit to set it apart from the previous year's version. For instance, you might get a bit more vanilla one year, or a fruitier and nuttier version the next. Part of the fun in each year's release is debating on what's changed.
Several years ago, Cold Mountain was hard to come by outside of Asheville, especially Charlotte. It wouldn't be out of the question to see people drive all across the city (or even change clothes) to pick up bottles, as the limits were small. Shops and restaurants that received kegs usually tapped out of its draft in a night or two.
But as the popularity grew, so did the production. And while it's now readily available throughout Asheville and North Carolina cities, it doesn't stop thousands from lining up outside the brewery during the release weekend (held this past Thursday through Sunday) to get their first taste of the ale.
And the last two years, Highland has upped the ante by releasing Imperial Cold Mountain, which is a bit darker and sweeter than the original version and higher in alcohol content (8 percent vs. 5.9 percent).
Cold Mountain bottles (12-packs, 22-ounce bombers and swingtop 1-liter bottles) are arriving in Charlotte as we speak. Your favorite bottle shop will likely be posting it; follow them on social media for updates (be kind and don't call). Many grocery stores now carry Cold Mountain as well. There's even a way you can track the beer's rollout on Twitter, thanks to the fine work of @coldmtntracker.
Also, there are a few Cold Mountain events around town this week (this will be updated with any new ones as they are posted):
–Brawley's is having its annual Cold Mountain release party Wednesday at 5:30 p.m. Bottles will be for sale and the Park Road bottle shop has some surprises to be tapped as part of this event as well.
–Duckworth's Kitchen on Park Road is tapping Cold Mountain Friday at 5 p.m. Both regular and Imperial Cold Mountain will be tapped, and Cold Mountain bottles will be on sale as well, along with some brand giveaways from Highland reps. (The Duckworth's in Mooresville tapped Cold Mountain Monday, it should be noted.)
Finally, there are a few local winter ales worth seeking out if you haven't yet and are a Cold Mountain fan. Triple C's White Blaze has been a standout over the last few years as a spiced winter ale. White Blaze cans are out now, and stop by the taproom for a couple of special variants: Cacaoconut (White Blaze aged on toasted coconut and cacao nibs) and A Long Walk (imperial White Blaze aged in Heaven Hills bourbon barrels).
Another local offering is Sycamore's Christmas Cookie Ale. This beer, which is brewed with actual sugar cookies, was so popular last year the brewery did two can runs over a month to satisfy its customers. This year's release date is next Wednesday, November 21 at noon, and as a special treat (and fitting), Cookie Dough Bliss (a local edible cookie dough bar) will be on hand for the event along with cookies from Suarez Bakery.