It's Hard to Take DNC Protesters Seriously
I hope the protesters don't start to get testy, because they've been rather ineffective thus far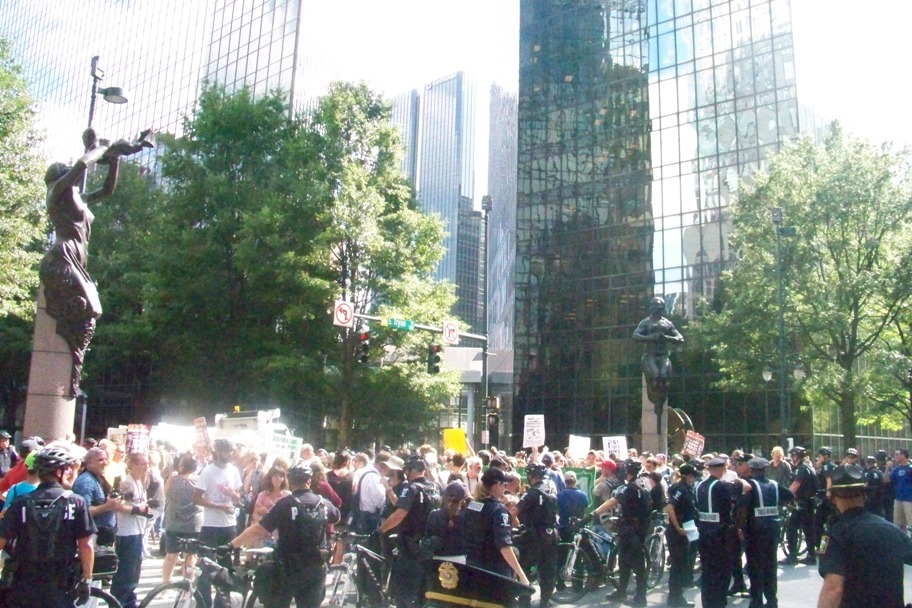 I don't think the protesters who are in Charlotte this week for the Democratic National Convention are happy. Well, protesters usually aren't happy about something, which is why they protest, but what I mean is I don't think they're happy about the impact they've had so far.
After months of local and national media reports about the various protest groups that were expected to come to the Queen City during the DNC; after all the local concerns, fears, and worries about potential destruction and violence, the protesters have largely been marginalized. Whether it's the Occupy movement marching against Bank of America's headquarters, or environmental groups shouting at Duke Energy's headquarters, or any group in between, it's kind of hard to be taken seriously when there are more police officers around you than there are protesters in your group.
I was walking along Tryon Street in Uptown around 4 p.m. yesterday, headed south from Sixth Street when I could see far down Tryon. Most of the side streets were closed off, but what grabbed my attention was all of the sirens and flashing lights I could see from police cars and motorcycles and fire trucks up ahead about two blocks. I was thinking, oh, that must be President Obama's motorcade because he'd arrived in Charlotte earlier in the day. But as I grew closer, and as the law enforcement vehicles and officers on foot patrol started heading my way, I could see that they were, essentially, escorting a group of protesters.
The scene, naturally, grew plenty of attention, and passersby stopped on the sidewalks to watch what was taking place—many of them whipping out their mobile devices to snap pictures and video (see my video below). As the center of the parade, which is more of what it looked like than a protest rally, was in front of me, I wasn't really listening to what marchers were chanting and shouting from bullhorns. Nor was I reading many of their signs. This had become a spectacle. The protesters had become a joke. The number of police officers had greatly outnumbered them—it might have been 100 protesters, at best.
Now, I'm not trying to egg these guys on. And I certainly hope things remain peaceful as they have been—Charlotte-Mecklenburg Police Department has reported very few arrests so far. But I'm actually concerned that the protesters might be getting anxious about their ineffectiveness and could try something big, translate stupid, today, which is the biggest day of the entire Democratic National Convention, with President Obama set to deliver his acceptance speech tonight, and the weeklong national media coverage in the city reaching a crescendo.
So in regards to DNC protesters, there hasn't been much to report, which isn't a bad thing. And actually, the only thing that seemed bizarre to me yesterday was when I saw a security officer (not police officer) tell a lady who was standing on a Tryon Street sidewalk that she couldn't take a picture of the building she'd focused her camera lens on. It was a Bank of America building, which has a bank branch on the first floor and the BofA sign had been covered up by a large sign that said "Credentials Office." Two ladies wearing Democratic National Convention/Charlotte in 2012 polo shirts were holding clipboards, checking people's names on their lists as they walked up. I didn't get a clear answer when I asked one of them what kind of credentials were being distributed here, since I thought credentials—media, caucuses, etc.—were only being given out at Charlotte Convention Center. But I'm more perplexed by seeing someone be told they couldn't take a picture of something when they were standing on a public sidewalk, because the security officer said "this is a private building, ma'am." It's not like the lady was trying to enter the building. I was tempted to step in and tell the security officer that I'm pretty sure she can't legally stop the lady from taking a picture of the building, but who am I to protest.
Stay up to date with Charlotte magazine's Democratic National Convention coverage at www.charlottemagazine.com/dnc. Follow me on Twitter @HollidayInk; email me at jarvish@grownpeopletalking.com.