It's National Poinsettia Day
Celebrate the festive foliage with a few fun facts.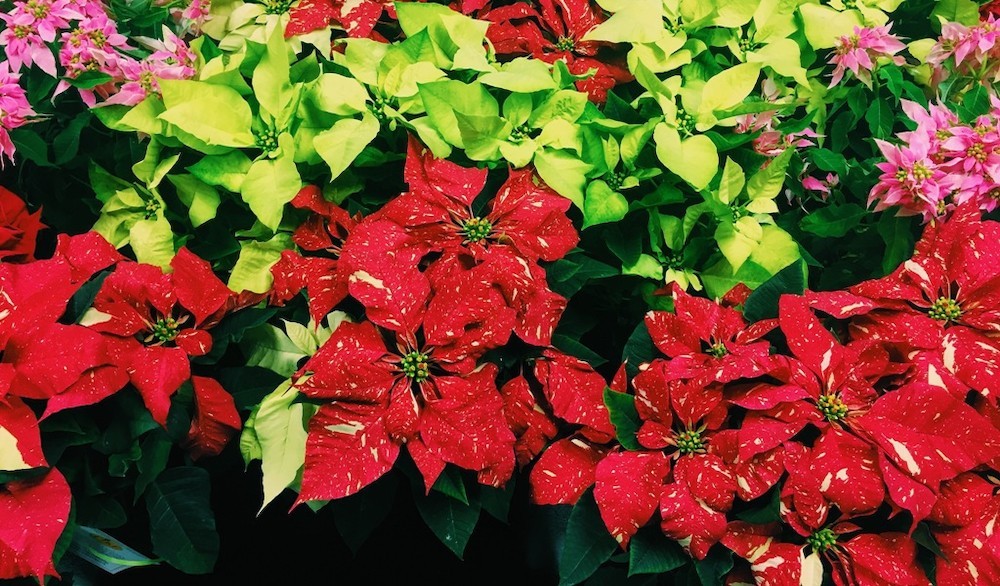 The Christmas season is practically nothing without the festive garnishes we add to our homes' interiors and exteriors. Just think: Is it really Christmastime without a glistening Christmas tree sitting in your home? Can we truly call it yuletide without lights lining the trees and bushes in the front yard? And how can Santa come through a fireplace without stockings hung above it? Christmas is all about the decor, and today we're celebrating one of the most festive decorative plants we know: the poinsettia.
Today, December 12, is National Poinsettia Day. It was declared so by the House of Representatives, and the day marks the death of Dr. Joel Roberts Poinsett, the man we can thank for introducing the poinsettia plant to the United States.
A Little Holiday History
Did you know the poinsettia plant is not native to the USA? It's actually a Mexican plant, but Poinsett helped the plant make its way to the states almost 200 years ago. According to the National Gardening Association, Poinsett was the United States' first Ambassador to Mexico, and he sent the plant back to his home in South Carolina in 1825.
Though Poinsett discovered the plant, a man by the name of Paul Ecke, Jr. is accredited as the father of the industry in the US. For the majority of the last century, Ecke's ranch in Southern California has produced most of the poinsettia cuttings and plants sold nationwide and worldwide. Ecke figured out how to get the plants to branch; before, poinsettias grew too tall and the stems had to be bent into a loop to be a desirable height.
Fun Facts About Poinsettias
To feel a bit more festive and have some interesting holiday trivia to sling at your sister's cocktail party, here are some lesser-known facts about poinsettias.
Poinsettias are not poisonous to humans or animals, despite many people believing so. Pike Nurseries says the plant's toxicity level is very mild, but ingestion could cause slight irritation. To cause a severe issue, the average person would have to consume hundreds of poinsettia leaves, though, you should stay away from the plant's sap, which can cause skin and eye irritation.

Although red is the most popular hue, poinsettias grow in a variety of other colors including white, pink, marble, and "Jingle Bells," which is mostly red but with white speckles.

Translated, the poinsettia's name in Mexico and Guatemala means "Flower of the Holy Night."

According to the 2013 USDA Floriculture Statistics report, poinsettias made up for about one-quarter of all potted plants sales in the United States, equaling $144 million out of $618 million total.

In the wild or in tropical climates, poinsettias grow as small trees.

The poinsettia was originally used in Mexico for clothing dye and medicinal purposes.

North Carolina is one of the top poinsettia sellers in the country, ranking second behind California.