It's That Time Again
Collaborative Arts returns with the Broadway hit "Time Stands Still"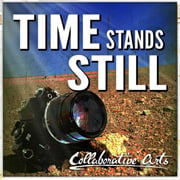 After a successful summertime run of King Lear, Collaborative Arts Theatre is preparing for its next production. The playwright (Donald Marguiles) of the company's upcoming play may not be as famous as Shakespeare, but he has won a Pulitzer (Dinner with Friends).
Collaborative Arts is presenting the Mid-Atlantic regional premiere of Margulies' Time Stands Still.
Alternating between comedy and drama, Time Stands Still follows photojournalist Sarah and war correspondent James, who are struggling to find happiness in a "normal" world. Their love story takes a sudden turn, and the adventurous couple confronts the prospect of a more conventional life.
"We are thrilled to be able to present the regional premiere of this outstanding new play," said Elise Wilkinson, Collaborative Arts Theatre's executive and artistic director. "The intimacy of the Duke Energy Theatre will allow audiences to experience Time Stands Still in a way that wasn't possible with the [recent] Broadway run. Our unique configuration of the performance space means that audience members will be able to immerse themselves in the world of the characters and experience every nuance of their emotional journey."
Robert Lutfy directs the production. He served as assistant director for the recent production of King Lear and has directed in New York, as well. The cast includes Wilkinson in the role of Sarah; Eric Tucker, director of Collaborative Arts' production of Women of Will, as James; Joe Copley as Richard, Sarah's and James' editor and best friend; and Ali Bill as Mandy, Richard's much younger girlfriend.
The show runs Nov 17-Dec 3 at Spirit Square. Find out more.