It's the Great Pumpkin Debate, Charlotte Beer!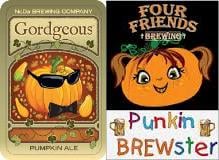 About three weeks ago, I strolled into Good Bottle Company on the way home from work. Well, strolled may not be the right word. Sweated is more like it. It was one of those sticky August days, where even a short walk from the parking lot into a store can cause perspiration.
As I opened the door and silently thanked the inventor of air conditioning (bless you, Willis Carrier), standing before me was something that seemed a little off, given the weather.
Pumpkin beers. Cases of them, specifically Terrapin Pumpkinfest, Uinta's Punk'n, New Belgium's Pumpkick (new this year) and my longtime personal favorite, Cottonwood Pumpkin Ale.
Ludicrous, I first thought. Pumpkin beers in 90° weather? Are the breweries on a different seasonal calendar than the rest of us?
Of course, on my way out, I caved in and purchased some Cottonwood.
The pumpkin beer debate has picked up steam over the last few years in the craft community. Once equated with cooler weather, football tailgates and late-night campfires, pumpkin beers are being released nationwide sooner and sooner seemingly each year.
And it's not just pumpkin beers. The same has happened for other styles too, including summer ales being released in some places where there's still snow on the ground. This movement even has a name in the craft community: Seasonal creep.
So, why is it happening? For one, the demand is high. When Good Bottle owner Chris Hunt posted Instagram photos of the store getting in its first pumpkin beers, it took only five minutes before two customers arrived to make a purchase. Some pumpkin beers also have more of a following than others, which creates a mad dash to local stores when it does get released. (The best example here is Southern Tier's Pumking, which I saw a lot of people asking about on social media over the last couple weeks.)
There's also the business side of things from a brewery standpoint. When someone sets the pace, there are consequences of not keeping up and following the lead. That was one reason why NoDa Brewing Company ramped up its release date and production of its pumpkin beer, Gordgeous, this year.
In 2012, Gordgeous was released in early October, which many consider the traditional time for pumpkin beers. However, NoDa co-owner Suzie Ford said by that time, most local restaurants, bars and other establishments had already committed to buying their pumpkin kegs for the year. And as a result, NoDa's sales of Gordgeous weren't as high as what they could have been.
"So this year, we didn't have a choice but to get ahead of the curve and roll it out one month before fall even officially starts," Ford said.
Gordgeous was officially released at the brewery Aug. 17. Ford says 90 bbls have been brewed so far, and the first 30 bbl batch was sold off in the first week of release (a record for the brewery, Ford added). Already, NoDa has brewed more Gordgeous than it did in all of 2012.
Ford says there haven't been any negative comments on the ramped-up release, adding, "Many just say it's so crazy to be drinking a fall beer in the summer but understand why we have to be rolling it out. We've also had a handful of people swear they weren't going to drink a pumpkin beer until the first of fall but 'cheated' with Gordgeous because it's so good." (Confession: Along with caving on the Cottonwood Pumpkin, I was guilty of this as well. Call it pumpkin pressure.)
If you would rather wait on a local pumpkin beer, Four Friends Brewing is releasing its Punkin Brewster tentatively on Oct. 1, as a release party will be held at the brewery. Four Friends co-owner Jon Fulcher also told me that for the first time, Punkin Brewster will be available in 22 oz. bottles. You'll be able to purchase them at the brewery along with a select number of local spots, including Common Market and Custom Home Pubs.
And though pumpkin beers have already flooded most of the Charlotte market, at least one local establishment has held firm—and has received kudos from many among the craft community here for doing so. Vintner Wine Market has chosen to wait until this Sunday (Sept. 1) to sell any of its stock, and will have a special celebration in conjunction with the date.
Vintner general manager Grant Denton says he's not trying to manipulate anyone on when they can buy beers; he just feels strongly about this issue.
"I have to stick to my guns here," he says. "I don't want to drink a pumpkin beer in July or August. And I think people like going to a place that believes in seasonality."
While Denton acknowledges he won't sell as many pumpkin beers as he could (cases have been stockpiling in the back room for a couple of weeks), waiting a few weeks isn't going to torpedo the business.
"It won't hurt us at all, and I haven't really gotten any bad feedback," he says. "I actually did the same thing last year, but just didn't advertise it. Craft beer is supposed to be a fun business, so I figured why not create some buzz by doing a special day?"
As part of its "Pumpkin Harvest" party, Vintner will have discounts on various pumpkin beer as well as more than half of their taps dedicated to pumpkins (And yes, Southern Tier Pumking is one of them, along with NoDa's Gordgeous). The event will run during Vintner's normal Sunday hours, noon to 9 p.m.
Not to get too alliterative, but in my opinion, purchasing pumpkins are a personal preference. For the people who can't wait (and don't mind sweating while enjoying the spices), it looks as if pumpkin beers in August are here to stay. And I applaud people such as Denton for holding firm against the seasonal creep. Maybe that pumpkin beer does taste a little better in crisp weather.
Regardless, the good news is there's an abundance of terrific pumpkin beers to try, whenever you decide to do so.