James Beard Awards a No-Show
Charlotte was passed over ... again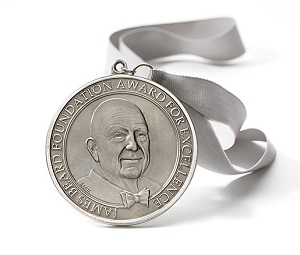 It's a bit of disappointing news, but the James Beard award nominees for 2015 did not include any mention of Charlotte or Charlotte chefs. However, with young restaurants like Passion8, Heritage, Heirloom, and The Asbury nestled among older standbys like The Fig Tree, Carpe Diem, and Customshop, we're hopeful that next year will bring some recognition to the Queen City.
Categories for the James Beard Awards are split into regions for the Best Chef category, and Charlotte happens to land in the same bucket with Atlanta, Charleston, and Nashville. The southeast region comprises of Georgia, Kentucky, North Carolina, South Carolina, Tennessee, and West Virginia. However, North Carolina and the First in Flight state got a little love with Asheville, Durham, Kinston, and Hillsborough, represented in the Best Chef category, among others. Here's a full list of nominees for Best New Restaurant and Best Chef: Southeast:
Best New Restaurant
42 Grams, Chicago
Abe Fisher, Philadelphia
Alden & Harlow, Cambridge, MA
The Alley Light, Charlottesville, VA
Bâtard, NYC
Bazaar Meat by José Andrés, Las Vegas
Central Provisions, Portland, ME
Cosme, NYC
Edmund's Oast, Charleston, SC
Fiola Mare, Washington, D.C.
The Grey, Savannah, GA
Kachka, Portland, OR
Langbaan, Portland, OR
Lazy Bear, San Francisco
Lusca, Atlanta
Maude, Beverly Hills, CA
Olamaie, Austin
One Eleven at the Capital, Little Rock, AR
Parachute, Chicago
Petit Trois, Los Angeles
The Progress, San Francisco
San Salvaje, Dallas
Semilla, Brooklyn, NY
Spoon and Stable, Minneapolis
Townsend, Philadelphia
Best Chef: Southeast
Billy Allin, Cakes & Ale, Decatur, GA
Jeremiah Bacon, The Macintosh, Charleston, SC
Katie Button, Cúrate, Asheville, NC
Kathy Cary, Lilly's, Louisville, KY
John Fleer, Rhubarb, Asheville, NC
Kevin Gillespie, Gunshow, Atlanta
Todd Ginsberg, The General Muir, Atlanta
Damian Heath, Lot 12 Public House, Berkeley Springs, WV
Vivian Howard, Chef & the Farmer, Kinston, NC
Scott Howell, Nana's, Durham, NC
Meherwan Irani, Chai Pani, Asheville, NC
Josh Keeler, Two Boroughs Larder, Charleston, SC
Matthew Kelly, Mateo, Durham, NC
Edward Lee, 610 Magnolia, Louisville, KY
Daniel Lindley, Alleia, Chattanooga, TN
Steven Satterfield, Miller Union, Atlanta
Jason Stanhope, FIG, Charleston, SC
Andrew Ticer and Michael Hudman, Andrew Michael Italian Kitchen, Memphis
Aaron Vandemark, Panciuto, Hillsborough, NC
Tandy Wilson, City House, Nashville
The final list for Restaurant and Chef award nominees will be announced in New York City at the James Beard House on Tuesday, March 24. The 2015 James Beard Awards will be held in Chicago on Monday, May 4. Better luck next year to all our Charlotte favorites and, until then, we'll be getting the word out about our own special dining scene! A full list of nominees in all categories can be found here.