Jerry Richardson to Sell Carolina Panthers
Founding owner faces sexual misconduct allegations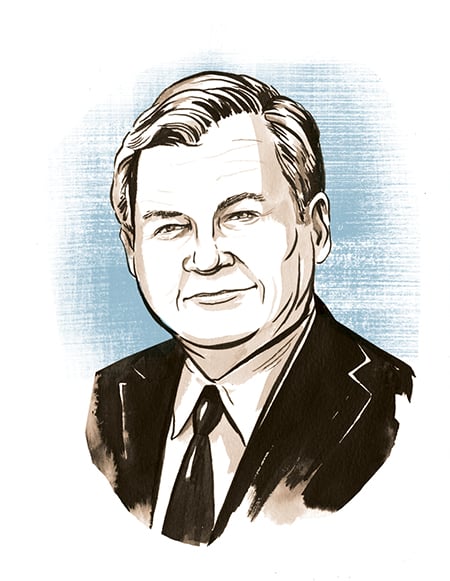 NEARLY A QUARTER CENTURY after Jerry Richardson shocked the sports world with his successful underdog bid to win Charlotte an NFL franchise, the Carolina Panthers founder—under investigation for workplace misconduct—will put his team up for sale.
The decision, announced in an open letter from Richardson hours after a bombshell Sports Illustrated report detailed allegations of sexual harassment and racial slurs, signals dizzying change for the city and marks the sudden downfall of the longtime owner, who is revered by Charlotte business leaders.
"I believe that it is time to turn the franchise over to new ownership," Richardson says in the letter, which does not reference the allegations against him. "Therefore, I will put the team up for sale at the conclusion of this NFL season."
The team on Friday announced that it would investigate allegations of workplace misconduct by Richardson—a decision that came with scant explanation until fans were seated in the stadium for Sunday's game against the Green Bay Packers. (Charlotte magazine has not independently confirmed the Sports Illustrated report, which was based on multiple, separate allegations.)
In his letter, Richardson says he won't entertain offers until this season's final game has been played.
---
THE NFL AWARDED the Panthers franchise to Richardson and his business partners in October 1993, making it the league's 29th team and forever altering Charlotte's standing in the world. That night, city leaders lit windows in skyscrapers to read "NFL" and launched fireworks over uptown to celebrate. Skeptics said the Carolinas couldn't support a professional football franchise; today, Forbes estimates the Panthers' total net worth at $2.3 billion.
Richardson's decision to sell the team came suddenly, but recent years have been anything but controversy-free.
In 2009, Richardson's sons, Mark and Jon, unexpectedly resigned their positions in the Panthers' front office. Their split from the team—the exact reasons for their departures were never fully or publicly explained—ended the partnership that would have kept the Panthers in the Richardson family. Since then, unconfirmed reports regularly suggested that Richardson wanted the team sold after his death. Richardson was criticized for his silence in the wake of last year's Keith Scott shooting and demonstrations, and his ambiguous statement during this football season's national anthem protests.
As part of a 2013 taxpayer-funded improvement plan for Bank of America Stadium, the Panthers agreed to remain in Charlotte through June 2019. Richardson's open letter announcing his plan to sell the Panthers does not mention conditions—such as a requirement to keep the franchise in the Carolinas—as part of the terms.
This is a developing story.