Jessica Moss Connects, Houses Artists in Charlotte and Beyond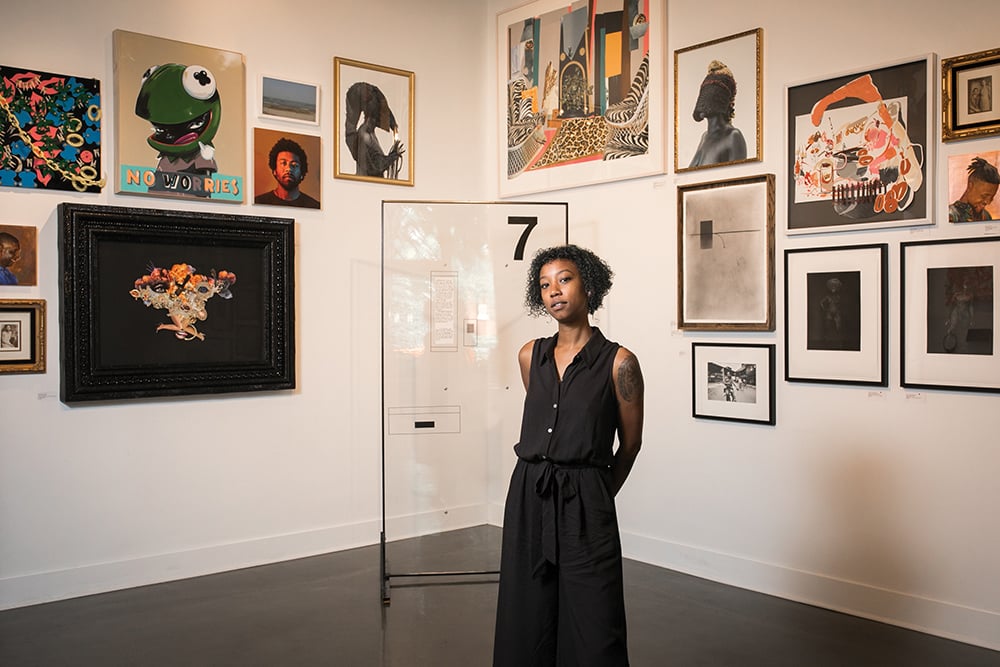 IF THE PAST THIRTEEN YEARS were plotted on a map, the career of 31-year-old Jessica Moss would be a zig-zag. Between acquiring a bachelor of fine arts at Pittsburgh's Carnegie Mellon University, a master's degree at the School of the Art Institute of Chicago, and another master's at the University of Pittsburgh School of Law, Moss came home and got involved in Charlotte's gallery and museum communities—first as a painter, then growing into roles such as arts administrator, academic, teacher, advocate, and entrepreneur.
Today, it's The Roll Up that takes much of her focus. Moss has held traditional residencies at Braitman Studio and the Gantt Center, but The Roll Up is something different. It's labeled as an "ethical community redevelopment project" that puts artists in vulnerable and impoverished neighborhoods. The project is more of a continuation of something she's done in Pittsburgh for years and is ongoing there. The Roll Up is Moss's residency project in Charlotte, occupying a duplex she owns in Camp Greene, and this year, the site received more than $50,000 from the Knight Foundation. (Moss began purchasing real estate when she was 19 and has used these spaces for affordable housing for artists and students since then.) One side of the duplex is currently occupied by the program's first artist in residence, Zun Lee, a revered Canadian photographer whose ability to make his subjects feel at ease is rooted in his previous career as a physician.
"We call it 'The Roll Up' because it has a two-car garage that rolls up," Moss says with a laugh, "but you're also meant to just roll up. It's just a space meant for you to roll up and have a conversation with the artist, read some artbooks in the space, take a few photographs, have a dialogue with them, and then just keep it moving. It's casual. Just check it out."
Lee has received an honorarium, free lodging, free use of a car, a budget to produce exhibitions, and a meal stipend with only one goal: create new work. Further—in a move wholly Moss—Lee and future artists in residence receive a list of possible partnerships with other local institutions. Lee's work is part of the major show (and biggest group show ever at the New Gallery of Modern Art in uptown) that Moss curated, Black Blooded.
Representation of people of color is a significant piece of Moss's legacy. The Roll Up employs an African-American-owned construction company and a Latino female architect. The project is also affiliated with West Charlotte's Lórien Academy of the Arts, which focuses on access for low-income middle school and high school students. (Moss is a board member.) In each stage of her academic career, she's garnered more tools for her arsenal as activator of culture and community. With her most recent master's degree, she focused on property law. She says that in every city she has lived, she has seen opposition to the ownership of property by African Americans. "(You see) through the lens of what happens when historically black people have been property for so long, and then, the shift to own property happens and there are constant legal mechanisms in place to prevent that ownership," she says. "Even after the legal deterioration of those systems, you still see those processes."
Moss is living in Charlotte today, but she never really left: That's the difference between Moss and many other jet-setting young professionals. She forges friendships and projects that continue far beyond their inception, no matter her current ZIP code. One of Moss's best friends is Los Angeles-based musician Marian Mereba. Years ago, she gave Moss a nickname after the two "got tatted together." Moss had an airplane tattoo placed behind her ear to honor her father, a fellow traveler.
"We were kids in the early stages of finding ourselves, and the more I got to know Jess, the more I could see that she was destined for a special kind of life," Mereba remembers. "Soon after (we got the tattoos), I nicknamed her 'Jesseplane' and wrote a song about her future as a fiercely independent woman who goes and sees the world and never really slows down. So, basically, as you can see, I'm a fortune teller."