Jim Rogers' Closing Act
Duke's merger with Progress Energy has prompted CEO Jim Rogers to retire at the pinnacle of his career. He has spent a quarter century building a reputation as a forward-thinking, civic-minded coal baron. Now he's worried about how we'll remember him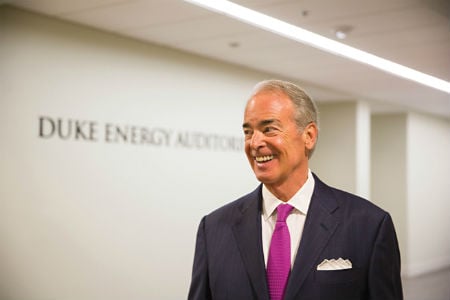 The most powerful coal baron in the country walks into an environmental science lab at Queens University on a rainy January morning, complimenting the periwinkle table tops (he almost wore a periwinkle tie today) and the enormous white SMART Board ("It's kind of an interactive stage!").
Duke Energy CEO Jim Rogers is slight, jovial, deeply tanned, and silver-haired, intent on charming the small group of strangers touring the college science building with him. Moments before entering the lab, he popped his head into a lecture hall full of students and greeted them in his languid Kentucky drawl. "Hi there, how y'all doin'? You learning anything?"
Reed Perkins, the man leading the tour with unflagging enthusiasm, is an environmental science professor at Queens. He studies, among other things, urban streams and the impact of land use on Charlotte's watersheds. He's aware that coal ash ponds from a Duke power plant are leaking toxins into the city's drinking water supply 16 miles from here. But of course he doesn't mention it.
Rogers helped pay for this building. He and his wife, M. A., donated $4.1 million for the state-of-the-art red brick landmark in Myers Park that is seeking LEED Platinum certification for its green technology. Rogers Hall opened January 7, and nine days later Rogers is visiting for the first time.
"Hey, Rog, can you just stand there?" M. A. urges her husband. She's relaxed and almost giddy, in a girlish black-and-white tweed dress, as she snaps a photo in the hallway near the fancy lettering that says "Duke Energy Auditorium."
This is vintage Rogers: a ham and a charmer, a man who, his wife says, once jokingly posed for a photo in his company's annual report with one hand crossed provocatively over his chest, mimicking the pregnant Demi Moore on the cover of Vanity Fair. Throughout his career he has doled out money for philanthropic causes, devoting substantial time and energy to convincing potential adversaries to like him, and today is no exception.
Rogers runs the nation's largest power company, an electric utility that produces 70 percent of its energy from coal. Yet he's the rare utility mogul who has argued that global warming is real and that the industry must address it. He supported pollution regulations to combat acid rain, and lobbied hard for a federal bill aimed at reducing carbon dioxide emissions.
In Charlotte, he's been lauded as a benefactor of the arts and a civic booster. He rallied corporate and government officials around an effort to recast the region as an energy hub, and a year later Siemens brought a major manufacturing plant to Charlotte. Duke investors shelled out $10 million to bring the Democratic National Convention to town, and Rogers cochaired the event's host committee. He rose to prominence just as the banks were fading, filling a void that prompted nostalgic references to Hugh McColl. "I hope he's not our last corporate lion," Mayor Anthony Foxx says of Rogers. "But he seems to be the only one at the moment who is willing to put the community on his back and carry us into the future."
Now the fallout from Duke's controversial merger with Progress Energy has forced Rogers to retire at the end of this year. At 65, there's a real chance he could lose the bully pulpit he spent a quarter century building, and he's not happy about it. He won't use the word retirement. He winces at the mention of a successor. The idea of stepping away from power makes him distinctly uncomfortable. After a lifetime of performing, he's worried about how the audience will remember him.
There's a story about Rogers that's become part of his family's lore. M. A. has heard it so many times that she recites it like a parable.
When he was about 12, Jim was asked to give a speech to his dad's Sunday school class. The elder Rogers was an intimidating figure—a World War II veteran who served in the 82nd Airborne Division and had a "thunderstorm-type temper." Rogers learned to read the signs that his dad's fuse was about to blow. When the old man's eyes started to squint, he knew to back off.
The night before the speech, his dad asked Rogers what he was going to talk about. Rogers planned to give his interpretation of a Bible passage, but his dad didn't like it. "You've got it all wrong," he told the boy. "You're dumber than dirt." They sat up half the night arguing about it.
The next day at Sunday school, Rogers showed up with a plan. It was risky, maybe even foolish. It was also the kind of compromise that Rogers would keep making for the rest of his life. He began by outlining his father's version of the Bible story. "Now some might read this passage and this would be their interpretation," he said. "But there's also another way to look at it." Rogers watched his father's face, searching to see if his eyes were starting to squint. Then he launched into his own version of the Bible tale, weaving the two perspectives together at the end. "He kind of melded the two, which Jim is sort of good at doing—bringing different sides together," M. A. says.
But it wasn't easy. Rogers's knees locked. He forgot to breathe. His whole body tensed as he tried to gauge his dad's reaction. The stress was enormous. And the minute the boy finished speaking, he passed out.
Growing up in a small Kentucky town of 10,000 people, Rogers would fall asleep at night beside a coal-burning fire. Now he lives at the top of a winding driveway on Eastover Road, in a country castle of a house with sloped Flemish roofs, tennis courts, a pool out back, and three fireplaces on the ground floor.
His golden retriever bounds outside on a February afternoon, exuberant and panting. Rogers is subdued in a gray sweater and slacks, having just flown back from Vienna the night before. He looks tired, and suddenly old. He's moving slowly, and there are puffy bags under his eyes.
Walking in the front door, he leads his guests into a formal dining room with a glittering chandelier and a floor-to-ceiling Flemish tapestry decorating one wall. Rogers pulls the tapestry back to reveal a door, which opens into a bathroom. Such architectural tricks are scattered throughout the house: a wall that opens onto a hidden stairway, a freestanding wall that obscures the entrance to the master bedroom. "Nothing is really straightforward," Rogers explains.
He's proud of this house of illusions. He didn't build it, but it's a fitting sanctuary for a man who is careful not to reveal too much of himself. On weekends, he likes to hole up in a small, dark den on the ground floor, where the windows face the side yard instead of the street. It's a good place to hide.
One of Rogers's favorite photos is a black-and-white image of him on a rugby field: young, bushy-haired, covered in mud. Behind him looms a towering row of oafs, ready to tackle. He's hunched over, clutching the ball to his chest, searching desperately for an exit.
Rogers joined the rugby team while enrolled in law school at the University of Kentucky in the 1970s. He played hooker, a forward position that requires nimble decisions about what to do with the ball—throw, run, or occasionally kick. It was excellent training for a CEO.
As a young lawyer, Rogers ascended quickly through the intersecting worlds of industry and government. It may have looked like he was serving conflicting interests, but to him there's no such distinction. He likes to point out that, as an assistant attorney general in Kentucky, he argued against electricity rate hikes for consumers. Then he moved to Washington, D.C. to work as a trial lawyer for the Federal Energy Regulatory Commission. After two years, he switched from working for the government to lobbying it, taking a gig at the high-profile law firm Akin, Gump, Strauss, Hauer & Feld. But it wasn't a permanent switch; he returned to FERC to serve briefly as deputy general counsel for litigation and enforcement before becoming a partner at Akin Gump. To him the world has never been black-and-white. Ever since that Sunday school speech, he has known how to argue both sides and win the debate.
In 1988 at age 40, he landed his first CEO job at PSI Energy in Indiana. Immediately, he pushed the small, struggling company to think about its future. Realizing the feds would soon begin regulating the sulfur dioxide emissions that cause acid rain, he opposed other utility bosses to support a cap-and-trade program that was written into the Clean Air Act. "I was the only CEO in our industry—where 98 percent of our electricity came from coal—[to support the] Clean Air Act amendments in 1990," he says.
Cap-and-trade was a free marketer's dream. The feds required sulfur dioxide emissions to be cut nearly in half, but power companies were allowed to figure out their own way of meeting that goal. If they cleaned up their coal plants quickly and produced less than their allotted emissions, they could sell their pollution allowances to other companies. If they needed more, they could buy them from competitors. The program was so successful that the sulfur dioxide reduction goal had been met, and exceeded, by 2010.
John Stowell, who was a Washington lobbyist for PSI and is now a vice president at Duke, says Rogers's support of cap-and-trade was a marked departure from his predecessors. Before, PSI's leaders simply aimed to monitor pollution legislation. Now Rogers wanted to mold it. "The word was influence and lead," Stowell says. "It was just a way of looking at an issue proactively rather than reactively."
Of course, Rogers also knew that PSI could profit from selling its sulfur dioxide allowances. Years later, when the legislative fight turned to global warming and carbon dioxide emissions, he kept his cap-and-trade victory in mind. According to Eric Pooley in his book The Climate War, Rogers would tell people: "I made money on sulfur and I'll make money on carbon."
When PSI merged with Cincinnati Gas and Electric in 1994, Rogers became CEO of the new company, Cinergy. A dozen years later, Cinergy merged with Duke, and he once again became CEO. Given his track record, the Duke–Progress Energy coup that crowned him head of the largest utility in the country should perhaps have been a foregone conclusion. But Rogers downplays it. Speaking slowly, with a tremble in his voice that could be a stutter but never becomes one, he pleads humility.
"I've always looked for opportunities to combine companies," he says. "It's just been serendipity that, in the negotiation process, I ended up as the CEO."
In 2007, the year after he moved to Charlotte to run Duke, Rogers took the first in a series of steps that would bolster his reputation as a green-leaning energy mogul. He joined the U.S. Climate Action Partnership, a coalition of corporate leaders and moderate environmentalists drafting legislation they said would address global warming. Very quickly, he became crucial to the negotiations. If you wanted to pass climate change legislation, you had to win Rogers's approval. He went to Capitol Hill and met privately with congressmen, explaining why a carbon dioxide cap-and-trade program would be good for his industry. He also made it clear that he wouldn't support any proposal that didn't come with free carbon allowances—which would help keep electricity rates low, but also allow Duke to profit from upgrades it made.
That's one reason he earned the wrath of liberal environmentalists. In their eyes, a cap-and-trade program that gave out free carbon allowances was nothing more than a subsidy to coal companies. They wanted the government to auction all the carbon credits to the highest bidder, invest some of the resulting revenue in clean energy, and return much of it to consumers, to help cover the higher electric bills that would inevitably come with cleaner power plants. The Obama administration proposed such a cap-and-trade plan in its February 2009 budget.
But Rogers wouldn't hear of it. Duke launched a PR campaign to fight the Obama proposal, denouncing it as a "carbon tax." Instead, Rogers supported a more industry-friendly bill that, according to The Climate War, he helped shape before it hit the House floor. Sponsored by Democratic congressmen Henry Waxman and Ed Markey, the bill gave most carbon allowances away for free (although a small percentage would be auctioned), and aimed to reduce carbon emissions by 17 percent by 2020. The Waxman-Markey "American Clean Energy and Security" bill passed the House in 2009, but never made it through the Senate.
There are many theories about why the bill died: As the Tea Party rose to power, so did a powerful right-wing opposition to climate-change legislation. The Obama administration prioritized health care over global warming. Plus, the environmentalists were divided: while centrists thought the bill was their best hope, liberal activists found it hard to rally around a plan that was so industry friendly. In addition to distributing free carbon allowances, the bill would have expanded offshore oil drilling and taken away the Environmental Protection Agency's authority to regulate greenhouse gas emissions. Liberals saw it as a sweetheart deal crafted by and for utility bosses like Rogers.
Jim Warren, executive director of the environmental group NC WARN, considers Rogers a "detriment" to the cause of reducing carbon dioxide pollution. "He has not moved Duke in the direction of cutting emissions," Warren says. "He's a caring human being. He's just not there yet in terms of realizing the urgency [of global warming]."
Despite such criticism, Rogers's wider reputation as a forward-thinking utility mogul remained intact. He flew to Davos, Switzerland, to speak at the World Economic Forum and was repeatedly invited to the Clinton Global Initiative. The New York Times Magazine called him a "green coal baron." His star was ascending.

Three years later, on July 10, 2012, Rogers sat in a sterile Raleigh hearing room, fighting to save his career.
Facing an army of cameras and microphones, he wore a bright purple tie. Beneath dark, cartoonish eyebrows and an overbite smile, his face was gray and his eyes exhausted. He kept his voice calm as North Carolina Utilities Commission Chairman Edward Finley interrogated him.
Days earlier, Rogers had been the beneficiary of an 11th-hour coup that left him CEO of the newly merged Duke and Progress Energy. Yet for more than a year before the merger closed, in official documents and speeches, Progress CEO Bill Johnson was positioned as the head of the imminently combined companies. Why had Duke's board neglected to inform regulators about its intention to oust Johnson hours after the merger closed? Why, if Duke board members had doubts about Johnson in mid-May, did they wait until early July to tell the government agency charged with approving the deal?
"We … do not believe a public filing of this preliminary view of our board would have been appropriate," Rogers said patiently, like a professor lecturing a petulant student. "The decision—and I think this is important—the decision was not made until it was made. I wish we could have given the commission prior notice, but corporate decisions are announced when they are made, not when they are being contemplated."
It was a lawyer's answer, as technically accurate as it was unsatisfying. Sure, the public documents filed about the merger said Johnson would be CEO. And yes, by the time the commission gave its final approval to the deal on June 29, Rogers had already met with a small group of board members and agreed to step in as CEO after Johnson resigned. But no final, official board vote to oust Johnson was taken until the merger closed on July 2.
Rogers was in spin mode, careful not to betray any concern. His two previous mergers had gone so well. Serendipity always worked in his favor. But this time, his backroom deal appeared to have backfired. Public outrage was mounting over Johnson's ouster, which one former Progress board member called "one of the greatest corporate hijackings in U.S. business history." North Carolina Attorney General Roy Cooper launched a civil investigation into the merger. A Wall Street financial analyst predicted the utilities commission would levy a "substantial fine" against Duke. Rogers was subject to a kind of national media scrutiny he'd never encountered before.
But Duke is one of the most politically powerful companies in the state. According to the nonpartisan group Democracy North Carolina, between 2003 and 2010 Duke's political action committee, company executives, and officials donated more than $1 million to N.C. elected officials and PACs. A few months after the utility commission hearing, a former Duke executive entered the governor's mansion. If any corporation had the clout to avert the wrath of state regulators, it was Duke.
In November, Rogers met privately with Finley and other officials, hammering out a settlement agreement that ended the merger investigations launched by the utilities commission and the state attorney general. The deal required some leadership shuffling at the new Duke, but nothing too painful. Rogers wasn't fined, and he wasn't punished. His biggest sacrifice was agreeing to step away from the throne. He "has chosen to retire" when his contract expires at the end of this year, the settlement agreement states, and a search committee could find his replacement as early as July 1.
In other words, he has very little time left to shape his legacy.
At a Duke shareholder meeting last May, Rogers encountered an adversary who would haunt the rest of his tenure at the company. She was dimpled and blonde, so small that Rogers had to lower the microphone so she could be heard. She was 11 years old, almost the same age as Rogers when he spoke to his dad's Sunday school class.
Anna Behnke lives in Charlotte, on the other side of Mountain Island Lake from the Riverbend Steam Station, one of Duke's oldest and dirtiest coal-fired power plants. She can see the long, narrow smoke stacks from her bedroom window. She knows—and a Duke spokesperson has admitted—that some amount of liquid from the plant's coal ash storage ponds is seeping into Mountain Island Lake, which provides drinking water for Mecklenburg County. The lake water is treated before it enters the drinking supply, but Anna doesn't put much faith in such details. "I don't want to drink ashes from coal. That's gross," she told Rogers.
Anna's mother, she explained, is a cancer survivor. Sara Behnke, founder of the We Love Mountain Island Lake advocacy group, has never faulted pollution from Riverbend for her illness. But she has encouraged her daughter to speak out about her concerns. "I go to bed every night scared that I could get cancer from that plant," Anna told Rogers. "Can you please tell me when you are going to close down the plant and clean up the coal ash?"
Her question caught the attention of the reporters and camera crews at the shareholder meeting. But eight months later, sitting in a living room with enormous windows overlooking the lake, Anna remains unimpressed by Rogers's response. "He kept assuring me [that] everything's OK and I'm not gonna get sick," she says.
Did she believe him? "No."
Given his track record, there's no reason to assume one child's opinion had too big an impact on Rogers. He's used to being attacked from all sides—environmentalists, consumer advocates, industry peers—and he's always had an impeccable ability to deflect criticism.
Ask him, for example, why an Indiana plant that Duke designed to convert coal to gas is more than a billion dollars over budget, leaving rate payers to bear $2.6 billion of the total $3.5 billion cost. The answer comes out smooth and flawless: "It costs more to be able to convert the coal and use it in a more environmentally benign way," Rogers says. "It's one of the cleanest coal plants in the world."
Ask if Duke is too focused on nuclear power and natural gas, rather than renewable energy sources, and the answer is equally rehearsed: "Environmentalists look through the lens of clean," he says. "I don't have the luxury of looking through just the clean lens." He must be concerned about customers' electricity prices and shareholder profits, must keep the energy portfolio diverse. "It's just a series of trade-offs."
Lately, though, Rogers has been doing more than crafting answers to troubling questions. Perhaps it was the merger scandal, or the daunting specter of retirement. Whatever the reason, in the first month of 2013, Rogers did something his critics had only dreamed of.
In late January, Duke announced that two of North Carolina's dirtiest coal plants—including Riverbend—would shut down in April, two years ahead of schedule. At his house in February, Rogers was so proud of this achievement that he explained his reasoning before a reporter could finish asking the question: "I'm rushing to leave a legacy," he said, and laughed so hard it was clear he wasn't kidding.
Of course, even such a popular move leaves room for criticism. The announcement of the plant shutdown was followed by Duke's request for a 9.7 percent rate hike for its North Carolina customers, which the company says will help pay for upgrades to other plants. Meanwhile, it's unclear what will happen to the Riverbend ash ponds. "We'll ultimately end up cleaning up all that," Rogers said. He paused, and he was not laughing anymore as he admonished: "But we're shutting down the plants two years earlier, so people should be happy with that—but [they're] not happy enough."
Sitting by the fireplace in his living room, his face grows uncharacteristically serious as he argues that his actions will cut down on Duke's air pollution. "I think we're gonna have reduced our carbon footprint maybe 25 to 30 percent last year."
Now, more than ever, he's determined to win the debate, please both sides.
He points to his long track record of addressing environmental concerns, dating back to acid rain. "I've walked the talk for a long time."
Back at Queens University, the tour of Rogers Hall ends where it began: in a rounded, turret-shaped room that overlooks Selwyn Avenue, with floor-to-ceiling windows that make you feel as if you're floating amid the tree branches. It's the Bank of America reading room, but the professors call it the Treehouse.
Rogers and his wife sit down at a table near the windows, trying to relax and chat amicably about his future. "I do think Jim will do something very productive when he's retired," M. A. ventures.
"Don't use that word," Jim laughs, cutting her off. "I'm transitioning. I'm moving to the next segment."
In fact, he claims it's too early to discuss the mark he'll leave on Charlotte. "To talk about legacy at this point sort of implies that there isn't more to do, and I'm not sure that I've even begun to leave the legacy that I will leave," he says.
According to his friend Stowell, Rogers has been a "guy in a hurry" since his dad passed away at a relatively young age. So Rogers watches what he eats, weighs himself every morning, deals daily with the knowledge that his time is limited.
For now, the CEO basks in the chance to enumerate his accomplishments—convincing himself, as much as anyone else, that he has made the right choices. He notes that Duke and Progress have just completed approximately $9 billion worth of modernization efforts—building the Indiana plant, plus the new Cliffside coal plant and natural gas plants in North Carolina—that will allow the company to shut down about 90 coal, oil, and gas units by 2015. "You have to sit back and look at, will the building of Cliffside—which led to the shutdown of a thousand megawatts of old coal plants—is that the greater benefit?" he says.
He reminds us that he helped raise the money to finish the cultural campus uptown, which includes the Knight Theater, Mint Museum, Bechtler Museum of Modern Art, and the Harvey B. Gantt Center for African American Arts & Culture. He notes that hosting the DNC put Charlotte in a league to compete for a Super Bowl, and he had a significant hand in that. "Somebody had to step up to make it a success."
Sitting with his suit jacket off, back to the window of trees, he adopts his professor tone again, reasonable and affable, so you almost don't notice the arrogance. "Life is about aspiration and making a difference in the right way," he says. "Is Charlotte better off because I came here, or not?"
He raises his eyebrows and shrugs like Jerry Seinfeld—elbows in, palms upward—as if the answer is plainly obvious.