Jingle Merry on Tryon
Revue rounds up the best ways to make merry in Charlotte this holiday season.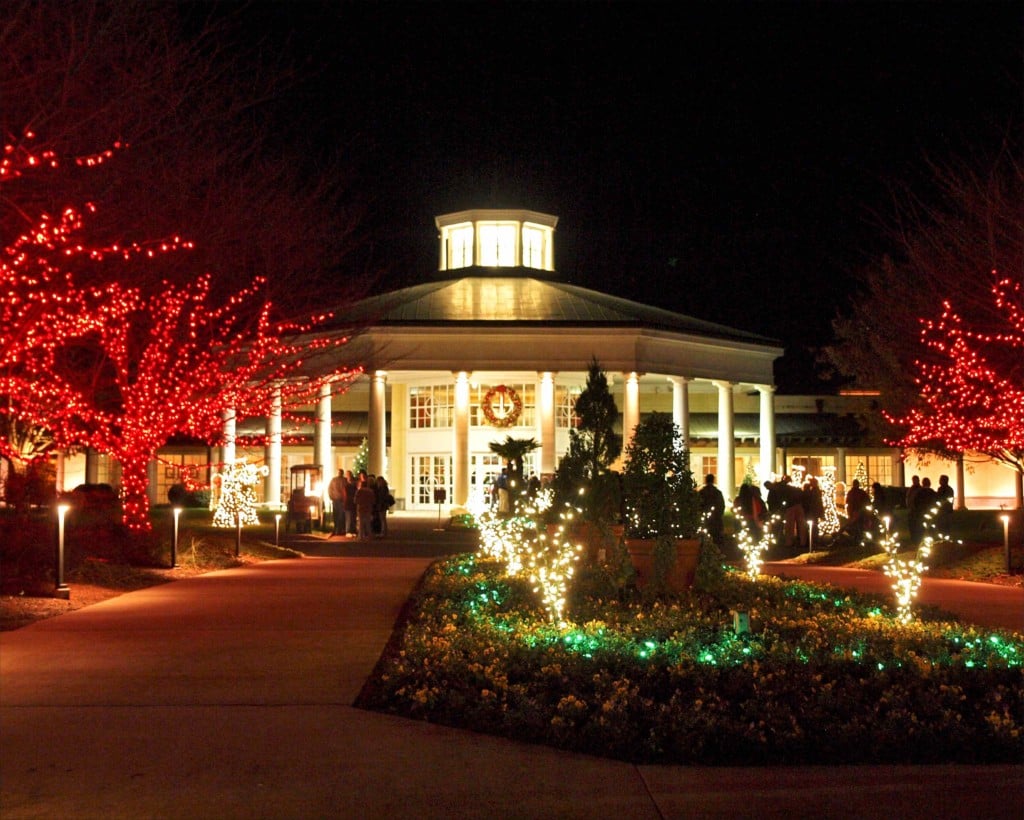 You ate the bird. You battled (or hibernated) during Black Friday. You may have even strung up a pile of tangled Christmas lights on the front lawn. Now, it's time for you and yours to enjoy the magic of the holidays, all over town. We've compiled a Master Guide to Charlotte's best holiday events, whether inside, outside, on stage, or on ice. With that, a happy Monday to all, and to all a good week!
Lights on the Square
Sure, Rite Aid's been selling cheap tinsel and chocolate pine trees since Halloween, but the season's real, official start (in Charlotte, anyway) happens this Thursday night at Trade & Tryon. The festivities begin at 5:30 with holiday jazz music, the lighting of The Square's Christmas tree, a Nutcracker performance, and a visit from St. Nick himself. Twelve will also open its doors Thursday night, a seasonal, center city market brimming with festive goodies, decorations, and gifts.
A Christmas Carol at Theatre Charlotte
Let no season pass without the 6,834,021st telling of Dickens' crotchety old man and his incessant specters. Theatre Charlotte's annual production, running from December 10-19, is back for its fourth year, and if you've ever been to Theatre Charlotte, you know that small, intimate playhouse is the perfect, cozy spot for a classic holiday story. Considering the show's popularity, though, there's no time like the Christmas present to land your tickets.
Holiday Lights at the Garden
Tired of working through that rat's nest of twinkle lights? Maybe just forget it all together this year. After all, there's an extravagant light display right in Charlotte's own backyard, at the Daniel Stowe Botanical Garden. DSBG's entrance and main gardens will be strung with 600,000 lights, and the DSBG's green (and red) thumbs have even constructed a 16 foot tall orchid tree in the orchid conservatory. Little ones can also look forward to train and carriage rides, plus hot chocolate in the Garden Shop.
Irving Berlin's White Chrtistmas at Ovens Auditorium
Mrs. Claus just can't fan kick like these North Pole helpers. Chances are, you've already caught wind that the national tour of this award-winning musical-based-on-the-movie-based-on-great-Christmas-music is sweeping into town, but that you needed a little extra incentive to get online and buy your tickets. Well, here you are: until midnight tonight (Monday, November 29th), there are no ticketing fees for online purchases! So there. We'll even link you to the online box office, free of charge.
The Light Before Christmas at Discovery Place
Christmas cheer to the EXTREME. Through January 2, 2011, Discovery Place's IMAX theater will be showing this animated holiday story about a brother and sister who, caught in a blizzard, stumble upon The Candleman (not to be confused with a much grizzlier 1990s horror movie, The Candyman). He reads the stranded pair The Night Before Christmas, but the two are sucked into the poem, launched into an over-the-rooftop, three-dimensional whirlwind of snow and sleighs.
Gingerbread Village at the Ballantyne Hotel & Lodge
In the December issue, Charlotte magazine featured the Ritz-Carlton's enormous gingerbread house; since Uptown has a gingerbread skyscraper, the Ballantyne Hotel figured that Charlotte suburbia should have its own gingerbread representative. Their extensive Gingerbread Village will be on display from December 11-26. You can vote for your favorite house with just a $1 donation to the Levine Children's Hospital.
Charlotte Symphony Orchestra and Handel's Messiah
Much like A Christmas Carol does with holiday stories, Handel's Messiah has an old school, imposing effect that makes all other Christmas tunes look sort of sentimental. It's an goosebump-raising program, to be sure, but the Charlotte Symphony Orchestra delivers a spectacular performance, led by Scott Allen Jarrett and the Oratorio Singers of Charlotte.
Skating on The Green
It's about time. After years of listening to "Skating in the Park" on the soundtrack to A Charlie Brown Christmas, Charlotte finally has its own, center city skating rink. Sponsored by WBT, the rink on The Green will be open until January 8, 2011, with a $7 admission and $3 skate rental.
My Mother's Italian, My Father's Jewish, & I'm Home for the Holidays at Booth Playhouse
Whether through another viewing of Home Alone, or another day-long marathon of A Christmas Story, the key to surviving any holiday season is to step back and laugh at its hilarity. Comedian Steve Solomon (whose interview you can read from last week's Revue) wrote this one-man production as a sequel to his original off-Broadway hit, My Mother's Italian, My Father's Jewish, & I'm in Therapy. Steve plays himself, stranded at the Atlanta airport during a snowstorm, spending hours on the phone with hysterical, angry relatives who want nothing more than for him to get home and pick up the cake.
Carolina Christmas at Charlotte Motor Speedway
Even NASCAR is getting into the holiday spirit this year. Through January 2, Charlotte Motor Speedway is opening its doors to visitors for two and a half mile drive through 500 different light displays, including a festive tree show, a spot for photos with Santa, and a nativity scene complete with actors and live animals. The show will be use over 1,000,000 LED lights, though, so rest assured this will be a carbon-free, extra-green Christmas show.
Charlotte City Ballet's Selections from The Nutcracker at SouthPark Mall.
Imagine if flash mobs knew how to do pirouettes, and suddenly took over your local shopping center. Throw in a few sparkling tutus, and that's what you can expect on Saturday, December 11 at the SouthPark Mall, where the Charlotte City Ballet will perform selections from The Nutcracker. Between the performance and the holiday shopping deals, we can't think of a better excuse to spend Saturday at the mall.
Scrooge! at the Children's Theatre of Charlotte
Yeah, yeah. We know. More A Christmas Carol. However, this particular version of A Christmas Carol comes with actual Christmas carols, composed for the stage by Leslie Bricusse. The Children's Theatre of Charlotte is running the show through December 23, and it's a great way to get all the spooky, holiday fun of the classic story while adding some child-friendly music to the mix.