John Mayer Eats
Yes, he does - in Charlotte.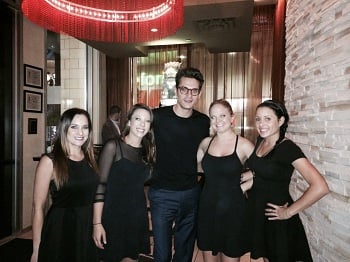 It's always a bit of a treat to see celebrities enjoying the same things around town as we do. THEY'RE JUST LIKE US. Recently, guitar crooner and celebrity ex-boyfriend of both Taylor Swift and Jennifer Aniston (ah, the good ol' days) made a stop at Enso Asian Bistro and Sushi Lounge.
Last Wednesday night, the star looked to be wowed by the Asian eatery. Although he did not order any cocktails (what?! why!), Mayer asked the server to pick all of the noms for him. Here's what Mr. Mayer enjoyed at Enso:
Seared Wagyu Beef Tacos: an appetizer featuring guacamole, teriyaki, slaw, daikon, and cilantro. SAY, I bet John enjoyed this fusion starter.
Honey River Roll: Shrimp tempura, cucumber, avocado, krab, blue crab, spicy tuna, salmon, shrimp, spicy mayo, scallion, sesame, and potato flakes make this sushi roll a true wonderland of flavor.
Toro Crunch: Spicy toro is rolled along with shrimp tempura, tuna, a sweet and sour glaze, scallion, and sweet potato flakes. This must've been wildfire of spice for Mr. Mayer.
Buddha Platter: The chef's daily selection of the freshest and finest nigiri and sashimi. Must've been some real heartbreak warfare when this dish was all gone.
Obviously, you see what I did there. So – if you're a Mayer fan, go on out to Enso and eat like the stars do!