Johnny Fly Disrupts Sunglasses Market with Sustainability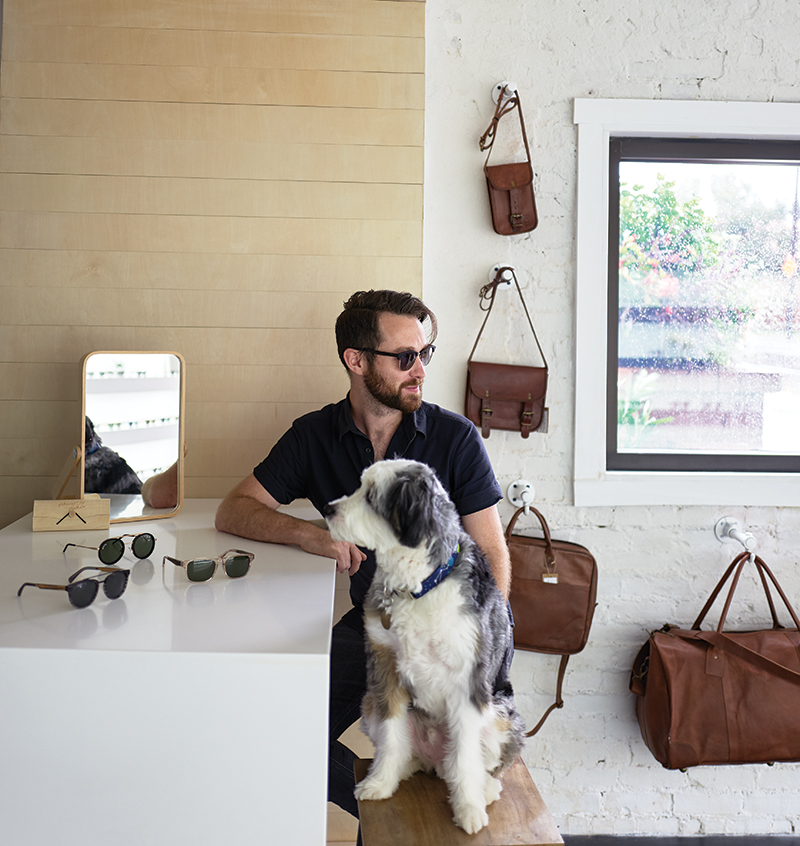 ON THE RACECAR CIRCUIT, John Freeman was known as "Johnny Fly." He started as a teenager in the Legends Cars series, racing at Charlotte Motor Speedway, where Dale Earnhardt Jr. and Kyle Busch learned the sport. At age 19 he became a development driver, and for the next three years he was groomed for NASCAR, driving wherever he was sent, including France.
Then the economy tanked, and sponsors for new talent dried up. In 2010, he retired, and the next year he began designing and selling sunglasses out of his home, under the label Johnny Fly. Made from wood, the sunglasses are sold online to customers around the world. As Freeman's business grew, he opened an office in Holland—the Dutch loved his style. His lines expanded to eyeglasses with prescription lenses. The next big step came in 2017, when he and his wife, Tara, opened a store in NoDa beside the landmark Neighborhood Theatre.
At 31, Freeman is calm and relaxed, which seems out of character for a man who once accelerated, slammed on brakes, swerved, and shifted gears with split-second speed. But it's this same focus that keeps him on track as the brand's designer, and business continues to accelerate for Johnny Fly. This interview has been edited for clarity and space.
---
Charlotte magazine: Our culture loves sunglasses. What's the appeal?
John Freeman: You can have the worst outfit or the worst hair day, but something about putting on a cool pair of sunglasses will make you feel cool; it will make you feel better about yourself, about your day, about whatever you have going on.
CM: Why did you start this business?
JF: A lot of it was looking for things I couldn't find for myself, and saying, 'I think we can do that, and do it better than it's being done.'
CM: Is there a connection between driving race cars and designing eyewear?
JF: I've always had a design bug. When I graduated from high school, I was racing cars professionally. I was in the sports world, and it allowed me to travel and race all over the world. I met a lot of interesting people and was exposed to fashions I had never seen in Charlotte. It sparked a lot of my interest in fashion.
CM: You mentioned that nearly 80 percent of the eyewear market is controlled by a single Italian company, Luxxotica. How do you compete?
JF: The price of eyewear has skyrocketed, but the technology hasn't changed in 70 years. If you buy a pair of vintage Ray-Bans from the '50s, it's essentially the same technology (as today). So we took a lot of cues from the medical side of optics, with things like spring hinge and acetate. We make the hinges larger to fit a fashion application and worked with acetate companies to start cutting larger frames—more fashion-forward in strange shapes they weren't doing prior to that. It allowed us to stand out in the industry.
CM: That sounds expensive. What is your price range for sunglasses?
JF: $120 to $160. For glasses, I don't think we've ever had a pair over $500. Most are under $300.
CM: You've also built a reputation for making a product that doesn't harm the environment.
JF: From a durability standpoint and from an ecological standpoint, sustainability is important. That was one of the big drives behind the eyewear. Everything is made of a cotton and wood mix, for the most part, although some is metal and wood. It's all completely sustainable and natural.