Johnson City, Tennessee
Where people from all over the world go to immerse themselves in the music of the mountains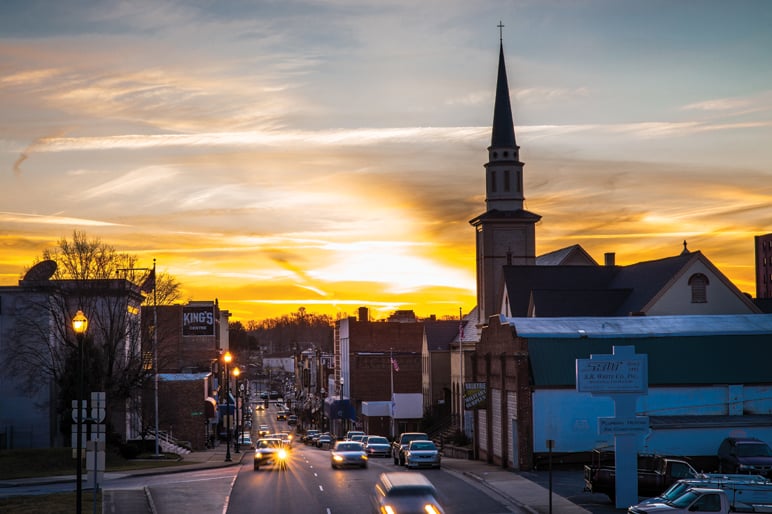 ONE G CHORD from an acoustic Martin guitar is all it takes. Conversation ceases. Beer bottles return to coasters on the table. With preliminary socializing out of the way, listeners settle in at the Down Home in Johnson City, Tennessee, and focus on the simple stage.
This is the type of music venue where, even before state smoking laws changed, lighting up has been discouraged, out of respect for the musicians. And this is the type of town where, even as it promotes itself increasingly as an academic health center, one of the most frequently asked questions from those who have moved away remains, "Is the Down Home still open?"
For newcomers, the humble listening room is easy to miss among the aging, nondescript apartment buildings. But since it opened in 1976, the Down Home has been a musical crossroads, attracting the likes of the late Doc Watson and the Cajun band BeauSoleil—big-name performers who take a refreshing detour from larger cities and performance venues to play for no more than 125 audience members, all there for only one reason: to immerse themselves in sound.
Surrounded by mountains and situated less than an hour from the state lines of Virginia and North Carolina, Johnson City, a town of about 66,000 people, is steeped in musical history. In nearby Bristol, Ralph Peer of the Victor Talking Machine Company recorded Jimmie Rodgers, the Carter Family, and others in the summer of 1927, creating what is often called "The Big Bang of Country Music." One year later, and then again in 1929, Frank Walker of Columbia Records set up makeshift studios in Johnson City and recorded more than 50 musical acts. Although the Johnson City Sessions were overshadowed by the coming of the Great Depression, music scholar Ted Olson says the recordings "captured a truer picture of Appalachia of the 1920s than had the Bristol Sessions." A historical marker in downtown Johnson City recognizes Walker's seminal work.
For musician Ed Snodderly, opening the Down Home represented a homecoming. He left a life on the road, playing coffeehouses and clubs in the Northeast, to oversee this "eclectic listening room." Over the years, it has served as an unofficial classroom and training ground for music students at nearby East Tennessee State University. ETSU alumnus Kenny Chesney performed here often, converting a tip-jar livelihood while he was in college to international fame and fortune as a country music superstar.
At the end of each semester, the Down Home showcases the talents of student bands from ETSU, home of the world's first bachelor's degree program in Bluegrass, Old-Time, and Country Music Studies.
"Sometimes when you're playing with a student band, you end up as background music, playing to a crowd that might have never even heard of Bill Monroe," says John Goad, a bass and guitar player and graduate of the ETSU program. "At the Down Home, it's the complete opposite." For many students, the end-of-the-semester Down Home "all bands" showcase is their first time playing in a real music venue.
Walking across the ETSU campus, you see as many mandolins and bass fiddles as you do backpacks. Jam sessions break out all over the campus. Students converge here from all over the world to study the music of the mountains. In December 2014, the first Iranian graduate of the Bluegrass, Old-Time, and Country Music Studies program received his degree.
Just down Walnut Street from the university is The Acoustic Coffeehouse. Its proprietor, Jim Benelisha, once sold washing machines and refrigerators. On occasion, he will tune up his cello and jam with a visiting band. The CoHo, as it's often called, specializes in roots music, blues, Americana, and every so often, a rock-and-roll act. There's never a cover charge because, as ETSU English professor Robert Sawyer says, "the audience tips generously."
One of Johnson City's newest live performance locations is The Willow Tree, opened by former third- and fourth-grade math teacher Teri Dosher and her daughter Zoe on Jan. 1, 2014. Located on East Main Street, The Willow Tree is a major step forward in Johnson City's downtown revitalization program. It attracts a diverse group of listeners, from old to young. On Sundays, it allows a local church to use its space. But it also allows an atheist group to hold meetings there.
"The Willow Tree was born out of a love and passion for live music and an appreciation for those who make it," Dosher says. "One of the things we are most proud of with our music is not only the quality of music we are bringing in, but also the diversity of our listeners. All ages and demographics listen and experience the magic together."
The Willow Tree also functions as an art gallery. Canvases cover the walls. Wood-carved sculptures and pottery are displayed and sold. Coffee is made with beans roasted locally, at Elizabethton's Coffee Company. Pimento cheese and chicken salad are food favorites.
While clubs and coffeehouses attract both novice and veteran performers, Johnson City's public radio station, WETS-FM/HD, has been a major force in promoting the music of the region for more than 40 years. Since 1994, the ETSU station has aired "Studio One," hosted by longtime radio personality Dave Carter. Blues scholar and station manager Wayne Winkler started the program and secured the skills of Mike Strickland to engineer each week's live performances in the station's studio on the ETSU campus. Doc Watson, Mark O'Connor, and the Canadian Brass have been guests on the show. So have klezmer musicians, classical artists, and choral groups.
This small, Tennessee town has become a crossroads for the troubadours of the highway. It quietly tells the musical history of Appalachia, a history it is reviving all the time.
Fred Sauceman is an author and professor at East Tennessee State University. His most recent book is Buttermilk and Bible Burgers: More Stories from the Kitchens of Appalachia.
Where?
Johnson City, Tennessee
How far?
147 miles, 3 hours
What's along the way?
Just south of Linville, N.C. Highway 181 runs parallel to the Blue Ridge Parkway. For a scenic detour, exit the highway onto the Parkway for a few miles. The 469-mile road is a National Park that winds through the mountains of North Carolina and Virginia. Download the Blue Ridge Parkway Travel Planner app on your smartphone to map your drive.
Want to learn more?
Johnson City Convention & Visitors Bureau: 800-852-3392, visitjohnsoncitytn.com