Juicing Tips from the Experts
Josh Norris of Green Brothers Juice Co. offers some advice for turning summer produce into a healthy, flavorful liquid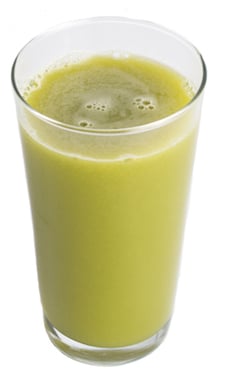 Green Brothers Juice Co., located uptown in the Bank of America Plaza, offers clean eating (or drinking to be precise) options to people swinging through between meetings, on an abbreviated lunch hour, or when they need an afternoon pick-me-up. Josh Norris is co-founder of Green Brothers Juice. He and his two brothers, all Charlotte natives, started the business as a way to help people improve their health.
The juices on the Green Brothers menu are all cold pressed, which means none of the nutrients were lost through heating. (The Aww Kale Yeah juice was featured in Charlotte Magazine's June issue.) Norris uses local produce whenever possible and tries to incorporate as many super foods, such as kale, watermelon, and almonds, as he can. He even makes use of in less familiar ingredients, such as spirulina, a blue-green algae filled with vitamins, minerals, and antioxidants.
A large part of the business is education, Norris says. He enjoys answering customers' questions. With the abundance of summer produce turning up in backyard gardens, CSA boxes, and local farmers markets, Norris shares some tips for at-home juicing.
A good guideline when coming up with a juice recipe is to keep a 3:1 ratio of vegetables to fruits. One of the main goals of juicing is to incorporate more vegetables into your diet and decrease the amount of sugar. As your body adjusts to drinking more juices, it will crave more vegetables and less sugar.
A good beginner juice is what Green Brothers calls Green Apple. It's a mix of apple, celery, kale, and lemon.
One of the most common excuses Norris hears from people who give up on at-home juicing is that the juices don't taste good. Start with the fruits and vegetables that you know you enjoy. Once you master your first juice, try incorporating a green, such as kale or spinach, that you don't generally get in your diet. Continue adding a few more greens each time until you get the combination that is full of nutritional benefits and has a good flavor.
Many of the smoothies at Green Brothers use almond butter or peanut butter. If you don't like the flavors of certain greens but still want the health benefits, use a nut butter to mask the undesired flavor.
Norris recommends purchasing the ingredients for juices or smoothies at the farmers market. Buying from a market guarantees the produce is fresh, supports local vendors, and often provides a better value than the supermarket.
After juicing, you will have leftover pulp. Norris suggests using it as compost to increase the nutrient density of your soil.