July Queen's Feast
Charlotte Restaurant Week is on the way!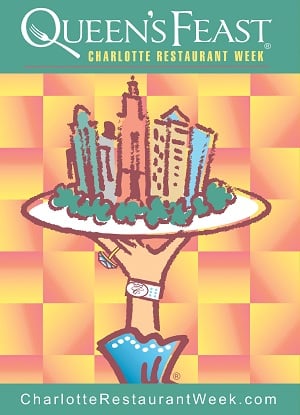 Get ready omnomnomnivores of Charlotte: Charlotte Restaurant Week will run Friday, July 18, through Sunday, July 27, and will feature 113 restaurants in the metro Charlotte area offering $30 prix fixe menus of three courses or more at dinner (not including tax and gratuity). Visit www.CharlotteRestaurantWeek.com to peruse participating restaurants' prix fixe menus and reservation information. Diners can also stay in-the-know of Queen's Feast info via www.Facebook.com/CharlotteRestaurantWeek and follow the promotion on Twitter @QueensFeast.
The July promotion includes restaurants in seven counties, with participants located across Charlotte and beyond into Concord, Belmont, Gastonia, Waxhaw, the Lake Norman area, Statesville, Denver, and Fort Mill, SC.July's Queen's Feast features numerous first-time restaurant participants, including Fahrenheit in Uptown Charlotte; Heirloom at Mountain Island Lake; BAKU in SouthPark; The Summit Room in Dilworth; and Twisted Oak American Bar & Grill in Statesville.
I can personally attest to the delicious food at several of those restaurants — Heirloom being one of my new favorites (pssttt try the chicken and dumplings appetizer!). Be sure to try the Yuzu Tart at BAKU, which I included in my write up for Charlotte magazine. Additionally, the sausage gravy & biscuits dish at Fahrenheit won its own blog post for being amazing!
If I were you, I'd start figuring out which restaurants to visit riiiight now. I think this time, I may head over to The Liberty Gastropub for their suckling pig and pickled pineapple entree; venture to The Cajun Queen for their famous Crawfish Diane; and pop in at Fern, Flavors from the Garden for a bite of kale gnocchi!
"We love that Queen's Feast is the impetus for both residents and travelers to get out into the area and experience our local culinary scene," stated Bruce Hensley of Hensley Fontana Public Relations and Marketing, which owns and handles turnkey execution of the event, "They can try new places, visit different neighborhoods, and explore unfamiliar cuisines."
Reservations during Queen's Feast are strongly recommended; reservation links and contact information for all participating restaurants as well as hotels can be found at www.CharlotteRestaurantWeek.com.