June Food Events
A new menu AND a fiesta?!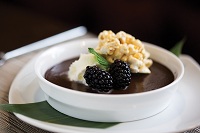 A few exciting events will kick off as June winds down. The first is Chuy's first birthday party! The second is a brand new summer menu from Chef Rocco at Fahrenheit.
The Fiesta: It's been a year since Chuy's brought authentic, straight-from-Austin, Tex-Mex food to Charlotte, and the team is ready to celebrate. On Wednesday, June 25, Chuy's will host an all-day birthday fiesta that will include:
Free photo booth from 6 – 9 p.m.
Free birthday cake and giveaways
All day drink specials including Mexican Beer, Classic Sangria and the famous Texas Martini
Nacho Car from 4 – 7 p.m. The Nacho Car is free and a fully-loaded nacho car … really a build-your-own nacho bar with chips, queso, salsa fresca, ground sirloin and more all served out of the "trunk" of a classic car.
Texas native Chris Sanchez performing his fusion of blues, folk rock and alt country from 5 – 9 p.m.
Head out to Chuy's on Sharon Road for the full fiesta!
The Summer Menu: From a North Carolina Shrimp Pizza, to Pan-Roasted Halibut with Fennel andGrapefruit, and a Wood-Grilled Filet Mignon with BBQ Carrots, Chef Rocco is focusing on local flavors at Fahrenheit in uptown. Chef Rocco and his team will be taking full advantage of the summer months in the Carolinas and tapping into the bounty of what the season has to offer. "This is the very first major menu change and just one of the many to come," says Rocco. "We aspire to keep the menu fresh and enticing to our guests again and again, and there's no better way to do that than to pace ourselves with what the soiland farms have to offer."
Check out the full summer menu when it rolls out soon!