Just (Now) Married: Day One for Charlotte's Same-Sex Couples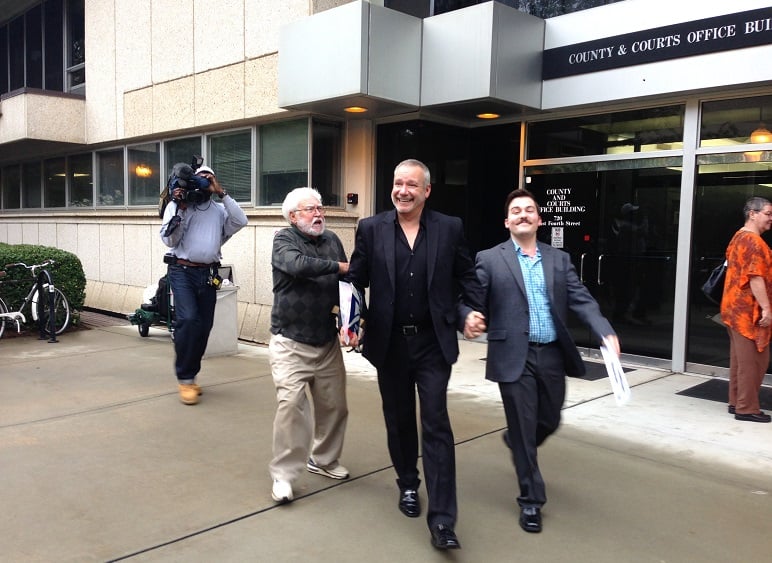 He's the only protester out here, but he's loud.
Well, he was loud. The elderly man's adversarial shouts of "Hallelujah" are now drowned out by the Charlotte Pride Band's ovation, celebrating yet another same-sex couple exiting Mecklenburg County's Register of Deeds. On the first day that the county can grant marriage licenses for same-sex couples, the front steps of the Mecklenburg County and Courts Office building are packed with couples, members of the media, and a sole protester, handing out literature. Another protester is standing along Fourth Street, holding up a sign for passing cars that promises Hell for today's brides and grooms.
"Do you know what these men do together?" the elderly protester shouts, marching across the courtyard.
"Uh, yeah," says someone in the crowd, followed by scattered laughter.
There's another group of bystanders here. They're not here to get married, write about folks getting married, or tell anyone to not get married. They're just here to offer support. Ashley and Brandi Morris believe that they have been have been married for four years, but the legal truth is bit more complicated.
"In 2010, we had a ceremony here for ourselves," Ashley says. "And then, when parts of DOMA [Defense of Marriage Act] were overturned, we went to Maryland to get our federal rights. So, in our hearts, since 2010, but legally, since last September. We're just here to celebrate these people, for their love and their ceremonies."
For days, the Morrises have come out to support couples and organizations like Equality NC, a statewide effort that was founded in 1990 and popularized the #DayOneNC hashtag last week. Today, the couple serves as guests for the several ceremonies taking place outside of the Register of Deeds. The two are from South Carolina but met in Charlotte years ago. Last year, they had their own wedding day in Maryland, filled with the cries of both protest from local religious groups and elation. Today, they find it easy to ignore the nearby shouting.
"It's not surprising that someone's protesting, but it doesn't ruin anybody's spirits," Ashley says. "It's positive out here. But for those getting married today, we know how they feel. It's just bringing that back. Now to know that our marriage is complete, and to see these people on their wedding day, it's really great. We finally feel equal, right here in North Carolina. It's been a long time coming."
"We didn't get the whole band [at our wedding]," Brandi adds with a laugh.
Monday morning's cacophony of brass-playing, clapping, and shouting continues into the afternoon. The Charlotte Pride Band, a group that's performed at events and parades since 2010, moves into an abridged rendition of Journey's "Don't Stop Believing" as the crowd continues to grow. They play the classic wedding postlude as each couple exits the building or finishes a ceremony.
But then, a twist. A traditional couple – one man and one woman – walks out of the courthouse. Unlike everyone else here, they never had a doubt that they would one day be able to be married. There's a slight pause, but the band's conductor beams and motions for the band to start playing again.
After the ovation, a trumpet player shouts a punctuation to the tune: "Now, everyone can get married."