Kayaker Cooper Lambla on Coming Home
After adventures in more than 20 countries, he Eskimo-rolls back to Charlotte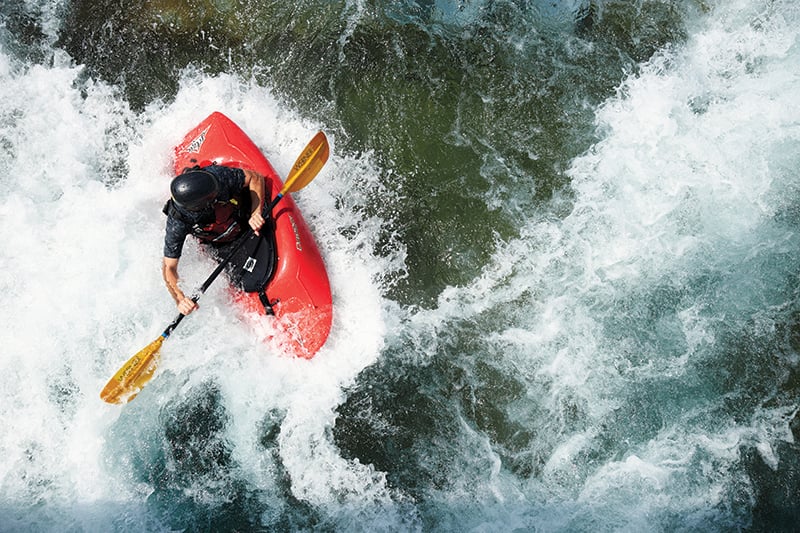 WHEN COOPER LAMBLA WAS 12 and growing up in Elizabeth, he one day watched a group of friends pile out of vans with kayaks and miscellaneous equipment. Curious, he borrowed a VHS videotape on kayaking from one of them and studied it until the tape snapped. By then, he'd mastered basic skills like the Eskimo roll, which flips the kayak from upside down to upright.
Lambla also discovered that kayakers often traveled to other countries to run rivers. "These far-off places, to me, seemed very inaccessible," he says, "but as soon as you meet somebody who goes there, you realize that anyone can actually go."
The 31-year-old has kayaked in more than 20 countries on six continents. He completed his first overseas kayaking trip in Italy at 13. As a student at Appalachian State, Lambla traveled to New Zealand to study abroad and kayaked the waters there, and he returned again and again to the Watauga in Tennessee. In 2013, he spent a month in the Altai Mountains of central Asia, running rivers during the day and camping on their banks at night. "The elements of traveling with my kayak," he says, "became even more alluring than the actual paddling itself."
After about a decade of exploring rivers, Lambla returned home to inspire adventure in others at the U.S. National Whitewater Center. He's been an advocate for the center since it was only an idea; at 13, he spoke at Charlotte City Council meetings to support it. While it was under construction, Lambla stood on the road and flipped the stop/slow sign; once it opened, he tended bar and guided rafting trips. Five years ago, he joined the marketing department as its creative director and spends his days finding ways to get people excited about the outdoor activities USNWC offers.
Now, Lambla travels with his kayak—and a camera. He's curated a series of short films, titled EXPLORE, to document his and others' trips and inspire adventure, just as those VHS tapes did for him.