Keep It Simple for Labor Day
If you're throwing a final summer fling, the pros say focus on the fun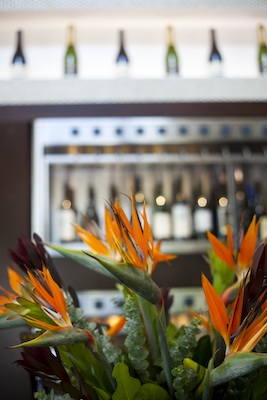 As you finish your Labor Day party planning, a couple of professionals from Dean & DeLuca in Phillips Place have some advice: Keep it simple.
"That's what the holiday is about," says Shawn Paul, Dean & DeLuca's wine director.
When planning your menu, think about the wines the same way you think about the food. What would you want to eat when you're standing in the hot sun? A crème brûlée, probably not. Steer away from heavy foods and wines, and think more toward light, fruity, and refreshing.
Although rosés entered the United States as a sweet wine, dry rosés are now popular across the country, Paul says. Rosés strike a middle ground for wine drinkers. A rosé has the characteristics of a red wine, but it's served chilled.
If you prefer a red wine, Paul suggests a lighter, younger selection. As for whites, stay away from anything heavily oaked. The "oaky" wines are difficult to drink in the heat and are often higher in alcohol content. Also make sure to have something fun and interesting for guests who prefer nonalcoholic drinks.
"It's not the time of year to open those nice bottles you've been holding," Paul says.
Many people tend to overcomplicate wine and food pairing. It's more than taste and technicality.
"The best pairing is with people you enjoy spending time with," he says.
The same goes for this weekend's table setting. Lance Newman, the assistant general manager for Dean & DeLuca's Wine Room and restaurant, creates all of the daily flower arrangements for the space. Newman has a background in fine dining and hospitality. (He also sings opera and will delight guests with a classical rendition of "Happy Birthday" on occasion.) But flowers are just something he picked up.
"Fresh flowers make a table," Newman says.
For longer dining tables, he mixes sizes and styles of containers. A simple bud vase is nice for a small table. For a large arrangement, he uses different heights and layers the flowers.
He chooses a color scheme of three to four colors for each project. He shops The Fresh Market and farmers markets for whatever is in season and on sale. He also clips greenery from the pots in the Dean & DeLuca parking lot to use as filler.
"I use whatever is around me and do what's fun," he says.
He completes the table with place settings and adds a folded napkin to each spot. Even a simple dinner at home feels finished when the table is set.
Whatever kind of party you throw this weekend—a large backyard barbecue or a simple meal for two—let the laid-back spirit of summer's final holiday lead the way.