Keep the Kids Entertained with These St. Paddy's Crafts
While you indulge in a glass of Irish whiskey or beer.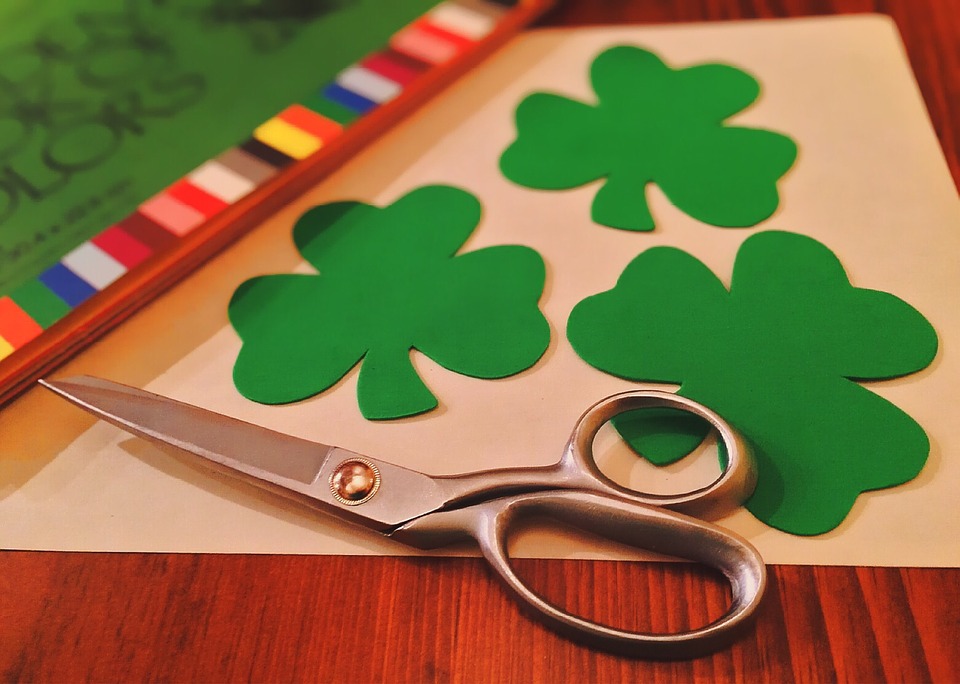 Americans do a pretty phenomenal job at celebrating St. Patrick's Day. That's what Charlotte's "Official Toastmaster" of the St. Patrick's Day Pub Crawl, Tim Herlihy, told us, anyway. And judging by the size of our city's annual pub crawl, we'd have to agree.
But what about the Charlotteans who can't steal away from the house midday tomorrow to over-drink in Uptown? What about those who have children that, unfortunately, don't quite make the age requirement for a day of boozing at Connelly's and RiRa? Well, you'll have to celebrate at home.
And we've got just the thing: Crafts. Lots and lots of themed crafts for your littles to enjoy and get distracted by while you sip some whiskey on the rocks.
Re-claim the carefree days of celebrating this Irish holiday. Toast a glass to the deceased St. Paddy. Because your kids are about to be so entertained.
(And, yes, it's "Paddy," not "Patty.")
St. Paddy's Day Crafts for Children
Shamrock Suncatcher
Have your little leprechaun create a work of art. All you need is some paper plates, a shamrock printable, green tissue paper (got some leftover from the holidays?), scissors, and a marker, preferably green. You can get the full tutorial and printables at Crafty Morning.
Photo Props
If your kids can't get enough of the selfie craze, have them craft their own festive photo props using felt. Some fun ideas include a green mustache on a stick, a decorative headband, and, of course, leprechaun hats. Then, if you want to drive the idea home, hang a green sheet or banner in a spot in your home to serve as a backdrop. Photo shoots are always a good time.
Marshmallow Rainbow
You might usually tell your kids not to play with their food, but this craft is an exception. Using colorful (and yummy) mini marshmallows, have your young ones "taste the rainbow." All you need besides pastel-colored marshmallows is paper, scissors, a marker, and glue. Outline a half-U rainbow shape for your child to cut out, then draw lines signifying where each color of the rainbow goes. Your kids can then have a blast pasting the correctly colored marshmallows on the rainbow. Any leftovers are a sweet snack! Check out the craft in full here.
Rainbow Chain and Pot of Gold
There's just something about making paper chains that always keeps kids happy. Alter the everyday craft so that the chain is rainbow colors, then use black and yellow construction paper to cut out a pot with "gold" coins. Sprinkle some gold glitter for extra glitzy effect. Have your child pick his or her favorite spot in the house to hang the masterpiece. Here's the tutorial.
Leprechaun Binoculars
Get some use out of those empty toilet paper rolls with this easy craft. Follow the steps to this project and enjoy watching your little one run around the house with the binoculars, searching for those pesky leprechauns. Extra points if you create green "footsteps" from construction paper and place them in random spots to give your kid a hint.