Kid Cashew Can Stay
Mediterranean flavors find an historic home in Dilworth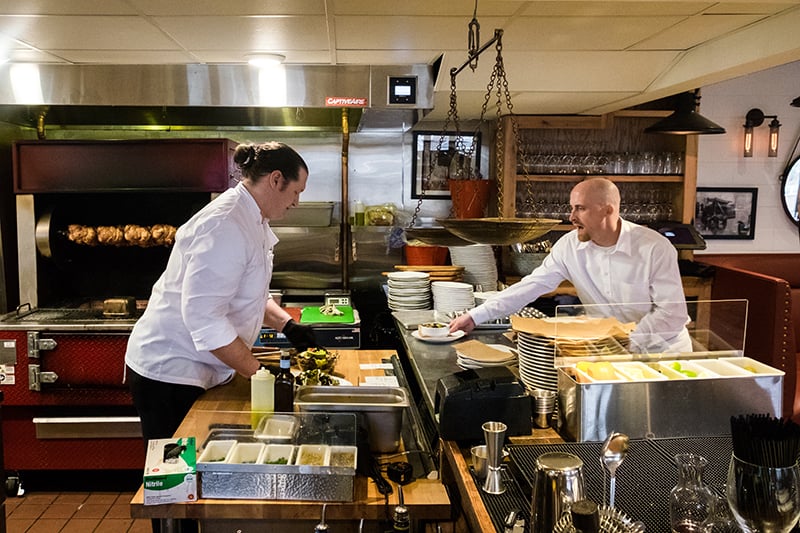 Top: chargrilled octopus
Middle: mac and five-cheese gratin
Bottom: the restaurant's interior, designed by owner Giorgios Bakatsias
I HAD higher hopes for Kid Cashew than for most restaurants.
The new Mediterranean-inspired spot on East Boulevard is the latest in a series of revolving door businesses there—most recently a Mexican restaurant, and before that an Italian eatery—but to me, the brick building will always be home to Wad's, an old-fashioned soda shop that stood for nearly four decades. My parents took my sister and me to Wad's when we were kids for hot dogs; a print of the restaurant's iconic sign hangs on a wall in their house today.
I've always held an irrational grudge against the restaurants that took its place. Kid Cashew really needed to impress for me to get past that.
The warmth from the décor—rustic wood and amber lighting from chandeliers—is inviting. A long, communal table runs through the middle of the restaurant, inviting patrons to sit together, family-style.
In addition to plenty of classic cocktail options, Kid Cashew offers a "Living Libations" list, featuring drinks ($10) infused with herbs. My date's drink, Cilantro, had a solid kick of jalapeño and tequila. Mine, Thyme, was made with bourbon, peach, and honey. The flavor of the namesake herb was more pronounced in my cocktail and made me wonder why I hadn't combined it with bourbon before.
Ordering an entrée and a side dish is completely acceptable here, but it's not as much fun as picking a handful of small plates and something a la carte from the menu's "Butcher" section.
The chargrilled octopus ($12.50), which took time to come out of the kitchen, was worth the wait. It was by far the best octopus I've ever had, with smokiness from the grill and not even a hint of rubbery texture. It paired well with the forbidden rice and wild mushroom paella ($9), inky black and rich from simmering in a vegan stock.
We were planning to bypass the mac and five-cheese gratin ($8.50) until it showed up at an adjacent table. Our server twice repeated the five cheeses that are mixed with leeks and shallots, and I tried to listen, I really did. I picked up Gouda and Parmesan before my mind and stomach started to wander to the smell from the neighboring table.
From the Butcher section, we ordered the North Carolina mountain trout ($16.50), which came out as two four-ounce filets atop a small mound of citrusy quinoa and a relish of cucumber, tomato, and red onion. It was just the right size to split.
By the time we made it to dessert, I knew my grudge was long gone.
Kid Cashew
1608 East Blvd.
704-208-4148
Small plates: $6-$12.50