Kids Cook with Heart
The American Heart Association's program taught kids to compete using culinary skills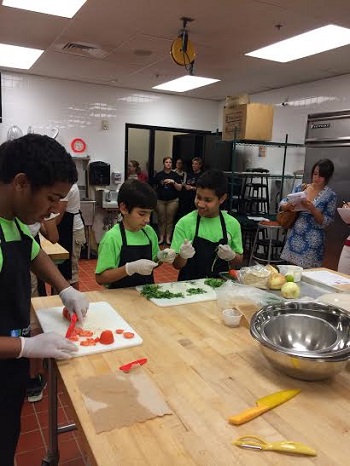 On Saturday morning, six teams of middle school students competed in the inaugural Kids Cook With Heart competition at the Art Institute of Charlotte. For the last four weeks, African American, Hispanic and Latino children, all high-risk groups for heart disease, have been learning how simple and fun it can be to cook healthy, inexpensive meals. The groups were formed through local Hispanic and African American churches as well as unaffiliated community groups. The American Heart Association program is designed to curtail the onset of obesity among children and promote healthy lifestyles among youth.
The program engaged local professional chefs and registered dieticians to teach basic cooking skills and techniques — all of which were put to good use during the competition. After answering some questions about nutrition, diet, and healthy eating, the six teams were let loose in the Art Institute kitchens. Each team had 90 minutes to prepare the same recipe: chicken fajitas with fresh pico de gallo.
Although all of the students went off of the same recipe, the plating and spices varied. As a judge for the competition, I was awarding points to each team for teamwork, execution of the recipe, plating, creativity, taste, and knife skills. The kids were SUPERB in every category, and picking a winner was difficult. All of the participants truly honed their skills — bringing out flavors in the fajitas without added fats or salts. Congratulations to The American Heart Association and all of the participants!