Kindred Makes The Top 10
Bon Appetit honors Kindred as one of the best new restaurants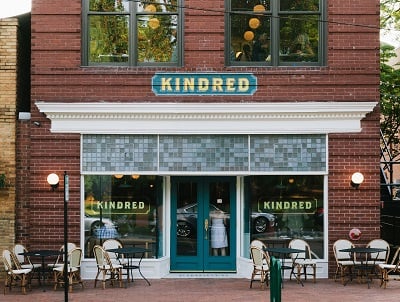 The good times keep rolling for Kindred in Davidson. After being named one of the 50 best new restaurants by Bon Appetit, the North Carolina restaurant made the cut yesterday and was named No.7 best new restaurant on Bon Appetit's Hot 10: the magazine's annual list of America's best new restaurants, which will be published in the September issue. As the ONLY restaurant on the list representing North Carolina, Kindred joins the ranks of restaurants in New York, San Francisco, and more (Charleston was shockingly shut out of the race completely).
In a statement, Chef Joe Kindred said, "We are incredibly honored and blessed to represent North Carolina with this award. This recognition is a testament to our team and their commitment to excellence. We will celebrate tonight and then return to focusing on how we can continue to improve."
Chef Joe Kindred's seasonally inspired menu items were highlighted in the Hot 10 list, including the restaurant's crispy oysters, Carolina shrimp rolls, house-made pastas, such as the squid-ink conchiglie with blue crab and sea-urchin butter, and the now nationally famous milk-bread rolls. Having eaten at the restaurant myself, I can attest to the homey, friendly, comfortable yet upscale atmosphere, the meticulous attention to detail and, of course, the absolutely delicious food.
"We are very, very proud of our team and thrilled to be the smallest town ever to make the list," said Katy Kindred. In addition to making such a prestigious list, Katy announced via Facebook yesterday that she and Chef Joe would be expecting a 3rd little Kindred. With the crowds that will doubtless now flock to the restaurant nestled in the tiny town, we hope the Kindreds plan on training him or her as another helping hand at the booming eatery.