Kobe Kreations Brings New Meaning to Take Out
How to get sous vide at home—no fancy equipment necessary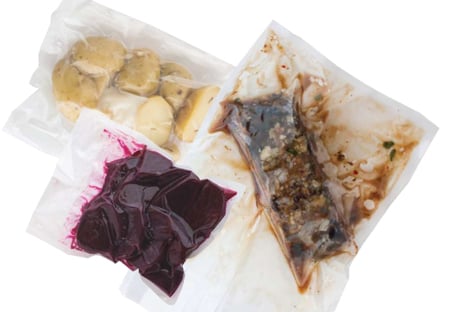 Charlotte's latest addition to the farm-to-fork craze isn't a restaurant or even a food truck. Instead, it's a booth at Atherton Market in South End. Called Kobe's Kreations after chef/owner David Quintana's three-year-old son, it promises perfectly cooked, restaurant-quality entrées and side items. All you have to do is heat and eat.
Quintana's dishes come packaged in vacuum-sealed bags and precooked using a method called sous vide (French for "under vacuum"). The singular technique—made famous by star chef Thomas Keller of the French Laundry and Per Se—requires special equipment to create a temperature-controlled water bath. The method is noted for its precision, allowing food to be gently slow-cooked for hours or even days without becoming dry or tough.
Quintana's menu features locally grown ingredients and changes regularly, but a few items have already become staples: Chicken Marsala ($10), two halal chicken breasts finished with a porcini mushroom demi; Pomegranate Glazed Beets ($4), a science-meets-food dish with ruby-red organic beets compressed together with fresh pomegranate juice; Mushrooms and Madeira ($4.50), a mix of oyster, shiitake, button, and porcini mushrooms cooked slowly with shallots, butter, Madeira, and thyme; and 48 Hour Braised Short Rib ($10), fork-tender beef that marinates for twelve hours before being seared, chilled, and finally slow-cooked for forty-eight hours. Each package comes with easy-to-follow reheating instructions. "If you take it home and follow the directions, you can never overcook it," Quintana says. Weeknight dinners at home just got a lot more appetizing.
Location:
2104 South Blvd. (inside Atherton Market)
704-807-7786, Tue-Wed, Sat.