Kristen Wile Named New Editor of Charlotte Magazine
After nearly three years as senior editor, she becomes the first woman to take the top job in more than two decades; Adam Rhew moves up to senior editor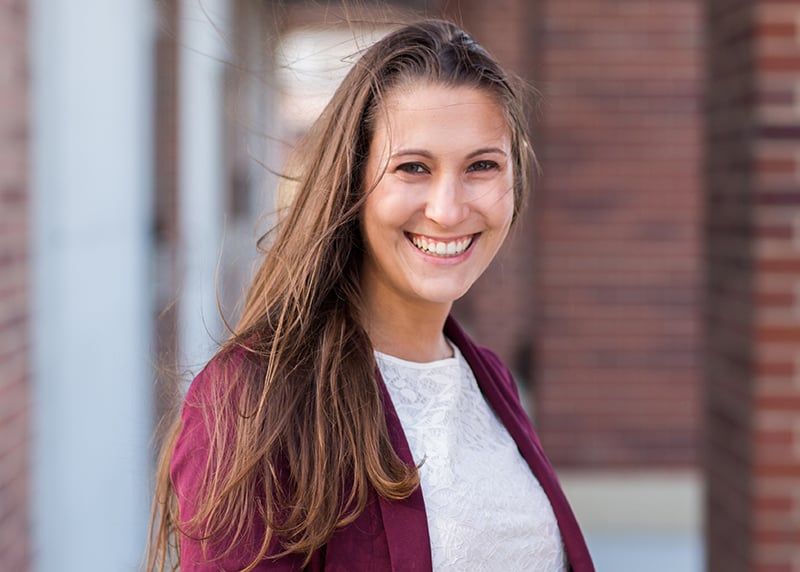 We needed something special. Nearly 200 people applied for the open senior editor position at Charlotte magazine in the fall of 2014. Dozens were qualified. Many were better than qualified. At the time, though, our editorial staff consisted of two editors, including myself, who fell on the quiet side of the energy meter. We wanted to add someone with a little fire, someone who could produce not just loads of good work, but also laughs and spirit and friendships. We needed someone with more than a resume, someone with more than good clips. We needed someone with … something.
On September 30 that year, an email came in from a woman named Kristen Boghosian. Her enthusiasm and experience popped, and her clips, mostly from her time at The Washington Post, were interesting. So I met her for coffee. In that one conversation, she knocked me over with her passion for the profession—and passion for everything, really, from pets to professional wrestling to food to the man she'd soon marry, Jon Wile. She was among eight or so people I chatted with during initial interviews.
A few weeks later, our publisher at the time, Rick Thurmond, stopped by my office to ask how the hiring was going. I told him about the finalists, and he listened, and then he said, "You keep mentioning Kristen. Seems like you keep coming back to her. I think that says something."
We hired her just before Thanksgiving.
Nearly three years later, Charlotte magazine again needs something. I'm leaving my position as editor to pursue a freelance career. I'm incredibly proud of what we've done in my nearly four-and-a-half years here. But one reason I've decided to leave now, at this point in the magazine's story, is that I know we have the team in place—a family of freelancers and full-timers, in fact—to take the magazine to an even better place.
Kristen Wile will take it there. On August 18, she'll become the new editor of Charlotte magazine, and those words make me as happy as any I've written in my career. At 29, she will be the first woman to hold the position in the modern era of the magazine—dating to a major re-launch in 1995 under then-editor Ken Allen. Ken got it up and running before leaving in 1999, Rick turned it into an indispensible piece of Charlotte life as editor from 1999-2013, and I held it up as best I could from there to here.
Many of you already know Kristen, especially if you like good food. As the food editor, Kristen has formed deep and meaningful relationships with chefs and owners all around town. Those relationships were a big reason why our first Farm to Chef event—created by our new publisher Garrett Heaberlin in June—was a soaring success. I have good news for food people: Kristen's decided to continue to lead the magazine's food coverage after she becomes editor.
She's more than a friendly person who can build relationships. She's a tough, thoughtful journalist with sharp instincts and insight formed from her years working at the Post. She's broken countless stories on our website, and she recently wrote one of our best longform pieces this year, a story on African-American chefs and their attempts to redefine soul food, which appeared in our June 2017 issue.
Kristen operates at a different pace than the rest of us. She can handle multiple conversations at once and not forget a word of any of them. She has the vision, tenacity, and intelligence to become the best editor this magazine's ever hired. As an aside, she and Jon make for one hell of a wife-and-husband media duo. Jon is the vice president of content for the American City Business Journals, overseeing editorial operations for 43 markets around the country.
Kristen also has a pretty good partner here in this office. We're promoting Adam Rhew to senior editor, effective with Kristen's promotion. Since joining our staff as an associate editor in July 2016, Adam has flexed as a writer (see his longform stories on drownings in the May issue, and Cuba in the July issue) and editor (see the February 2017 Power List rankings he produced). Adam, a Charlotte native, will also take over as the lead editor on our Home & Garden magazine, a role Kristen's held since she got here.
Working with Kristen and Adam has been one of the best experiences of my professional career. I never know what they'll do next, never know what I'll see when I step out of my office and look toward their desks—one day last winter they were singing showtunes from White Christmas. Honestly, if you ask me what I'll miss most about working here every day, it's the laughter they stir up.
But I know they'll continue this magazine's proud storytelling tradition, each month delivering a time capsule of this changing city we love. I can't wait to see where they take it.
Thank you.