Lacrosse, the Next Big Thing?
A pro sports franchise ushers in a new era of lacrosse in Charlotte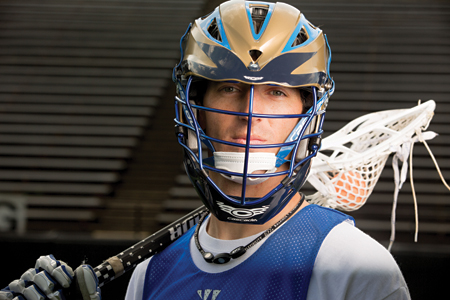 Jeremy Boltus leads a hectic life.
On weekdays, he trains with field artillery as a second lieutenant in the United States Army at Fort Sill in Oklahoma. On Friday nights, he boards an airplane and heads to a grueling practice with the Charlotte Hounds of Major League Lacrosse. On Saturday game nights, he takes the field as an attackman for the team. On Sundays, he travels back to Oklahoma, ready to start the process all over again.
Welcome to life as a member of Charlotte's newest pro sports franchise. The Hounds were formed in January 2011 by Jim McPhilliamy, the team's president, and Wade Leaphart, the sales and marketing director. The team was rapidly assembled from three drafts and two major trades, including a blockbuster deal that brought in stars Matt Danowski and Stephen Berger from the Long Island Lizards. That trade has Leaphart thinking big. He believes the Hounds can contend for a championship in their first year. "We're not your typical expansion team," he says.
Part of Leaphart's job is selling tickets. And Charlotte. And the hope of growth. Because in the MLL, you don't play for the $8,000-$10,000 annual salary. You play for the love of the game. "I still have the itch to get on the field," says Boltus. "Lacrosse has been my life."
If lacrosse lights a fire inside some people, Charlotte is a pile of kindling. There are now two pro franchises here—the Hounds, who play outdoors at Memorial Stadium, and the Copperheads, who play indoors at Bojangles' Coliseum in the fall.
Charlotte high school lacrosse programs are flourishing, too. Charlotte Country Day won a state title last year. Charlotte Latin and Charlotte Catholic are perennial powerhouses. Lake Norman is surging. Even traditional football powers like Independence have entered the fray. The Patriots recently started varsity lacrosse programs for boys and girls.
"In Charlotte, you're seeing growth at every single level," says John Jiloty, editor of InsideLacrosse.com. The sport has been steadily spreading out of the Northeast for decades. Its growth is also allowing some players to become full-time pros by running camps and scoring endorsements from Nike and Under Armour. That was practically inconceivable ten years ago, when the MLL was in its infancy and the nation's top players were reaching career peaks in college.
Boltus, however, won't be a full-time pro anytime soon. Last season's MLL Rookie of the Year is committed to firing howitzers most weekdays. On weekends, he'll be launching shots at a lacrosse net. He wouldn't have it any other way.