Ladies Night, Fashion Show with After-Party, Plenty of DJs, Charlie Sheen, and More this Weekend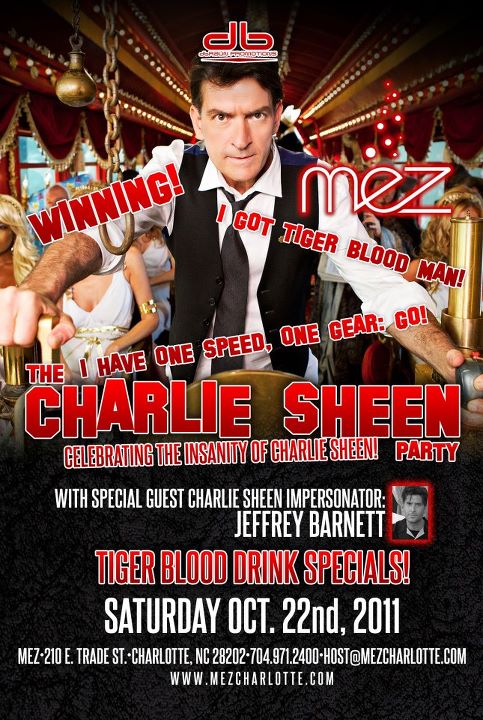 This weekend's list of parties and social events covers a little bit of everything, from music and dance, to fashion and film, to football and skateboarding.
Friday, October 21
Su Casa—The October Edition
Billed as "the oasis for Charlotte's culturally starved," this monthly event features an eclectic mix of music, including soul, Afrobeat, house, Brazilian, and more. There will also be photography and film presentations. 9 p.m. Free before 11 p.m.; $5 after. Dharma Lounge, 1440 S. Tryon St. dharmacharlotte.com, Facebook event.
Ladies Night At Loft
This night is all about the ladies, with complimentary Pink Sparkling Moscato cocktails served until 11:30 p.m. Drink specials also include $5 Chambord and Jack Daniel's cocktails. Music by DJ Shaun Nyce. Presented by Blue Goose. 9 p.m. Free admission for ladies; gentlemen free before 11:30 p.m. Table service available, james@loft1523.com. Loft 1523, 1523 Elizabeth Ave., facebook.com/loft1523.
The Revolution: Fashion Theatre Two Thousand Eleven
Revel in life, love, fashion, music, and dance at this fashion show and after-party that follows. Revolution will showcase men's, women's, and children's fashions from their fall 2011 designers, including looks from Ben Sherman, Ted Baker, Farrah, 7 Diamonds, JC Rags, Fred Perry, Stone Rose, LAMB, BB Dakota, Gentle Fawn, Dolce Vita, AG, Hudson, Genetic, Agave, and more. There will also be a live performance by The Renaissance. A portion of proceeds will benefit Speedway Children's Charity. Fashion show: 9 p.m. $10 general admission; $20 VIP seating. Pavilion at EpiCentre. After-party at Suite, inside EpiCentre, 210 E. Trade St. pavilionatepicentre.com, suitecharlotte.com.
Gabriel and Dresden Reunion Tour
Sugar Society and Insomniac Events present a night filled with top DJs, headlined by Gabriel and Dresden, with support from DJs Kevin Focus and Rob Reeves. And there's more: in Doma Lounge, DJs Rick Solo, Rwonz, Skinner, and James Kim will take turns spinning, while the rooftop terrace will feature DJs Kosta X, Solsonic, and Thanasti. Ages 18 and older admitted. 10 p.m. $15-$25; table service available, graham@phoenixofcharlotte.com. Phoenix, 300 N. College St., phoenixofcharlotte.com, sugarsociety.com.
Saturday, October 22
Redskins Rally
There are a lot of Washington Redskins fans in this city and they're uniting for a pep rally of sorts the day before the team takes on the Carolina Panthers. Redskins cheerleaders will be present as well as former players Mark Moseley and Rick "Doc" Walker. Every Redskins fan in attendance will receive a free "Hail Yeah!" T-shirt (while supplies last), and prizes will also be given away, including tickets to Sunday's game. 5-6:30 p.m. Free. Kickstand Burger-N-Bar, 1101 Central Ave., kickstandcharlotte.com, facebook.com/charlotteredskinsfans.
Charlie Sheen Party
You're certain to see this guy imitated a lot next weekend for Halloween, but this is your night to pay tribute to Mr. Winning. Come dressed as your favorite Charlie Sheen movie or TV character, and party and take pictures with Charlie Sheen impersonator Jeffrey Barnett. There will be Tiger Blood and Winning shots drink specials, and video DJ Red will be mixing Charlie Sheen movies and dance music. 9 p.m. Cost varies; for VIP, vip@mezcharlotte.com. Mez, inside EpiCentre, 210 E. Trade St., mezcharlotte.com.
The Grand Opening
Privilege wraps up its grand opening events this Saturday, so it's your opportunity to check out uptown's newest nightclub (read about it here). 9 p.m. Free before 11 p.m. Privilege, 223 S. Brevard St., privilegecharlotte.com.
Sunday, October 23
Sunday B-Sides
It's an evening of music, food, fun, and skateboarding. Last month's event was a success, so they're doing it again this Sunday. Several DJs will be playing an assortment of music, while skateboarders show off their moves. 5 p.m. Free. VBGB Beer Hall & Garden, at NC Music Factory, 920 Hamilton St., vbgbuptown.com.
Be sure to bookmark www.charlottemagazine.com/Blogs/Dusk-Till-Dawn to stay plugged into Charlotte nightlife.