Lake, Land & Lyrics Brings Celebrities, Music, Poker, and Dinner Cruises this Saturday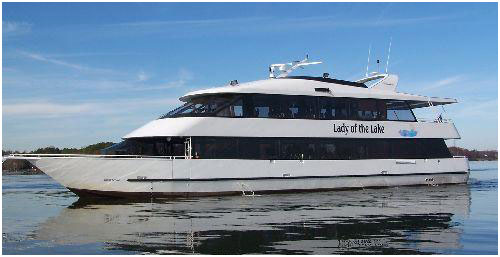 This Saturday, July 23, Lake, Land & Lyrics takes place at Queen's Landing on Lake Norman, and it promises to be one of the most eventful fundraisers you've ever attended. The evening features three dinner options (two dinner cruises on the lake and one dinner on land), the Brentson A. Buckner Celebrity Poker Tournament, a concert at the outdoor amphitheater featuring Boyz II Men and Jim Quick & Coastline, and several celebrity guest appearances.
The event is a fundraiser for Autism Services of Mecklenburg County, which supports adults and children with autism, traumatic brain injury, and other developmental disabilities. ASMC is hoping to raise $250,000 to help make up for budget shortfalls due to the agency receiving less funding from local, state, and federal governments.
With Lake, Land & Lyrics just a few days away, organizers are concerned about lower-than-expected ticket sales thus far. As a result, today they reduced the ticket prices for the concert to $75 in advance (purchase online) with open bar and $50 in advance with cash bar. Each component of the event has separate admission, so you could choose to attend only the concert or poker tournament or dinner cruise (includes a four- or five-course meal, VIP bar access, and more), or go to them all and buy a package deal ranging from $300 to $400.
Several celebrities and current and former professional athletes have signed on to attend and/or play in the poker tournament, including members of Boyz II Men, FOX Charlotte's Kelli Bartik, Muggsy Bogues, Brentson Buckner (hosting the tournament), NASCAR driver Kevin Conway, Carolina Panther Thomas Davis, Sleepy Floyd, Mike Minter, and several others.
Buy your tickets today, and take comfort in knowing that 100 percent of the proceeds will benefit much-needed services in the Charlotte-Mecklenburg area. Visit lakelandandlyrics.org.