Lake Lounge
Cornelius' new spot offers good food in a chic setting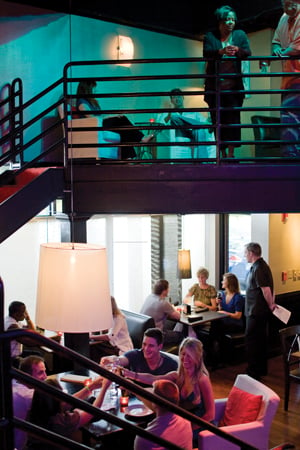 WHAT: XO Restaurant and Lounge
VIBE: The restaurant and lounge concept is common throughout the Charlotte area, but the two aren't usually intertwined to the extent they are at XO. The big bar at the front of the space glows from white neon lights behind the liquor bottles as well as the large flat-screen televisions overhead. Table seating features black leather couches, and booths—where you would sit for dinner—rival the look of VIP areas at most clubs.
WHO'S THERE: An older crowd made up of mostly couples flocks to the live music (from jazz to cover bands) on Thursday and Friday nights, while the younger single crowd comes for the live DJ on Saturdays. It's also, oddly enough, become a go-to place for pay-per-view fight parties.
WHAT SETS IT APART: The menu is the real star, and the daily food and drink specials require return visits. On Mondays you can enjoy half-price bottles of wine or wine flights for $7. Tuesdays feature $5 Skyy martinis, while Wednesday is Draft Night, offering draft beers for $2, or three appetizers (the crab cake with fried lemon is a must) and a draft for $10.
WHERE: 19701 Bethel Church Rd., Cornelius, 704-896-9255, xorestaurantandlounge.com.