LAM Home Opens in Matthews
March 5 marks the grand opening of the downtown location for the interior design studio and retail home store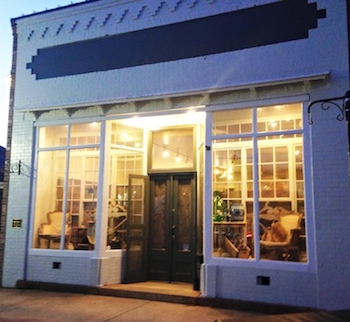 This Thursday, Lorraine Mulligan and her team will open their doors and welcome the Matthews community to tour their new space.
Mulligan is the president of LAM Studios, Inc., an architectural and interior design company. The new downtown location (at 159 N. Trade St.) will house the contract design offices for LAM Studios as well as LAM Home, a retail space which will offer residential interior design services as well as antiques and home furnishings. Mulligan worked in high-end residential design for about 15 years before focusing on contract work. With the new space, she wants to begin venturing back into the residential market.
Mulligan, a European native, describes her design aesthetic as having a European sensibility. Spaces should be both beautiful and usable, she says. She wants clients to feel comfortable in the places she creates.
This past October, she purchased the historic Funderburk Building in downtown Matthews. The building was built in 1901 and originally housed a mercantile store.
"It was a little old and crusty when we got ahold of it," Mulligan says. Mulligan took special care during the remodel to preserve the original aspects of the building that give it its character. She also incorporated architectural salvage into the new design.
"You really are a caretaker for the generations that come after you," Mulligan says of working with historic properties. "Redesigning the interior took a certain sensibility and consideration to what was there before."
Mulligan invites the community to come see the new space and explore the new LAM Home retail addition this Thursday, March 5, from 4 p.m. to 9 p.m. Light hors d'oeuvres and refreshments from Santé and the Black Chicken will be served.