Lark & Key's "Lucky 7"
South End gallery celebrates anniversary with special exhibit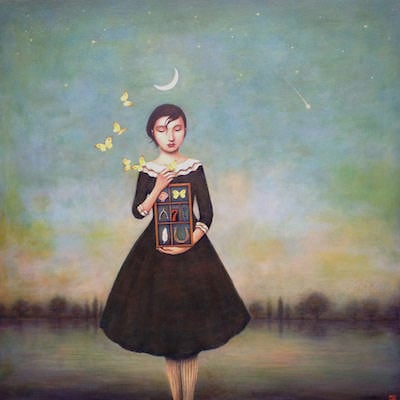 Seven years ago, Sandy Snead and Duy Huynh opened their gallery and boutique. It was 2008. The economy was sliding. South End was yet to become the hub of trendy living and shopping that it is today. But they had a vision.
They wanted their shop—Lark & Key Gallery and Boutique—to have high-quality, handmade artwork with a touch of whimsy and lightheartedness. Although they initially carried a wider variety of products, they've now settled into three primary categories: artwork, jewelry, and pottery.
"We established a very specific niche and style to the gallery," Snead says.
And it worked.
This Friday, the gallery celebrates its seventh anniversary with the opening of "Lucky 7." The exhibit includes work by seven artists who created the pieces with the "Lucky 7" title in mind. The seven participants represent some of the gallery's core artists, who have been with the gallery for a long time or whose work fits well with the gallery's aesthetic. The lineup includes Janet Eskridge, Elizabeth Foster, Judy Klich, Angie Renfro, Vicki Sawyer, Mary Alayne Thomas, and gallery co-owner Duy Huynh.
The exhibit opening will be part of this Friday's South End Gallery Crawl. The crawls take place the first Friday of each month and involve extended gallery hours; food trucks; and special gallery exhibits, openings, and events.
Lark & Key will be open until 9 p.m. on Friday. The "Lucky 7" exhibit runs from Friday, February 6 to Saturday, March 28. The gallery is located at 128 E. Park Ave., Ste. B. Click here for more information.