Lasagna Day is Coming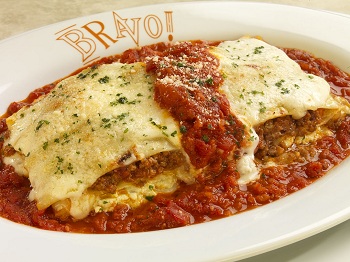 If you don't like pasta, we probably aren't friends. Sometimes you just need to carbo-load, and there's no shame in that.
Luckily, BRAVO! Cucina Italiana Charlotte will celebrate National Lasagna Day, July 29, with full-sized portions of lasagna at lunch or dinner at half price, so you can eat your fill of carbs for either meal… or for both. The special deal is available at Charlotte's two BRAVO! locations in Blakeney and Northlake and BRIO in SouthPark. All day on July 29, guests can enjoy a huge portion of Lasagna Bolognese, with creamy Alfredo and signature meat sauce.
"National Lasagna Day is the perfect opportunity for our guests to celebrate one of our original and signature menu features," said BRAVO! Head Chef and Culinary Director Brian Harvey in a press release. "Our rich flavors and generous portions have become a nostalgic favorite."
Lasagna Day reservations are strongly suggested and can be made by calling BRAVO! – Blakeney Shopping Center at (704) 543-6902, BRAVO! – Northlake Mall at (704) 597-1455 and BRIO Piedmont Row, SouthPark at (704) 571-4214.
If going out, of course, isn't quite your jam, never fear. Here to save the day is THE classic lasagna recipe, courtesy of Barilla. I make this just about every two weeks and it is PERFECT every time. Just a note: feel free to get creative. Add tons of fresh chopped oregano, basil, thyme, and rosemary to your jarred (or fresh homemade) marinara sauce. Jazz it up and make your lasagna Greek style with oregano and mint plus feta instead of Parmesan. Or, cook and drain bulk Italian sausage and add it to the sauce before layering. Whether you dine out or in, make time for lasagna this July.