Last Call With Ron Stodghill: The March Went On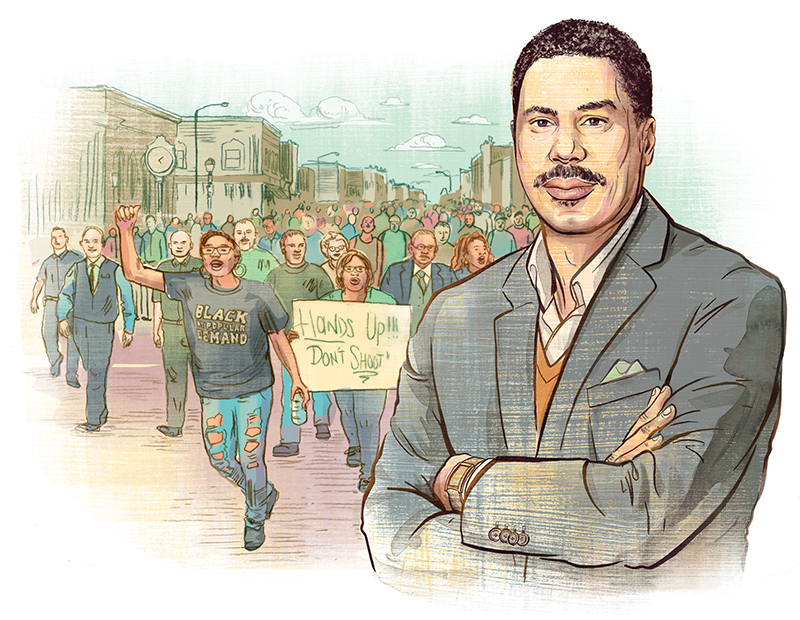 IT'S NOT OFTEN these days we hear tales of racial reconciliation and healing. But a few weeks ago, I was sitting in Mooresville Town Hall listening to a young black woman and two middle-aged white men share a story that left me feeling hopeful.
This story begins at the darkest of hours: the night of Wednesday, September 21, the night after rioting broke out in uptown following Charlotte police's deadly shooting of Keith Lamont Scott. Raynisha Caldwell, 25, sat watching the coverage from her home in Mooresville. "I've never viewed myself as activist," said Caldwell, who, along with the town's mayor, Miles Atkins, and Major Gerald Childress of the Mooresville Police Department met with me to tell their story. "But there was no fairness within the judicial system. I wanted to make a statement, but they were rioting in Charlotte. I wasn't going there."
At about 5 p.m. on Thursday, Caldwell went on her Facebook page and invited a few friends to join her the following evening to march peacefully through downtown Mooresville.
The response was swift and encouraging: About a dozen folks agreed to meet her and march on Main Street. Caldwell told her mother and grandmother about her plans. Just be careful, they said, and they suggested she notify the Mooresville Police Department.
When Caldwell called the department at about 5:30 p.m., she recognized the voice on the line. It was Ron Chilton. When Caldwell was a fifth-grade student at Mooresville Intermediate School years ago, Chilton was the Drug Abuse Resistance Education (D.A.R.E.) officer for her class. They chuckled at the coincidence. "Raynisha, Raynisha, Raynisha," Major Chilton greeted.
She shared her plans to hold a march the following night, and Chilton listened. He got it. He wanted to support her. "Well, you'll need a permit for that," he said. She agreed to meet him and Major Childress at the police department at 11 a.m. the next day to file the paperwork.
But by then, trouble was brewing. After Caldwell hung up from Chilton around 6:30 p.m., her cousin called to tell her to check her Facebook page. When Caldwell opened it, she nearly lost her breath. Someone had taken a screen shot of her page and circulated it to residents. The message went viral, stoking local fear and suspicion that Caldwell was agitating the riotous groups in Charlotte to converge on Mooresville. Even worse, her phone number and address were also circulating. Over the next few hours, she scrolled through the most vile and hateful messages ever aimed at her, even death threats. She saw strange cars cruising by and stopping in front of her home. The takeaway: keep your racial protest away from Mooresville.
"People were asking, 'Why are you bringing such a horrific thing to our town?'" Caldwell recalled. "And I was like, 'But I love Mooresville.'"
Some demonstrators in Charlotte called her to offer to bring some retaliatory muscle to Mooresville. "I was like, 'But I live here! You can't come in here busting my city up,'" Caldwell told me. "I'm not coming to your city to do dirty work, so why are you trying to come to mine to create some?"
Meanwhile, the switchboard at the Mooresville Police Department lit up.
"Folks were worried about a flash mob coming downtown, brought in by outside forces, and things getting out of control," Major Childress told me in our meeting at the town hall. "As we say around here, 'It grew feet really quickly.'"
The police department's Facebook account, which typically reaches 25,000 people per week, reached 100,000 with a post about the march.
Atkins, Mooresville's mayor, felt the heat, too. Downtown business owners, among others, expressed their fears about Caldwell's plans for a protest.
"There was a lot of anxiety and concern about a march taking place," he said.
Caldwell's friends who had planned to march with her began to back out. Mooresville High School, wary of trouble, postponed its Friday football home game to Monday. "I had heard that the KKK was coming," she said. "I was like, 'This is friggin' ridiculous.'" She was terrified.
Caldwell considered calling the whole thing off. But she decided to keep her meeting with Childress and Chilton Friday morning. She called her cousin and asked her to go with her to the police department. When they arrived, she was floored by the warm greeting she received by officers not only from Mooresville but from the Iredell County Sheriff's Office and the Davidson Police Department. They assured her that her march would be successful—and that everyone would be safe.
At 7 p.m. on Friday, some 150 to 200 people, white and black alike, gathered in prayer in front of the town hall. With Mayor Atkins, a white man, among the leaders, they began walking together down Main Street. For Caldwell, it was like a dream. "I saw people who I never thought would back me up," she said. "It was unreal. I mean, as a black girl, I was just trying to make a statement. And they stood behind me. I was proud to say, 'This is where I'm from.' "